USC Sports
USC Spring Football Notebook: Kessler Shines In Coliseum Scrimmage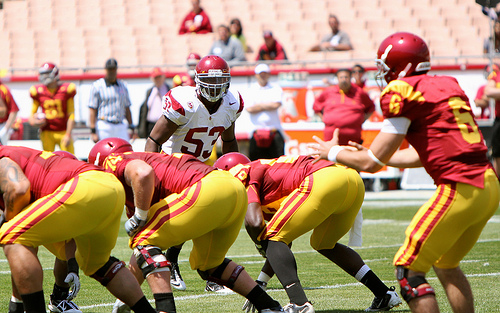 Lane Kiffin's rationale for returning to tackling in practice centered on wanting his team to play with more physicality.
He got his wish on Saturday during the team's first full contact practice of the spring but probably not quite how he intended, as both Marqise Lee and Max Wittek had their days cut short with knee injuries. Kiffin said each will be evaluated further.
With Wittek sidelined, Cody Kessler and Max Browne took all of the reps at quarterback during the first scrimmage of the spring. While the true freshman Browne had his moments – namely a 43-yard touchdown bomb to Nelson Agholor – it was the redshirt freshman who stole the show. Kessler completed 12 of his 15 passes for 192 yards in a performance that played to his strengths – namely, mobility within the pocket and certain within his reads. When there were big gains, they mostly came after the catch, such as a pair of connections with George Farmer as part of a 3 catch, 74-yard day for the sophomore wideout. That those players were in position to begin with, however, often were a credit to Kessler finding his target with plenty of space to work. While Kiffin made a point to say that none of the three quarterbacks have separated themselves this early in the competition to replace Matt Barkley, the Bakersfield native is the likely winner of the first week between a strong effort on Tuesday and now in the Coliseum.
"I thought he did really well," Kiffin said. "He kind of did what Cody does, which is show up in these formats. He's always been a gamer."
Heidari Back To Full Strength
It was hard not to notice something was wrong with Andre Heidari during the 2012 season. The 2011 freshman All-American endured an up-and-down sophomore year, hitting just 10 of his 16 field goal attempts including only 2 of 6 attempts from 40 or more yards. On Saturday, Heidari confirmed that the arthroscopic surgery he underwent on his knee affected him more than he let on but that he's back to his best this spring.
"Everybody's human. It took away a little bit from me last year, I think. It made me perform not as well as I wanted to but I'm back on track now and am going to perform at my top peak this year," he said.
"I would say I'm back to 100 percent."
"It's like it didn't happen," echoes John Baxter, his position coach. "If we put Andre in [to kick a field goal], anywhere inside of 55 yards, he's fine."
That's not only great news for the Trojans, it's also good for Baxter himself. With the departure of graduate assistant Justin Mesa, Baxter has added tight end coaching duties to his special teams role, a move that he says had been discussed internally since his arrival in 2010 but has only now been made feasible with the maturation of the team's younger specialists.
"We have a snapper and a kicker who have been in games, so that allows that situation [of coaching both groups] to occur," he said. "It would probably been impossible the first year with a kicker playing a game in his true freshman year and a punter who was a walk-on playing Division I for the first time he was eligible.
You have to be highly organized and know what you're doing. This isn't my first rodeo."

Quick Hits
Kiffin singled out Lamar Dawson as a player who impressed him during the scrimmage. Dawson is currently listed behind Anthony Sarao at weakside linebacker… Baxter estimated that Jalen Cope-Fitzpatrick took 60 percent of the tight end reps on Saturday, with Xavier Grimble and Randall Telfer splitting the other 40. That's by design; the staff wants to see what they have in Cope-Fitzpatrick with Junior Pomee suspended indefinitely and Christian Thomas having left the program… While no decision will be made until fall on Dion Bailey's position, Kiffin said that if he does stick at linebacker, he will play the weakside position… Max Tuerk and Cyrus Hobbi again had snapping issues. Kiffin said he isn't concerned this early into spring but they need to be sorted out… Chad Wheeler took a healthy amount of snaps at left tackle. Wheeler is up to 284 pounds after playing at 220 upon his commitment to USC.
Contact Staff Reporter Mike Piellucci here. Follow him on Twitter here.