USC Sports
USC Basketball: Centers Dedmon, Blasczyk Suspended Indefinitely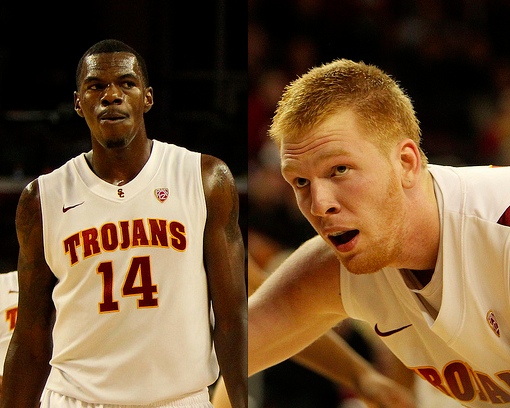 USC basketball players Dewayne Dedmon and James Blasczyk have been suspended indefinitely from all team activities. The suspension comes after "several" players were reportedly involved in a fight
in Spokane, Wash. early Sunday morning
. Interim head coach Bob Cantu did not confirm the connection between the two events, merely that the two are suspended for violating a team rule.
"Separately, we are aware of the Spokane investigation into an alleged incident involving those players and we are cooperating with the authorities to determine the facts," said Cantu. "Until we learn all the facts, it would be inappropriate to comment further."
One of the witnesses to the Spokane fight says one of the players was seven-feet tall and 260 pounds and hit "several people, including two women." Both Dedmon and Blasczyk are seven-footers. Spokane police are still investigating the incident, and have not confirmed the identities of any person involved in the fight. The incident took place after USC's loss Saturday night to Washington State, and it is possible the team rule violation was for staying out too late.
The Trojans next play Wednesday night against Utah in the opening round of the Pac-12 Tournament in Las Vegas. Dedmon is the team's leading rebounder, and will likely be replaced at the center position by Omar Oraby (14 minutes per game) if he remains suspended through Wednesday. Extended suspensions would leave the Trojans with less depth in the frontcourt for the tournament. Renaldo Woolridge (6-foot-9) has experience starting at center, as Shotgun Spratling points out.
Reach Sports Director James Santelli here. Follow him on Twitter.