Los Angeles
Trutanich And Feuer To Face-Off In May For City Attorney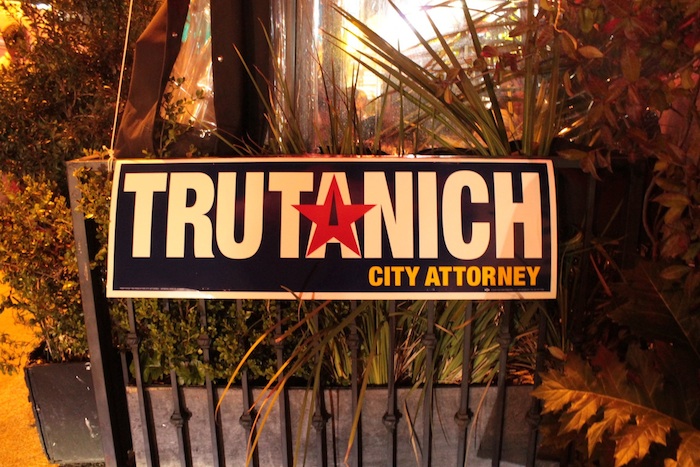 "Are we in a run-off?"
Carmen "Nuch" Trutanich, shouting over the background music at Rocco's Pizzeria, asked campaign press manager John Schwada for his take on the poll numbers in the primary race for L.A. city attorney.
"It looks like it to me. He can't win."
His top rival, former Assembly member Mike Feuer, is now polling at 44 percent. Trutanich, the incumbent, is hovering at just over 30 percent. If Feuer doesn't reach 50 percent after all votes are counted, the two will be in a run-off in the May 21 general election.
The room at Rocco's was full of campaign players and members of the city's legal and influential circles. Those were the suits. Then there were the more comfortably dressed attendees, many of whom know Trutanich personally.
Listening to them, it seems to know Trutanich is to love him.
Murray Drexler works in TV production and said he knows Trutanich socially. Stating that "Nuch is a good guy," Drexler said he likes Trutanich's "no-nonsense, get things done" stance and expects the incumbent city attorney will win.
Trutanich's next-door neighbors, the Harrises, are unabashed fans. What they see in Trutanich, Barbara Harris said, is a man "who really cares about doing the right thing for the city and protecting it." When asked who they'd support if Trutanich doesn't make the run-off, Doug was straightforward: "I'm not real impressed with the other candidates, to be honest." Both Drexler and the Harrises are one-man voters — if Trutanich doesn't make it to a run-off, they won't be voting for any of the other candidates.
Looking at the numbers around 9 o'clock, Trutanich told the crowd he expected a run-off: "The way things are looking right now, today is the first day of the next campaign." Clearly testing out a new catch-phrase for such an occasion, he told Schwada that voters would have a "clear choice" come May, referring to his rival Feuer.
Last week, Trutanich filed an ethics charge against Feuer for violating campaign finance spending-caps through an allegedly illegal "in-kind" donation from the company of Feuer's campaign consultant John Shallman. Shallman exited Trutanich's failed bid for district attorney last year under a cloud of acrimony.
When it became clear that the numbers weren't going to shift much, a scrum of campaign staffers and consultants clustered under one of the TV screens displaying updated results. At issue? Whether candidate Greg Smith, running a distant third, would endorse Trutanich in the run-off.
Cellphones were fished out of suit pockets, the scrum broke into two- and three-man huddles. The run-off had already started.
(All poll numbers taken from the City Clerk's unofficial count as of 2:35 a.m. and rounded up. See updates here.)
Reach Contributor Melissa Runnels here.