Music
Ten Memorable Feuds In Music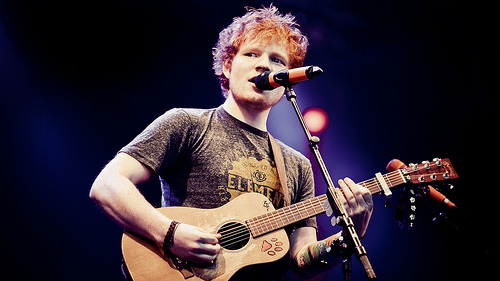 "These people hate each other!"
That's what British singer-songwriter Ed Sheeran had to say about the Grammys in an interview with Fuse. And with the escalation of several feuds post-Grammys, who can blame him for saying so?
There's the Chris Brown-Frank Ocean fight, Taylor Swift's jabs at One Direction's Harry Styles, and, finally, the ever-confusing Twitter war between the Black Keys' Patrick Carney and Justin Bieber.
Of course, it's not like all musicians sit around a campfire singing "Kumbayah." If there's one thing that us humans can be good at, it's being downright petty.
So in honor of all this wonderful drama, let's take a look at some memorable feuds in the music world.
Lily Allen vs. Katy Perry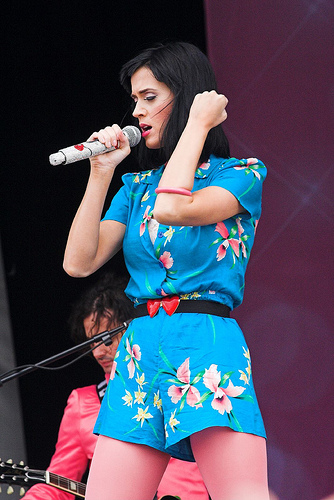 Katy Perry
really should've known better than to
call a woman fat
- especially
Lily Allen
.
I mean, that's just, like, the rules of feminism!
The British singer then responded by questioning Perry's legitimacy as a musician and threatening to release her number via Facebook.
Winner: Neither. Perry's apology was halfhearted at best. As for Allen, overreaction much?
Kings of Leon vs. "Glee"
So, this all started in 2010 when "Glee" wanted to use Kings of Leon's hit single "Use Somebody", but the band turned down the opportunity.
Pretty innocent stuff, until KoL bassist Jared Followill basically equated the TV musical dramedy with selling out and show creator Ryan Murphy responded (childishly) by calling the band "self-centered assholes."
A year later, Nathan Followill suddenly contracted a serious case of foot-in-mouth disease, tweeting a message that could have been construed as homophobic and misogynistic: "Dear Ryan Murphy, let it go. See a therapist, get a manicure, buy a new bra. Zip your lip and focus on educating 7 yr olds how to say f--k."
Winner: "Glee". So much for taking the high road, KoL. This feud seemed to be only the first of the band's problems in 2011, as evidenced by singer Caleb Followill's drunken onstage meltdown at a concert in Dallas, Texas, which forced the Followills to cancel the remainder of their U.S. tour and go on hiatus.
Elton John vs. Madonna
Once friends, these two music legends have been going at it for over decade now.
The feud began in 2002 when Elton John said Madonna's theme song for "Die Another Day" was "the worst Bond tune ever" and since then, things have only worsened.
Just last year, both musicians were nominated for Best Original Song at the Golden Globes, something that John claimed Madonna had "no f--king chance" of winning. John's husband, David Furnish, also got involved, taking to Facebook in order to bash the Queen of Pop.
Winner: Madonna. From what can be seen in this timeline, this feud's been pretty one-sided as all of the attacks seem to be coming from John's side, despite whatever claims he's made about Madonna rejecting his attempts to make amends.
Courtney Love vs. Dave Grohl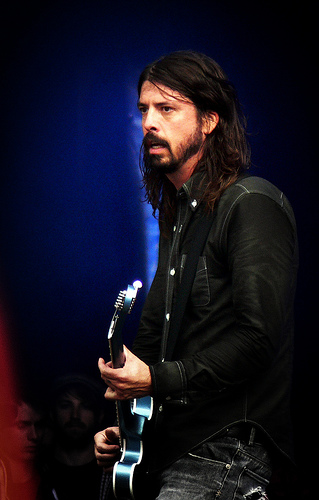 This rivalry's lasted just as long as Elton John and Madonna's. And it's just as one-sided.
Courtney Love
's made just about every claim there is to make about
Dave Grohl
.
More recently, Love has accused the ex-Nirvana drummer and current Foo Fighters frontman of hitting on her daughter, Frances Bean Cobain, and of being "sexually obsessed" with her late husband, Kurt Cobain.
Winner: Dave Grohl. Love's past with substance abuse and tendency to go off on rants makes it hard to believe any of her accusations, especially when the subject of these claims, her own daughter, says they're false.
Axl Rose vs. the rest of Guns N' Roses…
Not everything is sunshine and roses (pun absolutely intended) when it comes to this particular rock band.
The fight first broke out between singer Axl Rose and guitarist Slash over the direction the band was taking, leading to Slash's eventual departure from Guns N' Roses in 1996. Shortly thereafter, drummer Matt Sorum was fired and bassist Duff McKagan resigned, leaving Rose as the only original member of GN'R (the other members of the classic lineup, guitarist Izzy Stradlin and drummer Steven Adler, had already left by 1991).
Last year, GN'R was inducted into the Rock and Roll Hall of Fame. However, Rose released a statement in which he said he would not be attending the ceremony and also rejected the idea of reuniting and performing with the classic GN'R lineup onstage.
Winner: the rest of Guns N' Roses. Rose's actions probably haven't endeared him to anyone, even the craziest of hardcore GN'R fans. The singer definitely wasn't missed at the Rock and Roll Hall of Fame, as evidenced by the booing that took place after the mention of his absence.
Tyler, The Creator vs. Tegan and Sara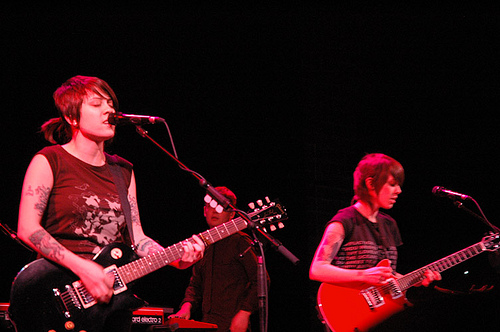 When
Tyler, The Creator
released his second album "
Goblin
" in 2011, fans and critics alike reacted positively. The rapper even went on to win Best New Artist at the MTV VMAs.
The album's homophobic and misogynistic lyrics didn't sit well with Sara Quin though. One half of the indie rock sibling duo Tegan and Sara, the openly gay Quin wrote an open letter to Tyler, calling his music "repulsive and irresponsible."
Winner: Tegan and Sara. Tyler, the correct response was most definitely not "If Tegan And Sara Need Some Hard D--k, Hit Me Up!" - especially when one of your Odd Future pals, Frank Ocean, is part of the LGBT community as well. Tyler's response only shows how much work still needs to be done in the hip-hop community, even with the likes of Ocean and Macklemore around.
Jay-Z vs. Nas
A long, long time ago… Jay-Z was once a fan of Nas's stuff. He even sampled Nas's "The World Is Yours" on his 1996 track "Dead Presidents." According to Dame Dash, Nas was supposed to be on Hov's "Bring It On," but never showed up at studio sessions, leading to the beginnings of this infamous hip-hop feud.
The two began taking lyrical shots at each other after The Notorious B.I.G.'s death in 1997, looking to take over the late rapper's place as the King of New York.
Things heated up in 2001 when both rappers released diss tracks aimed at each other. First Jay-Z debuted the song "Takeover" off his album "The Blueprint" and then Nas responded with "Ether".
Winner: Both. Jay-Z is arguably more successful, but no one can deny that Nas is also one of the best rap artists of all time. What makes this even better is that they managed to set aside their differences, ending the feud in 2006 when Nas was signed to Def Jam, of which Hov was president at the time. The two then collaborated on future tracks, such as "Black Republican" and "Success".
2Pac vs. The Notorious B.I.G.
The most famous rivalry in all of rap history, the East Coast/West Coast hip-hop rivalry all started when 2Pac accused The Notorious B.I.G. of aiding in and mocking his 1994 robbery and shooting.
Afterwards, the West Coast-based rapper appeared on and released numerous songs slamming Biggie and his record label Bad Boy Records.
While The Notorious B.I.G. never outright dissed 2Pac or his label Death Row Records on his tracks, Biggie's lyrics were often interpreted as insults aimed at the rapper.
Winner: Neither. Both were amazingly talented rappers and both were tragically killed in their mid-20s. Although both of their murders still remain a mystery, most agree that this was one musical feud that was taken too far.
Eminem vs. Mariah Carey
In his 2008 autobiography The Way I Am, Eminem stated that the track "Superman" off his critically acclaimed album "The Eminem Show" (2002) was about his relationship with Mariah Carey.
The singer denied these claims, but Slim Shady continued on with his claims, playing voicemails that were supposedly left by Carey while he was on tour in 2005.
Things really escalated in 2009 when Eminem released his sixth album "Relapse", containing another song about the two's rumored relationship called "Bagpipes from Baghdad". This prompted Carey's husband, Nick Cannon, to get involved by challenging the rapper to an actual physical fight.
Carey herself also responded by alluding to the feud in her song "Obsessed" and in its accompanying music video, dressing up in an outfit that resembled the rapper.
And then Eminem retaliated by releasing…
You get the point. Basically, it was a lot of back and forth between the two sides, although this one started becoming more of a fight between Slim Shady and Nick Cannon than one between Em and Carey.
Winner: Mariah Carey. Eminem may be one of the best rappers of all time, but he just doesn't know when to draw the line. And while it's nice that Cannon defended his wife, his involvement in the whole ordeal was pretty useless.
Chris Brown vs. Drake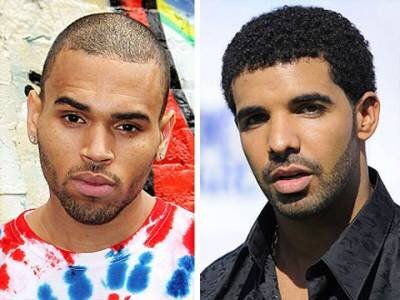 As much as we'd all like to forget
what happened in 2009
,
Chris Brown
isn't making it easy.
He's been at the center of many a controversy, the most recent being his parking lot/Grammy drama with R&B artist Frank Ocean.
Brown's New York nightclub brawl with Drake last year was also a pretty big deal. They supposedly fought over Rihanna, a shared ex. And, really, everything just seems to link back to RiRi when it comes to Brown.
Unfortunately, quite a few innocent bystanders were caught in the middle of it all, including San Antonio Spurs basketball player Tony Parker and French model Romain Julien. Parker suffered an eye injury that almost cost him the London Olympics while Julien is attempting to sue Brown, Drake, and the nightclub.
The details surrounding the whole event are still unclear and there are a lot of contradicting reports on who started the fight, how it started, and who exactly was involved.
Winner: Drake, if only because he's got the better image. Since 2009, Breezy has been digging himself a deeper and deeper hole and he's remained largely unapologetic about his actions.
Reach Staff Reporter Michelle Tiu here or follow her on Twitter.