California
Teachers Unions Intervene In Lawsuit That Challenges Teacher Seniority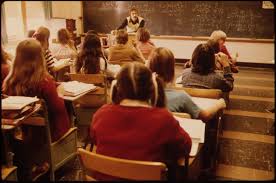 The two largest teachers unions in California filed a motion in L.A. County Superior Court on Wednesday to intervene as defendants in a lawsuit that would drastically change tenure for public school teachers.
The California Teachers Association and the California Federation of Teachers argued that current defendants, including the State of California, Governor Jerry Brown, State Superintendent Tom Torlakson and The Los Angeles Unified School District, could not effectively represent teachers in the case, known as Vergara vs. California.
Eight California public school students sponsored by the nonprofit organization Students Matter filed the lawsuit in May 2012. The case challenges five laws that make it "prohibitively expensive and time-consuming to dismiss ineffective teachers."
Beatriz and Elizabeth Vergara, Clara Grace Campbell, Kate Elliott, Herschel Liss, Julia Macia, Daniella Martinez and Raylene Monterroza and their parents claim that these laws violate students' constitutional rights to an equal education. All but three are located within L.A. Unified School District.
The suit addresses one of the State's most controversial education arguments. "Last-in First-Out," supports "teacher seniority," or tenure. Current tenure provisions give teachers wide job protections after working for 18 months.
"The laws create a situation where there are a certain number of very bad teachers trapped in the system," Joshua Lipshutz, an attorney for Students Matter, told L.A. Weekly. "If you are stuck with one of those teachers, that's a violation of the equal-protection provisions in the California constitution."
California Teachers Association President Dean Vogel told KPCC that he understands the concern many parents have with just the system for laying off teachers or terminating ineffective teachers.
"But, the fact of the matter is that very few teachers are ineffective,"he said.
Students Matter said this law ignores teacher effectiveness and could damage California public school students' right to high-performing teachers and a quality education.
California Federation of Teachers President Joshua Pechthalt does not want to change the teacher protections already in place.
"It means that teachers should be constantly looking over their shoulder to make sure that they're not raising key issues, they will know that their job is completely dependent on an administrator," Pechthalt told KPCC's education blog, Pass/Fail.
John Thompson of the Huffington Post agrees, writing that "Students Matter, like so many other market-driven 'reformers,' seem to be devoted to firing teachers."
Thompson also argued that the case is being argued by powerful non-educators who, if successful, would strip Californians of "their democratic right to an education system consistent with their beliefs."
Lawyers from Students Matter explained that the case is truly about protecting the rights of children.
Granting teachers tenure after "only 18 months on the job" is "well before the teachers' effectiveness can be determined" and forces "school administrators to keep teachers in the classroom long after they have demonstrated themselves to be grossly ineffective," said law firm Gibson, Dunn & Crutcher, who are representing Students Matter in the case.
Additionally, Students Matter argues that students who attend public schools in predominantly lower-income and minority neighborhoods are disproportionately affected, as they have a higher percentage of "grossly ineffective teachers."
Kate Anderson, who ran and lost the race for L.A. Unified School Board District 4 Election last month, said teacher seniority was one issue that spurred her to run for office.
Anderson's twin daughters' first grade teacher was laid off as a result of sweeping budget cuts.
"He was one of these phenomenal, knock-it-out-of-the-park kind of teachers who really just got the art of teaching," said Anderson. "He was laid off even though many of the school community felt that there were other teachers who were probably less effective."
L.A. Weekly reported that LAUSD spent $3.5 million over a decade to fire seven teachers who fought back and were protected by multiple hearings and court processes. LAUSD got rid of only four of the seven.
Anderson said she worries about many Los Angeles schools with high percentages of English learners and lower-income students who may lose passionate, highly effective junior teachers who could really make a difference because of a system "solely based on seniority."
"Seeing that as a parent first hand was so frustrating," said the former school board member candidate. "It's a violation of these kids' constitutional rights."
Reach Editor-At-Large Brianna Sacks here.