Food
A Plethora Of St. Patrick's Day Sweets In L.A.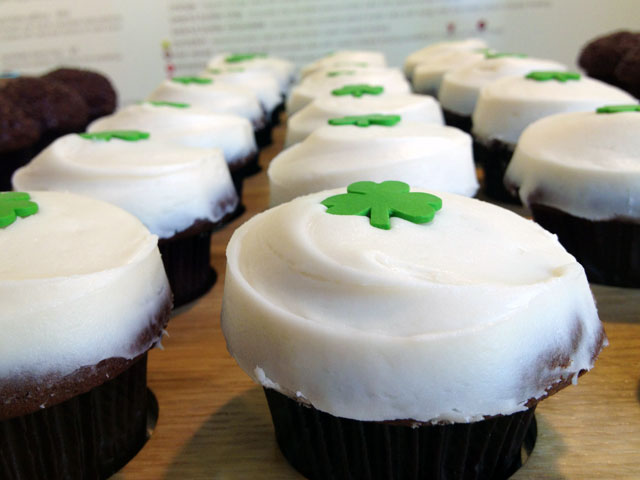 This St. Patrick's Day, get your sweet tooth on with a variety of seasonal cupcakes, shakes and beverages. Several famous L.A. bakeries provide shamrock-inspired treats up to March 17 … and some of these sweets are available throughout the entire month.
SUSIECAKES – GUINNESS CUPCAKES
Self-proclaimed as an "all-American bakery," SusieCakes is offering a special "Guinness Cupcake." This moist, seasonal cupcake is topped with Bailey's buttercream and is available from now until St. Patrick's Day at the various SusieCake locations.
GEORGETOWN CUPCAKE – IRISH CREAM, ST. PATRICK'S DAY CUPCAKES
Georgetown Cupcake offers three different St. Patrick's Day-themed cupcakes during the whole month of March. The "Irish Cream" cupcake features a Valrhona chocolate cupcake decorated with a non-alcoholic Irish cream-infused vanilla frosting and topped with a fondant shamrock. The "St. Patrick's Day Chocolate" cupcake is a Valrhona chocolate cupcake topped with a light green buttercream frosting and a fondant shamrock; a vanilla variation of this cupcake is also available.
FROSTED CUPCAKERY – CHOCOLATE GUINNESS CUPCAKES
For March 17, Frosted Cupcakery has decorated some of the cupcakes on the regular menu with festive, St. Patrick's Day sprinkles in the past and will continue to do so this year. However, 2013 marks the first year that the store is having an official St. Patrick's Day cupcake flavor, according to Amanda Campbell, one of the managers at the Frosted Cupcakery Hollywood location.
"From only March 15 to 17, we'll be having a 'Chocolate Guinness Cupcake' with Irish cream buttercream frosting," Campbell confirms.
DUNKIN' DONUTS – IRISH CRÈME SPECIALTIES
Dunkin' Donuts recently announced its release of Irish Crème-flavored beverages and donuts just in time for St. Patrick's Day, according to The Huffington Post. Irish Crème Coffee beverages, available only in select locations/markets, will feature an Irish Crème Latte, Irish Crème Frozen Coffee Coolatta and an Irish Crème Coffee. The Irish Crème Donut features a yeast shell infused with Irish Crème-flavored filling and dusted with powdered sugar. Dunkin' Donuts said that all Irish Crème menu items are only available for a limited time.

SPRINKLES CUPCAKES – IRISH CHOCOLATE AND GREEN VELVET CUPCAKES
From March 1-17, Sprinkles Cupcakes offers customers its ever-popular "Irish Chocolate" cupcake. This seasonal treat features a Belgian dark chocolate cake with Bailey's Irish cream cheese frosting, decorated with a green shamrock. On March 16 and 17, customers will be able to order the "Green Velvet," a twist on the classic Sprinkles' "Red Velvet" cupcake (its best seller). On St. Patrick's Day weekend only, Sprinkles will be featuring this green-tinted chocolate cupcake, topped with cream cheese frosting and a green Sprinkles dot.
MCDONALDS – THE SHAMROCK SHAKE

McDonalds is currently offering customers its signature "Shamrock Shake," which features a creamy and cool minty flavor. However, hurry down to your local McDonalds if you want to try this seasonal concoction, which is available for a limited time only.
YUMMY CUPCAKES – TWISTS ON TRADITIONAL CUPCAKES
Yummy Cupcakes, with locations in Burbank, Brentwood and Santa Monica, features a variety of St. Patrick's Day sweets from March 15-17. Some of these treats, such as the "Green Velvet"—a green-tinted cupcake decorated with cream cheese frosting and edible green sanding sugar— feature a twist on traditional Yummy Cupcakes flavors (in this case, the classic Red Velvet cupcake). Others, like the "Guinness," emphasize one particular flavor — this delicacy features a Guinness cupcake garnished with a Guinness glaze, Guinness whipped cream and is dusted with Irish green sanding sugar. "Irish Coffee" features an Irish cream cupcake filled with whipped cream and topped with an Irish cream buttercream frosting, while "Irish Cream Pie" comprises a chocolate cupcake filled with whipped cream and frosted with an Irish cream whipped cream and chocolate decorations. "Lucky Charms," a regular item on the menu, features a vanilla bean cupcake infused with marshmallow cream and frosted with a light green vanilla bean buttercream. Besides these individual cupcake options, Yummy Cupcakes features St. Patrick's Day twists on its Cupcake Pies, Cupcake Truffles—cupcakes dipped in chocolate—and Cupcake Truffle Pops.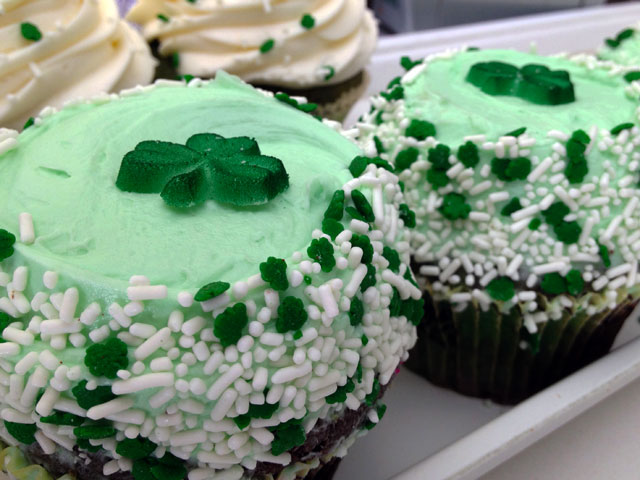 CRUMBS BAKE SHOP – A VARIETY OF GREEN-TINTED DELICACIES
From March 7-17, Crumbs Bake Shop will turn your friends green with envy if they catch you with any one of its green-tinted, decadent cupcakes. The featured cupcake of the month is the "Irish Cream," a coffee-soaked vanilla cake filled with vanilla buttercream and adorned with Irish Cream cream cheese frosting. This Irish masterpiece is further decorated with an espresso-flavored buttercream rosette and chocolate sprinkles. "Luck O' The Irish" features a green-tinted chocolate and vanilla cake frosted and filled with green-tinted vanilla cream cheese frosting and adorned with a sugar shamrock decoration. "The Dubliner" comprises a green-tinted vanilla cake frosted and filled with vanilla cream cheese frosting and is decorated with white and green shamrock sprinkles. "The Celtic" is made of a chocolate cake filled with green-tinted vanilla cream cheese frosting and is adorned with chocolate frosting, drizzled with white chocolate and decorated with white and shamrock sprinkles. In addition to these individual cupcakes, Crumbs Bake Shop also features an "Irish Signature Collection" perfect for any St. Patty's Day party. The six-pack comprises two "Dubliners," one "Celtic," one "Luck O' The Irish" and two "Irish Squiggles" (a "green" take on the cupcakery's "Squiggle," a chocolate cake filled with vanilla buttercream and decorated with chocolate ganache icing with a green squiggle on top).
Interested in creating your own St. Patrick's Day sweets? Blogs like Picky-Palate and Bakerella provide an assortment of easy, DIY options, like "Green Velvet Sprinkle Donuts" and "Dark Chocolate Mint Brownies."
Reach Kelli Shiroma here.