Sports
March Madness 2013: Michigan, MSU, Arizona, Louisville Advance To Sweet 16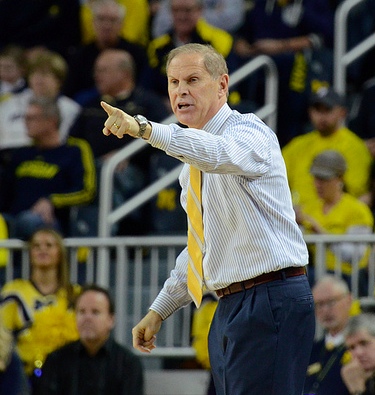 The first four spots in the NCAA Tournament Sweet 16 were earned Saturday in a quartet of blowouts. The favorites won each of the first four games of the day by an average of 24 points, so good news for all of you out there holding a chalky bracket.
Auburn Hills, Michigan
(4) Michigan 78, (5) Virginia Commonwealth 53
The Wolverines of Michigan showed why they have one of the nation's best offenses, shooting 52 percent against the so-called "havoc" of VCU's high-pressure defense.
Michigan forward Mitch McGary was a nearly-perfect 10 of 11 from the field, setting season highs with 21 points and 14 rebounds in an unstoppable outing in front of the Maize and Blue faithful. Trey Burke added 18 points and seven assists. Their scoring and defense helped the Wolverines lead by double digits for the entire second half. Michigan will match up with either Kansas or North Carolina on Friday at Cowboys Stadium.
Juvonte Reddic led VCU with 16 points, but the Rams were out-rebounded 36-21 and were unable to force as many turnovers as they usually do. After beating Akron by 46 points Thursday, losing by 25 created a 71-point margin of victory swing that was the largest in NCAA Tournament history. Now the attention turns to head coach Shaka Smart, to see if he will jump programs after turning down NC State and Illinois in the last two years.
(3) Michigan State 70, (6) Memphis 48
MSU also won their game close to home to finish off a successful afternoon for the Michigan teams. After leading only 32-29 at halftime, the Spartans held Memphis to just three points for nearly nine minutes to build a comfortable advantage. Adreian Payne was a force for Michigan State at both ends, finishing with 14 points (7-for-14), 10 rebounds and five blocks. Gary Harris scored a season-high 23 points, including 4 three-pointers. Michigan State will head to Indianapolis to face the winner of Creighton vs. Duke in the Sweet 16.
Memphis lost for just the second time since Christmas, out-rebounded 41-25 and shooting under 30 percent. The missed rebounds were costly, as the Tigers allowed Michigan State to score a season-best 22 second-chance points. Geron Johnson led the Tigers with 16 points, but Chris Crawford was shooting cold, making just 2 of his 13 attempts and missing all five shots from beyond the arc.
Lexington, Kentucky
(1) Louisville 82, (8) Colorado State 56
Rupp Arena was electric with Cardinals fans in yet-another de facto home game for the higher seed. Russ Smith's 27 points led the way for the Cardinals, as did the 19 turnovers forced by Louisville's press defense. Even though Colorado State shot better than 55 percent in the first half, their 10 turnovers paved the way for a 14-point halftime lead. Louisville had five players score double figures, including center Gorgui Dieng making all six of his shots. The Vegas favorites to win the National Championship take their title route to Indianapolis on Friday against the Oregon Ducks.
One of Colorado State's best scorers this season, Dorian Green, made just 2 of his 12 shots. Green scored just six points after posting 26 in the second-round win over Missouri. The Rams were the nation's best rebounding team in the regular season, but finished with three fewer rebounds than Louisville on Saturday. It was only the third time this season Colorado State was out-rebounded.
Salt Lake City, Utah
(6) Arizona 74, (14) Harvard 51
Harvard could not grab the school's second-ever NCAA Tournament victory after their historic upset of New Mexico. Arizona jumped out to a 17-2 lead, and cruised to the win on the back of Mark Lyons' career-high 27 points (12-of-17 shooting). The offensive dominance of Lyons was part of the Wildcats shooting 55 percent from the field, including 9-of-15 from beyond the arc, undaunted by a Harvard Crimson defense that caused so many struggles for New Mexico. Arizona moves on to the Sweet 16 at Staples Center.
The Crimson's leading scorer this season, Wesley Saunders, was just 1-of-11 from the field. Harvard got plenty of second chances from its offensive rebounds, but made fewer than 28 percent of their shot attempts.