Sports
March Madness 2013: Florida Gulf Coast Dances Into Sweet 16, Duke Stifles McDermott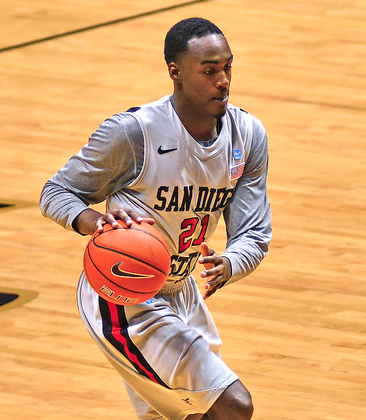 The 2013 NCAA Round of 32 ended with an exciting quartet of games, one of which saw the previously unknown Florida Gulf Coast Eagles become the first ever No. 15 seed to earn a Sweet 16 berth.
Ok. Fine. Not all four games were exactly thrilling, but let's not get greedy. There's been plenty of madness to go around. With the exception of Duke's boring victory over Creighton, you saw the Eagles continue their improbable run, the No. 13-seeded La Salle Explorers win another nail-biter and the Miami Hurricanes similarly excel in the clutch. To quote Ice Cube, today was a good day:
(15) Florida Gulf Coast Eagles 81, (7) San Diego State Aztecs 71
- The Eagles became the first No. 15 seed to ever reach the Sweet 16 after scoring 81 points on 55.9-percent shooting. The school is in its second year of full-Division I postseason eligibility. With the victory, the Eagles will face the mighty Florida Gators. Expect an intriguing intrastate battle.
- Brett Comer loves to feed his teammates on alley-oop flushes. With Sunday night's 14-asssist effort, the Florida Gulf Coast sophomore guard has now recorded 24 assists through the Eagles' first two game this tournament. The 12.0 assist per game average easily leads all players. Pretty impressive, especially for a guy who averaged 6.4 dimes per game during the regular season.
- During the season, the Eagles averaged 14 assists per game (that's as a team!). Comer had 14 all by himself, as the team picked up 21 helpers collectively.
- Aztec guard Jamaal Franklin scored 20 points or more in each of his team's two tournament games, but committed five turnovers against the Eagles. Even so, he recorded a double-double with 20 points and 11 rebounds to go along with four assists and four steals.
- The San Diego State bench converted only four-of-17 field goals against Florida Gulf Coast. Meanwhile, FGC's backup guard, Christophe Varidel, stroked three treys from the bench. He also contributed some entertaining dance moves.
- San Diego State's Xavier Thames scored with 11:35 remaining in the second half to pull the Aztecs within two points of the Eagles, 54-52. Then, the Eagles promptly rattled off 17 unanswered points, eight of which came from Sherwood Brown. San Diego State didn't score for 7 minutes and 34 seconds (11:34-4:00). The Eagles outscored the Aztecs, 47-36, in the second half.
- Florida Gulf Coast is the only Sweet 16 team with two players averaging more than 20 points per game this tournament: Brown (20.5 ppg) and Bernard Thompson (23.0 ppg)
(13) La Salle Explorers 76, (12) Ole Miss Rebels 74
- Despite playing three games in five days, the Explorers have managed to shoot 51.6 percent from the floor, good for third-best among remaining schools. La Salle has also made 43.5 percent of its three-point attempts.
- Junior guard Tyrone Garland scored 17 points and the game-winning basket (a contested layup) off the bench for the Explorers. He transferred from Virginia Tech, where he played sparingly for two years. Ole Miss big man Reginald Buckner had two blocks in the game, but was unable to alter Garland's last-second shot. The ball fell through the net with three seconds left.
- Rebel junior forward Marshall Henderson attempted a whopping 15 three-pointers on Sunday night, but could only convert four. Believe it or not, the 6-foot-2 guard took nearly 11 three-pointers per game this season.
- The Rebels can probably blame the two-point loss on their miserable free-throw shooting. They made fewer than half of their freebies (10-21), while La Salle converted a respectable 72.2 percent (13-18).
- La Salle guard Ramon Galloway continued his stellar scoring and three-point shooting, recording 24 points thanks to six-of-10 shooting from long range. As a team, the Explorers converted 39.1 percent from three-point land (9-23), far better than the Rebels' 21.1 percent mark (4-19).
- During the season, the Explorers' rebounding ranked 292nd nationally. They averaged 31.7 boards per game during the season and are averaging a very similar (and unimpressive) 31.3 rebounds through three tournament games. Despite allowing 12.3 offensive rebounds per game and being outrebounded by 7.0 rebounds per game, La Salle keeps finding ways to win: namely, by shooting well and playing disciplined basketball.
(2) Miami (FL) Hurricanes 63, (7) Illinois Fighting Illini 59
- With the victory, the Hurricanes will be making their first Sweet 16 appearance since 2000, when Leonard Hamilton was their head coach. Three coaches and 13 years later, Jim Larranaga has done it, but the Canes appear to want more.
- Illinois shot 37.7 percent from the field, but grabbed 15 offensive rebounds to keep itself in the game.
- Only 14 combined turnovers were committed over course of the game.
- The Hurricanes attempted eight more free throws than the Fighting Illini. Miami went 10-15, while Illinois made six-of-seven. The Canes' four additional made free throws was the same size as their margin of victory.
- Despite averaging 6.5 points per game this season, junior guard Rion Brown came off the bench to score 21 huge points for the Canes. Brown made five three-pointers on Sunday night.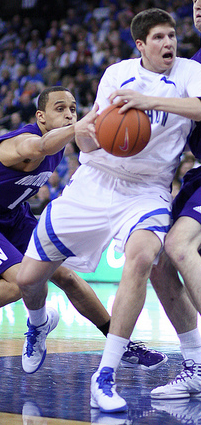 - Shane Larkin, son of baseball Hall-of-Famer Barry Larkin, shot 40.6 from three-point range during the season. His long-range stroke was working Sunday night, as well, as he drained three-of-seven attempts, including a clutch three with one minute remaining. The shot gave the Hurricanes a two-point lead. From that point on, they never relinquished the lead.
- The Fighting Illini were trailing 48-42, but Illinois scored on five straight possessions to take a 54-52 lead with 3:23 remaining in the game.
- Three of the Sweet 16 teams hail from the Sunshine State.
(2) Duke Blue Devils 66, (7) Creighton Bluejays 50
- Creighton junior forward Doug McDermott shot 55.8 FG% and 49.7 3PT% during the season, but the Blue Devils held the coach's son to 25.0 percent from both the field (4-16) and beyond the arc (1-4).
- The Bluejays led the nation in field goal percentage (.508), but were limited to 30.2 percent by the Blue Devils. Their 17.2 assists per game ranked fifth in the country, but against Duke, Creighton could only muster nine assists.
- In Duke senior forward Ryan Kelly's sixth game since returning from a right foot injury, he struggled missing all five of his field goal attempts, while committing four fouls in 28 minutes of play. Seth Curry also couldn't find his shot; he went five-of-15 from the field, including two-of-nine from three-point range.
- For the Blue Devils, freshman Rasheed Sulaimon erupted for 21 points, including three three-pointers, which is one more trey than the entire Creighton Bluejay team made.
- During a second-half stretch of more than six minutes (12:27-6:19), the Bluejays did not make a single field goal.
- Creighton scored on two of its first three second-half possessions to crawl within two points, 29-27. That was the closest they would ever get, as Duke led the entire second half.
- This will be Duke's fourth Sweet 16 appearance in the last five seasons.
Reach Senior Sports Editor Aaron Fischman by email, or follow him on Twitter.