Politics
David Roberts Earns A Vote From Knocking On A Door
Ulises Diaz's Picks
Mayor: Garcetti
City Attorney: Feuer
Controller: Galperin
District 9: Roberts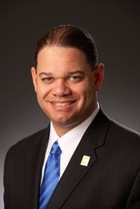 Ulises Diaz, a Los Angeles resident for more than 48 years, voted "Yes" on Measure A, which would increase the sales tax.
"I think it's important that we all take responsibility for our city. A few more pennies here, a few more pennies there. We all need to take contrast the choices… We pay less, then we get less services," he said, standing near the bicycle he used to get to his South L.A. polling location.
Diaz said that he gathered some of his friends at a round table before the election and talked about it seriously. Then he made his choices.
"I read all of their material. And I spoke to my friends. I have round tables with my friends…We sat down and talked about state elections and federal elections," said Diaz.
As far as his city council vote, Diaz had an easy time making a decision.
"He knocked my door," Diaz said of district 9 candidate David Roberts. "I've knocked doors, too, for the 2008 election…I respect when a candidate goes and knocks your door. We had a chance to speak briefly…he seems more agreeable to me."
Reach reporter Xueqiao Ma here.