Los Angeles
L.A. Council District 9 Race Mirrors Low Citywide Voter Turnout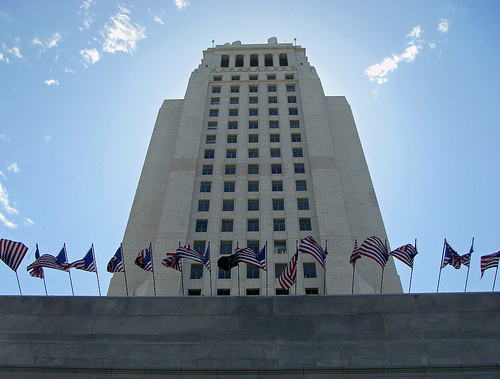 While city races generally produce much lower voter turnouts compared to presidential elections, that trend was especially noticeable in the 9th Council District contest for Jan Perry's vacated seat.
The vote to decide a replacement for the termed-out Perry will resume in May between state Sen. Curren Price and Ana Cubas after neither candidate secured 50 percent of the vote in Tuesday's primary. Price picked up 27 percent of the electorate to edge Cubas by about 3 percent.
But in the meantime, it appears the two runoff candidates will have quite a few voters to win over. Citywide turnout was a lackluster 16 percent, but participation was even lower in the 9th District race, which attracted less than 12 percent of registered voters, the lowest turnout rate of the eight council districts that held elections.
SEE ALSO: L.A. District 9 Race: A Quick Glance
Raphael Sonenshein, the Executive Director of the Pat Brown Institute of Public Affairs at Cal State Los Angeles, said he expected that turnout would have been higher because Perry's absence would lead to a more competitive race.
"This was an open seat," Sonenshein said. "With both black candidates and a strong Latina candidate running, you would imagine that both communities would be mobilized."
CD9 encompasses business-rich areas of downtown such as Staples Center and L.A. Live, but also includes some of the most impoverished neighborhoods in the city. After a contentious redistricting battle in 2012, the boundaries of the district shifted further into working-class South L.A., stripping CD9 of many of its downtown business assets.
Redistricting, in addition to changing demographics, means Latinos now make up roughly 77 percent of CD9's population. But low voter registration among Latinos relative to the population size translates to a smaller district-wide vote tally. A little more than 9,000 voters cast a ballot in the CD9 race, compared to the 23,000 residents who voted in the CD5 Council race that sent Paul Koretz back to City Hall.
"The 9th has a very low percentage of citizenship, especially among the Latino residents of the district," Sonenshein said. "The largest number of registered voters are African-American."
SEE ALSO: Curren Price Benefits From Sacramento Donors
With CD9 primary candidates Mike Davis and David Roberts now out of the picture, Price won't have to worry about a split in the African-American vote among multiple black candidates. So does this give him an upper-hand over Cubas in the runoff?
"It would be safe to say that," Sonenshein said. "Going into the runoff, Price has something of an edge. Had the other black candidates not been in the race, Price probably would have had more votes than he had."
SEE ALSO: Ninth District Race May Determine Fate Of Women On L.A. City Council
Cubas is trying to replace Perry as the only woman on the City Council and has the backing of former Councilwoman Rita Walters, who represented CD9 before Perry took over in 2001. Cubas spent the last few years working as chief of staff for CD14 Councilman Jose Huizar.
The overall low participation in Tuesday's primary election was a far cry from the 34 percent that turned out when Mayor Antonio Villaraigosa won office in 2005.
Read more of Neon Tommy's coverage of the L.A. primary election here.
Reach Senior Staff Reporter Danny Lee here; follow him here.