Technology
Google's Hacked Shoes At SXSW Yet Another Experiment In Augmented Reality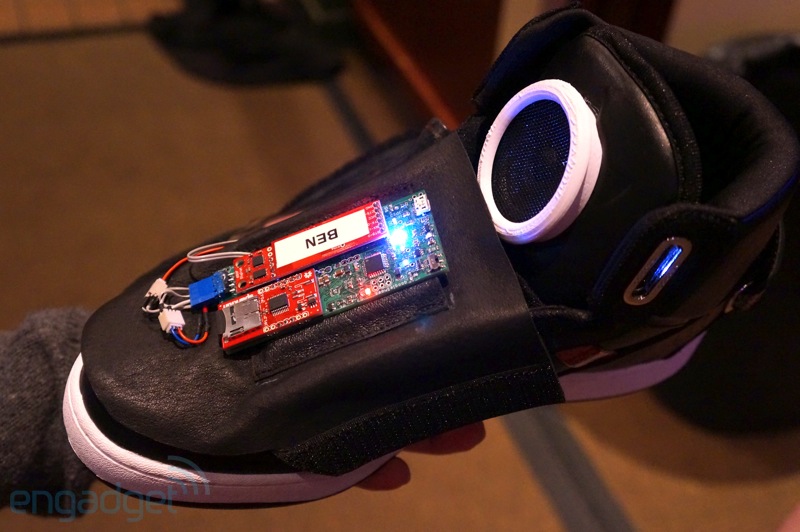 It seems like half of Google's experimental projects are high-minded attempts to change the world, and the other half are goofy ideas that an engineer thought up after watching a particularly absurd episode of Dr. Who.
Either way, Google's inventions always draw attention, as was the case with a talking shoe the company showed off at SXSW last week as part of a showcase of its Art, Copy, and Code project. The smart-footwear was less of a foray into the shoe market, however, and more of a sign that Google is serious about exploring every way wearable augmented reality can be utilized in the future.
The hacked shoe features a pair of Adidas installed with a microcontroller making use of accelerometers and gyroscopes to provide direct feedback to the user on everything related to their walking, running, or lack thereof through a speaker embedded in the shoes' tongue.
From Cnet:
But there's more. As the nice Google spokesperson described it, the shoe uses data to adopt "a personality," something Google strives for in all of its products.
If you start running and the shoe has an athletic personality, it will cheer you on. But if it has a lazy personality, it will get upset with you for being athletic.
Google cautioned that it is not interested in entering the shoe business, so consumers shouldn't expect to see the modified Adidas on the market anytime soon. Instead, the company aimed to demonstrate a different application of the data gathered by wearable smart-technology, like Google's other popular project, Glass, perhaps taking a page on software personality from Apple's Siri.
Exploring such offbeat avenues for wearable augmented reality tech might be crucial to Google's future efforts in the field, as their Glass project has actually met with considerable backlash, even before its release. One bar in Seattle went so far as to preemptively ban the device on the grounds that it may invade patron's privacy with its ever-present camera.
As one TechCruch writer observed, however, such concerns might be overblown, as video surveillance is already pervasive in Western society, and giving everybody constantly-connected cameras could in fact be less harmful than just keeping them in the hands of authority.
With a number of companies exploring wearable technology like fitness-tracking sportswear or app-enabled smartwatches, Google's experiments in the field, serious or not, could prove valuable in an increasingly tech-integrated future.
You can reach Staff Reporter Shea Huffman here or follow him on Twitter.