Los Angeles
Gil Garcetti Racks Up Votes for L.A. Mayor Hopeful And Son Eric Garcetti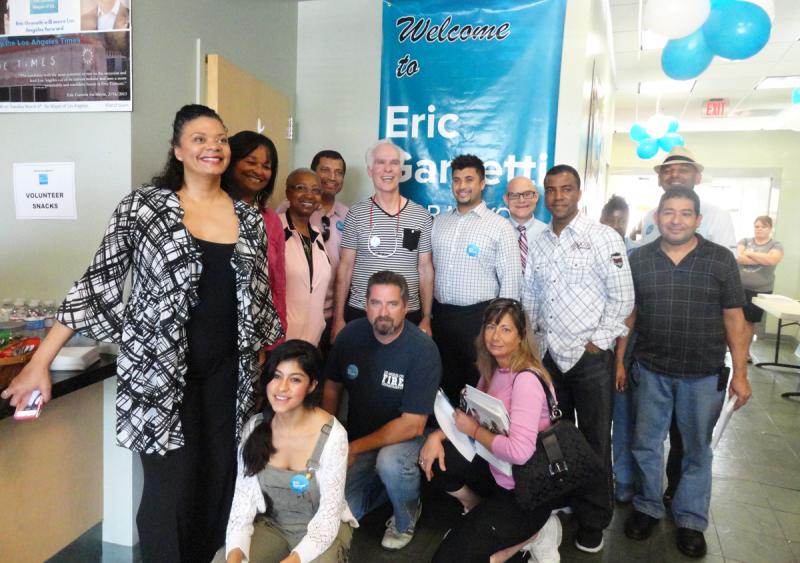 As Councilmember
Eric Garcetti
's time is spared thin to get as many voters as possible to the polls on March 5, his 71-year-old father
Gil Garcetti
showed up at the younger Garcetti's South L.A. campaign office Saturday afternoon to help out.
Former district attorney Gil Garcetti walked briskly into a room filled with a dozen volunteers, wearing a black-and-white stripe T-shirt with a blue "Eric Garcetti for Mayor" button pinned on. A digital camera in hand, his sunglasses were hanging in front of his chest in a red string.
"This is the weekend. This is it," said Gil Garcetti during a witty and light-hearted pep talk.
Gil Garcetti shared a father-and-son moment, shortly after he left office as L.A. County district attorney in December 2000, when Eric Garcetti was teaching political science at USC and Occidental College
"He came up to me and said, 'Dad, I'm going to run for the City Council,'" Gil Garcetti said.
"What? Didn't you learn anything from my experience, for God's sake?" Gil said.
"He said, 'Yeah, I did. I really wanted to be involved in public policy.'"
"I said, 'Okay. I'll help you if you wanted. But don't forget it's a two-edged sword. There are a lot more people who'd say 'Go and take a hike' than 'Yeah, we like you,'" Gil said.
Before Eric Garcetti was elected to the City Council representing District 13 in 2001, his father remembered an unforgettable moment of soliciting votes while walking door to door in Highland Park with a student union president from L.A. High School. They crashed a wedding ceremony and all the 27 guests present, including the bride in a white full-length gown and the groom in tuxedo, ended up becoming Eric's supporters.
Today, as any other day, is a busy day for Gil Garcetti. Recently he has been making phone calls to absentee ballot voters with a record 181 calls on Thursday.
Gil Garcetti offered a few tips to volunteers who will be phone banking L.A. voters.
"You have to keep an upbeat voice when you talk to people, even if you know they disagree with you," Gil said. "When you're making phone calls asking for money, you can't take it personally."
The South L.A. office was his fifth stop and after a brief stay, he headed to Eagle Rock and downtown L.A.
Among the small group of volunteers who showed up Saturday were both long-time supporters and first-timers. After a quick training, some walked out to the community dropping campaign flyers on the doorsteps and others stayed in starting dialing.
Jason Seward, 38, founder and chief executive of
Millennium Momentum Foundation
, has been an adamant supporter of Eric Garcetti for 15 years. He recently came to the South L.A. field office for phone banking every day after work, spending roughly 25 hours a week on the campaign.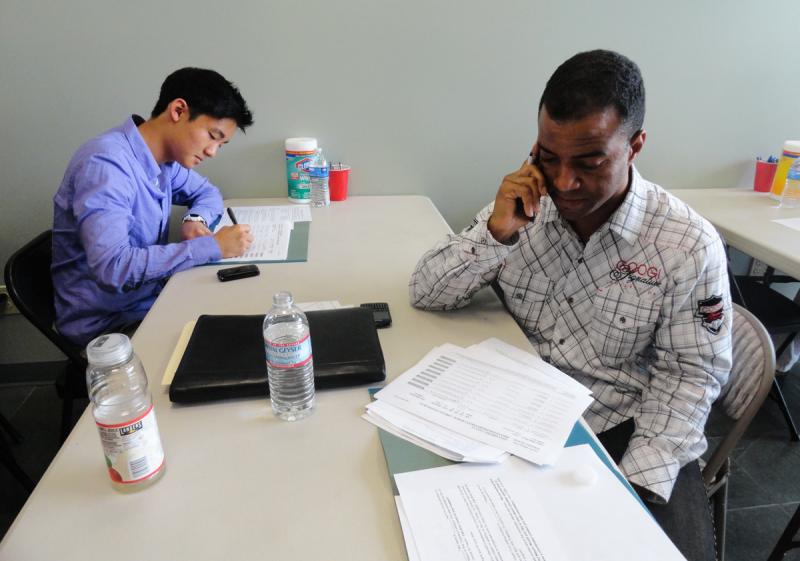 "Eric has been very committed to me. He has been very committed to aspiring young leaders, students, and young professionals," he said. "That particular population is a population that I share very serious passion for advancing."
Timothy Kim, 16, a student from North Hollywood High School, came to the field office for the first time because his teacher encouraged him to be involved more with political campaign. After doing his research online, Kim had his best candidate for mayor.
"Eric Gracetti seems to have passion for small businesses in the community. He seems to have qualified experience to be the mayor," he said.
Councilmember Eric Garcetti and City Controller Wendy Greuel are the frontrunners to enter the mayoral runoff in May, if no one can secure a majority of votes in Tuesday's primary.