USC Sports
Fontan's Story Draws To A Close As Trojans Upend ASU On Senior Day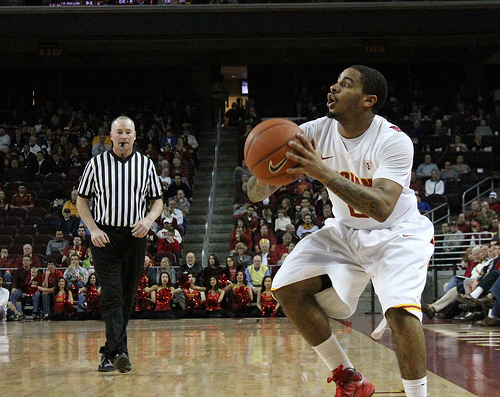 In the fairytale, Jio Fontan would have scored a bushel of points and walked out a conquering hero in his last game on the Galen Center floor, the crowd chanting his name to serenade him off the court.
That's how the story is supposed to end for a player who has gone through as much as he has. All six of the Trojans celebrated in Saturday's senior day endured struggles, of course, both individually and as part of a team with back-to-back letdown seasons to its name. None, however, have endured what Fontan has, a shredded knee bookended by two seasons with far too many minutes foisted upon his slight frame. All of them were coached by Kevin O'Neill, but he was the closest to the ornery taskmaster, the one who took O'Neill's midseason firing a little harder the rest. Five of the six transferred, but none came further than the Patterson, N.J native, who left all he had known on the East Coast when he left Fordham for the chance to play big time ball on the other side of the country.
If anyone deserved a shining moment, Fontan was the guy.
That didn't happen, however, not exactly. The Trojans did get the win, a 57-56 nailbiter over Arizona State that once again saw a massive lead – this time, 19 points – evaporate. But on the day of his shining moment, Fontan was held to a meager 7 points, his performance most notable for injuring his right wrist early in the second half and then for fouling out with four minutes to go.
In some ways, it was par for the course of his career. The night didn't go to plan, nor did it gleam as brightly as he probably imagined it would. Few things, if any, came easy and for a 23-year-old who struggled through so much, he'd be excused for wearing the disappointment on his face as he sat behind the podium in the arena's media room for the last time.
Except Jio Fontan didn't do that. It looked as though he might cry, his voice trembling and his eyes narrowing ever so slightly, but the tears that didn't ultimately never came would have been ones of pride, not shame. For much of his six minutes behind the microphone, he spoke of the winding that journey that brought him to this moment and the impact those three years have had on his life. The game wasn't really about the game.
"Even in warm-ups, my attitude was so different than it always is," he marveled. "I was so happy to be part of the moment. It's tough now leaving, seeing all the love that I got and then looking around, knowing it's not going to be there anymore and even my life here in California is slowly coming to an end.
"This game represented all the struggles I went through," he continued. "It's funny to see how much I've grown as a man, just to deal with everything I've been through. Living by myself. Being away from home. Going through injuries. Everything. It's a tough moment."
On Saturday, he persevered once again. His battered wrist had to be taped, making it difficult to dribble or shoot. His coach, Bob Cantu, admitted that he wasn't sure if the captain could return to the game and Fontan only knew that he "definitely wanted to give it a try," not whether he actually could play through the pain.
But fellow senior Eric Wise, a transfer like Fontan, expected nothing less than the toughness that has come to define Fontan's career.
"I know he'd try to play if his wrist was broken," Wise said. "He's our leader. I knew he'd come back strong."
Fontan wasn't on the court for the waning minutes, a furious Sun Devil comeback that gave ASU a chance to win at the buzzer. Wise was the protagonist in this one, putting up a team-leading 12 points but most importantly drawing a crucial shooting foul with 18 seconds left to sink what turned out to be the deciding free throws. That he even got the call to begin with was no sure thing, with officials taking several minutes to determine if it could possibly be a shot-clock violation – and Arizona State ball with a chance to send the game into overtime.
"I was holding [my breath] the whole time," he laughed. "I figured it was a foul but I wasn't paying attention to the shot clock. Luckily, I hit the free throws."
Though marooned on the sidelines, Fontan's leadership nevertheless shone through in the form of freshman Chass Bryan. The walk-on is Fontan's understudy and likely successor next season, and someone who has been looked to increasingly often in pressure situations. With Fontan sitting out large stretches at the tail end of each half, the 18-year-old assumed the helm with poise beyond his years, the type acquired from studying alongside the team's wisest hand.
"He's done a great job all year, whether or not I've been able to play," Fontan said of Bryan. "The minutes he's given us you'd expect of a senior or junior. He's done a great job of soaking up all the knowledge we've given him and, on top of that, putting in a lot of work. He definitely deserves everything that's been coming to him."
With as few as three games remaining in Fontan's college career, he knows time is slipping away. Soon, it will be Bryan's team to run, and he will vacate his position in USC's starting lineup for the professional ranks, be it the NBA or elsewhere. The topic shifted to remembrance – of how he'll view his present and past in future days – and again he spoke of the journey, this time with more happiness in his eyes.
"A lot of times, you sit around and consider a lot of things you do," he mused. "I never like to live with any regrets but I definitely had to make the best out of a lot of situations here. It made me grow up and now I can say I've done everything. I've graduated, I got my degree, got a chance to play with [O'Neill] and beat UCLA multiple times.
"It's been…"
He paused, searching for the right word to sum it all up – the heartbreak and elation, the failures and successes, the loneliness and camaraderie. Then he located it as quickly as he trailed off, a word you wouldn't come to expect from most players who persisted through all that Jio Fontan has, but one you absolutely would from the player who lived it.
"Fulfilling."
Reach Staff Reporter Mike Piellucci here or follow him on Twitter.