International
Dublin's St. Patrick's Day Parade More LGBT-Friendly Than Some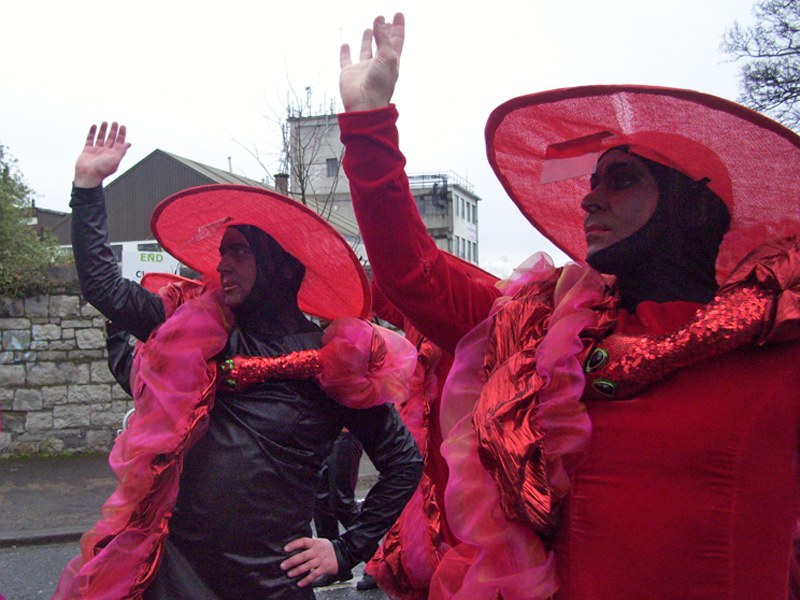 DUBLIN—The largest-ever group of LGBT marchers strutted past half a million onlookers in Dublin's St. Patrick's Day parade on Sunday, but participants say they hope St. Pat's celebrants far away from Ireland's capital city also took notice.
"The spirit of the St. Patrick's festival here in Dublin is all about inclusion," said Dublin Pride's Darren Lamont, decked out in a dress and dark red face paint. "We're hoping that other cities around the world will follow suit."
While Dublin is among a growing number of cities with gay-friendly St. Patrick's Day parades, places like New York, Boston and Cincinnati still host parades that prohibit gay groups from joining in.
In New York, leading mayoral candidate and City Council speaker Christine Quinn refused to march in the historic Fifth Avenue parade on Saturday because it bars participants from displaying any gay-pride messages. This exclusionary policy led to the launch of an alternative, gay-friendly parade in Queens, which Quinn attends. Quinn, a lesbian Irish-American, said she's marched with LGBT groups in Dublin's parade.
"If you can do that in Dublin, in God's name, why can't you do it on Fifth Avenue?" Quinn said to the Associated Press.
This year's Dublin LGBT marchers were representatives from both Dublin Pride—a group that organizes the city's annual LGBT festival—and BeLonG To, an Irish LGBT youth organization. A total of 19 participants danced through the damp streets of Dublin, greeting flocks of green-clad partiers.
"Our costumes are flamboyant, lively and bright," said Chris Procter, Dublin Pride chairperson. "We have men portraying women, women portraying men. We're all being diverse and we're all being neutral and equal."
The LGBT group was among a number of Dublin-based community organizations invited to march in Sunday's massive parade as part of a diversity initiative called "City Fusion."
This year, about 8,000 tourists from around the world formed the forefront of the procession, in connection with Ireland's yearlong tourism campaign, "The Gathering." Dublin's O'Connell Street served as stage for dancers, elaborate floats and marching bands—including one from Purdue University and FDNY's Emergency Medical Service bagpipe band.
Procter said Dublin's parade organizers—members of the Irish government's St. Patrick's festival board—were fully supportive of the group's involvement, a sign that Ireland has changed considerably in recent decades.
"Thirty years ago, you couldn't even walk down the street," she said. "But in 2013, the community is so vast and so wide that there's just an acceptance."
It was just 20 years ago that Ireland decriminalized homosexuality, a milestone that Dublin Pride celebrated with Sunday's parade. Now, despite the Catholic Church's position against same-sex marriage, polls show that 73 percent of the largely Catholic country believes it should be allowed in the Constitution. And in 2010, Ireland passed a law recognizing civil partnerships between same-sex couples.
Dublin Pride's Lamont said the Catholic Church's anti-gay stance is still a barrier when it comes to the gay marriage debate in Ireland, which the country's Constitutional Convention will take up next month.
"We're currently coming up against it in our fight for marriage equality," said Lamont. "But the community is behind us and the fight is getting easier."
Lamont said his appreciation for Ireland's gay rights progress drove his group's desire to play a part in the celebration of Ireland's favorite patron saint.
"In the past 30 years, there's been a lot of changes in Ireland," he said. "So, this year, we wanted to say to people, "We're not just proud to be gay, we're proud to be Irish."