Opinion
Consider Culture In The Native American Whaling Rights Debate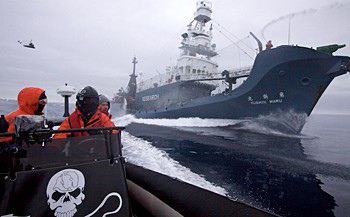 In light of
growing tension
between
Sea Shepherd
, an international group of marine animal conservationists, and Japanese whalers over the rights to hunt wildlife in Antarctic waters, news media worldwide have been flooded with mountin legal disputes.
Sea Shepherd's growing prominence as today's leading proponent of marine animal rights brings back into focus the critical animal rights dilemma America faces domestically, that of Native American whaling rights. The "Idle No More" movement of Canada's First Nations peoples has also helped to bring global attention to the rights of native peoples in North America.
In October of 2011, the New York Times published an article on the "Sacred Whale Hunt" conducted by certain Native American tribes in Barrow, Alaska. Questions raised by animal rights activists, including whether or not anyone should be allowed to hunt aquatic animals at all, are still being argued today.
In America, animal rights activists, including those involved in Sea Shepherd, are at odds with various peoples over the hunting of ocean wildlife; Native American tribes who practice whaling are but one of these groups. As sovereign peoples, however, Native Americans are distinct from other American citizens and have certain inherent rights, including the right to exercise their long-established practice of whale hunting, considered fundamental to their spiritual way of life.
As such, environmental groups are approaching the protection of whales and the hunting of all oceanic wildlife too presumptuously; their claims that whaling by Native American and Japanese groups is unjust and their demands that the practice be outlawed fail to take into account the reasons these two groups participate in hunting oceanic wildlife.
To illustrate the significance the U.S. has placed on the illegality of importing and selling whale meat in America, the Hump restaurant at the Santa Monica Airport was caught serving whale meat illegally in 2010 and was closed. The chefs and owner have been charged with "nine counts of conspiracy to import and sell whale meat between 2007 and 2010," in violation of the Marine Mammal Protection Act, which prohibits the hunting, killing and capture of any marine mammal. Whale meat in Japan, however, is not only legal, but is a favorite national dish.
The stark differences between the United States and Japan in their opposing approaches to marine mammals exhibits the radical disparity between the two nations, which in turn has undoubtedly resulted in distinctly separate philosophies among each country's citizens in their approaches to the treatment of marine mammals as a whole. American environmentalists are perhaps so aggressive because of the complete prohibition of whale meet in their home country.
In Canada, Native American tribes responded to environmentalists at a recent Idle No More Global Action Day, held on January 11 by affirming their sense of connection with Mother Earth and her animals. As 11-year-old Ta'Kaiya Blaney most poignantly put it:
In my culture, it's a fact, it's an understanding of our way of life that everything is connected, the fish and the eagle, the herring and the whale. Each and every species plays its part in the circle of life. And we were put on this earth for a reason, so we could be the caretakers, and the healers, and the speakers, and the warriors for Mother Earth. And we were given a voice for reason, to speak out for those who have no voice, like the whales and the salmon. Our responsibilities as humans, as indigenous peoples, are for this earth, and of this earth.
Blaney's speech places strong emphasis on her people's role as humans, including speaking out for "those who have no voice, like the whales and the salmon." How are we, as humans, using our role as dominant creatures in the ecosystem to benefit those lower than us? Native American and non-Native peoples must ask themselves this question in order to more fully comprehend whaling and all that it entails.
There is no doubt that hunting ocean wildlife is a complicated issue. But whether or not one agrees with the activity, it is imperative to keep in mind the motives behind certain groups engaging in hunting, whaling most especially. Strict regulations need to be implemented internationally so as to allow issues concerning the legality of hunting ocean wildlife to be addressed more effectively and the protection of both indiginous minorities and oceanic creatures to be upheld to the highest degree.
Reach Contributor Kathryn van Handroff here.