Nation and World
National Coming Out Of The Shadows Month: Putting A Face To The Word "Undocumented"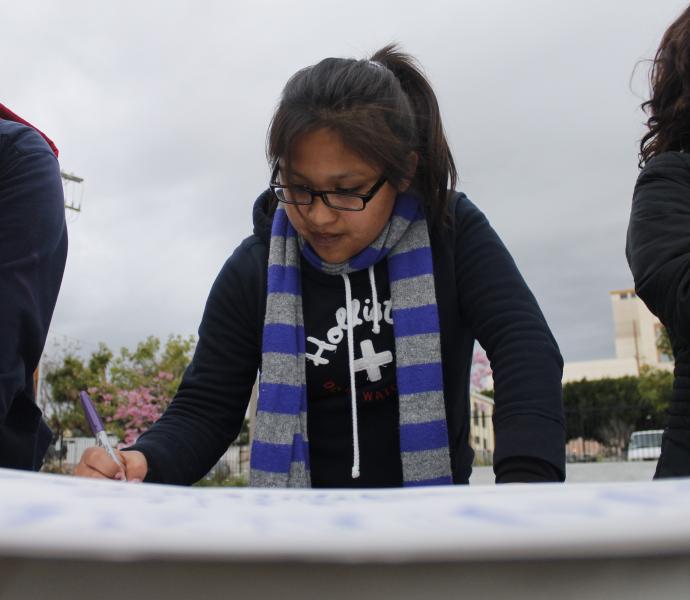 On Friday, 18-year-old Mary P. took the microphone and told the crowd gathered at Mariachi Plaza in Boyle Heights about being momentarily separated from her parents while crossing U.S. Mexican border.
Her father had sent her and her younger siblings to a house where they were supposed to find their mother. But when the children arrived, they found no one.
She was only 6 at the time.
"That was a scary moment," said Mary, holding back tears, "being by myself."
Today, however, she's not by herself. Her friend Claudia R. stands next to her and helps her get through an emotional moment.
"Claudia told me about coming out of the shadows," said Mary, "and how it makes you no longer afraid to say you're undocumented."
Also in the crowd are friends, family, and supporters for immigrant rights, many of whom have experienced the same sense of alienation that Mary had felt being alone at the US Mexican border. They're all taking part in a "coming out of the shadows" rally in East Los Angeles, an event that is part of a nationwide campaign sponsored by the National Day Laborers Organizing Network to encourage undocumented immigrants to come out about their immigration status and tell their respective stories.
Jonathan Perez, a NDLON consultant, said that coming out as an illegal immigrant "is contrary to what we've have been taught" -- to hide one's immigration status. Yet Perez said that undocumented immigrants have a lot more to gain to reveal their names rather than keeping them hidden.
"When we started putting a name to the issue, that's when we started to see things change," said Perez. "That's when we almost got the federal DREAM act. That's when we got the California DREAM act."
The movement started in 2010, when undocumented youth began to organize sit-ins across the nation, from Washington D.C. to John McCain's office in Tuscon, Arizona. They revealed their names to draw attention to the federal DREAM act, which would allow undocumented youth who go to school or have served in the military to live in the United States. The act has repeatedly failed in the Senate since its introduction in 2001, but the Obama administration has taken steps to downplay the deportation of young people without criminal records. In June of 2012, the Obama administration announced that they would allow for people who qualify for the DREAM act to apply for deferred action, which would allow them to stay and work in the US.
Change has come for some undocumented immigrants, but the constant threat of deportation is still a reality for others. The 2012 fiscal year also saw the Obama administration presiding over a record number of deportations: 409,849. Many of those who were deported were family members of DREAMers that Obama had reassured they could stay through deferred action. A study conducted by the University of California-Merced estimates that the Obama administration will have presided over 2 million deportations by 2014; a quarter of those deported since 2010 are parents of children born in the states. Many others get deported for minor offenses like marijuana possession and speeding.
Mary P. said that a close family friend was deported for a parking ticket.
"He would give us a ride to our house every day," she said. She hasn't heard from him since.
For Mary, the threat of deportation always lingers in the back of her mind. In order to overcome her fears, however, she's decided to talk about her immigration status rather than hiding it.
"I'm here today because I want to say I'm not afraid."
Reach Aaron Liu here.