Sports
Chapman Women's Lacrosse Joins USC As Only Other 2013 NCAA West Coast Addition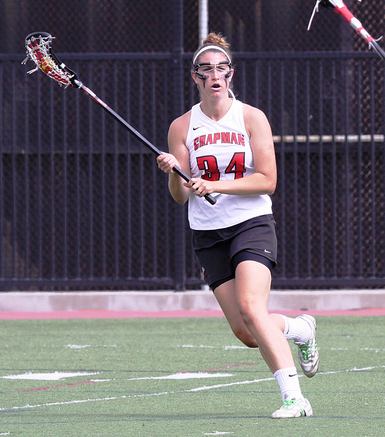 ORANGE, Calif.--Victoria Wilkinson vividly remembers holding the ball as her team led by a single goal. She watched the seconds tick away: 10, nine, eight, all the way down to triple zeros on the Ernie Chapman Field scoreboard.
Wilkinson recalled, "Then, I went straight from having the ball to go congratulate our goalie (Kara Podesta), because she definitely won that game for us."
The 15-14 overtime victory on Feb. 13 was the first-ever NCAA Division III home win in Chapman women's lacrosse history. Since the team's official inception in 2009, it had played at the club level. For the 2013 season, however, Chapman, along with 35 other schools nationwide, moved its women's lacrosse program to a varsity sport.
Chapman senior goalie Anjali Thota explained the feeling: "It's almost surreal to be an NCAA athlete, because we have never had that opportunity here at Chapman before."
Freshman midfielder Kelsey Mackin came to Chapman for moments like that. "That was crazy," she said. "Especially the energy that we felt from everyone on the sidelines and on the field and then having our school supporting us in the stands, knowing that was our first Division III game ever. That was awesome. Just being able to have that battle on our home field was a pretty cool feeling."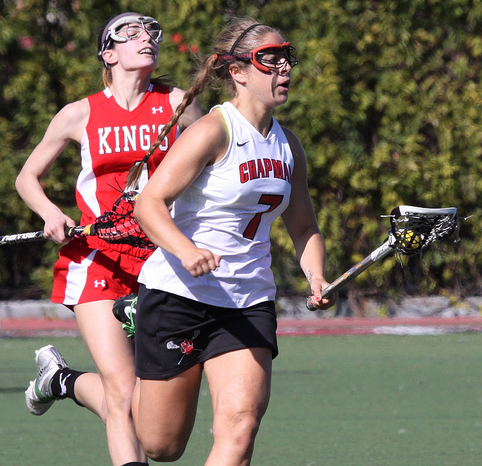 In May 2011, Chapman University, a small, private school located in Orange, Calif., was accepted into the Southern California Intercollegiate Athletic Conference. As part of the SCIAC's agreement to allow the Chapman Panthers to join, the school was expected to transition four teams to varsity status over the following five years (or by 2016), including women's lacrosse, men's swimming and diving, women's golf and men's track and field.
With Chapman's move to the SCIAC, there are now six women's lacrosse teams in the conference, including Redlands, Occidental, Pomona-Pitzer, Claremont-Mudd-Scripps and Whittier College. Chapman women's lacrosse head coach Brian Eisenberg noted that as soon as the SCIAC is able to add a seventh team, its conference winner will automatically receive an NCAA playoff bid.
Eisenberg explained his love of lacrosse, affectionately calling it "the mutt of all sports." He gestured with his arms and raised his voice when asked to explain the greatness of the game. "It literally has a little bit of soccer," he continued, "a little bit of basketball, a little of football on the guys' side (and) a little bit of hockey."
"You just combine all those sports together, and you get lacrosse. What more could you want out of a sport?"
Wilkinson lauded the game of lacrosse for its intensity, as well as its creativity and finesse. Wilkinson said, "It can get rough, but there's a level of grace involved with it, as well, and trying to figure out that balance and the creativity that gets involved with that is what makes it fun."
Eisenberg is small in stature, but strong in his commitment to his team. Although the school's athletics website claims that Eisenberg "built Chapman's club program from scratch in 2009," Eisenberg acknowledges that's not entirely true.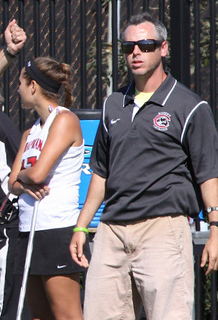 Eisenberg has a former student named Allison Wong to thank for starting the process of building a team. It's no wonder Wong's jersey hangs in Eisenberg's office cubicle.
In 2006, as a freshman, Wong went to the athletic department to inquire about starting a women's lacrosse club team. According to Eisenberg, for her first two years at Chapman, the athletic department gave her various "hoops to jump through." Whenever asked, she jumped.
By Wong's junior year, Chapman finally allowed her to assemble a team. This team would compete separately from Chapman and without a coach, but if the experiment worked, for Wong's senior season, it would become an official Chapman club team with a traditional coach.
After Wong served as player-coach in 2008, it was time to hire a real coach for the '09 season.
Eisenberg heard of the coaching vacancy after the school sent out an email to all men's lacrosse alumni. Eisenberg had graduated from Chapman a decade earlier, where he played on the men's team. Upon graduating, he briefly worked as a volunteer assistant for the men's team before moving on to coach youth and high school boys' lacrosse in South Orange County.
Eisenberg recalled, "When I learned that Allison was a senior, I didn't want her to graduate and just have the program completely flop and not continue."
"I said, 'If all you do is call me 'coach,' I'll make sure there's a positive relationship on the field, I'll make sure there's a positive relationship with the athletic department and I'll make sure that there's a program next year to continue.' And that was basically all I committed to at first."
According to the coach, he was paid approximately $1,000 that first season, all of which came out of the students' pockets.
Expectations were minimal, according to Eisenberg, because he wanted to provide stability for the brand new team. He wanted his players to understand that there wasn't going to be an outsider who would push the team beyond its capabilities and wind up quitting out of frustration.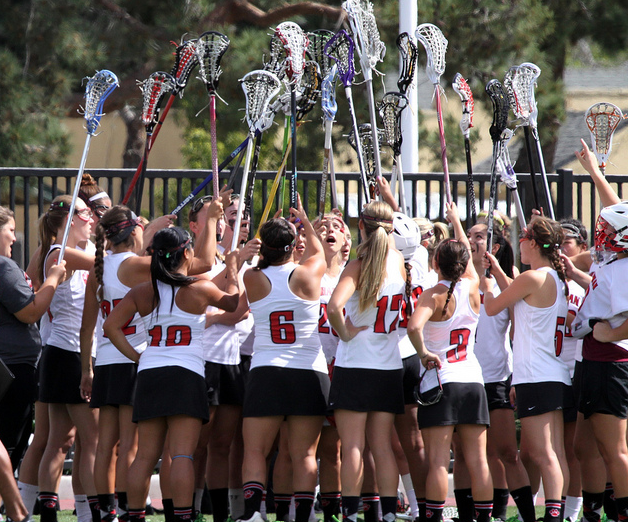 "We literally had no expectations," said Eisenberg. "We won four games, lost three (and) the three teams that beat us were significantly better than us."
The team continued to improve every year. Huge success came much earlier than anticipated when the Panthers went a perfect 17-0 en route to the Women's Collegiate Lacrosse Asssociates Division II championship in just their third season as a club team.
Eisenberg reflected, "I didn't recognize that it would happen as fast as it did, but I definitely had a long-term goal of becoming a great team. It's just happened really, really fast."
There are many different levels of club, as well as varsity. In fact, during Chapman's four years as a club team, it competed at three different levels. Most recently, the Panthers played in Division I club, where they finished the 2012 season ranked No. 12 in the country.
The transition to varsity status, particularly NCAA Division III, has brought certain significant changes, but the level of competition has largely stayed the same compared to last season, according to Eisenberg: "I think that if you get a really organized club, that's just as viable as a Division III program in terms of competition."
"We've always tried to treat it like a varsity program, so the jump from this year to last year hasn't been too much different."
Senior goalie Anjali Thota concurred, "Club DI was a very, very tense, competitive level. I don't feel like club gets enough credit at all."
The Panthers' new varsity status instantly meant financial support from the athletic department, a development that allowed the team to attract talented freshmen like Kelsey Mackin from Seattle, Wash.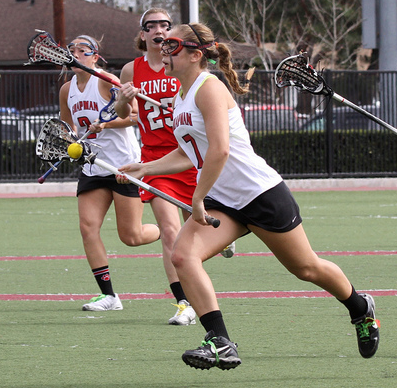 "Myself and a few other people," Mackin recounted, "were looking at schools that had club, and it was good club, but one difference with having Chapman be DIII is you're not paying $2,000 or $1,000 for everything."
In years past, Chapman players had to buy all of their own equipment, which in a sport like lacrosse can be extremely costly, especially for college students.
Eisenberg detailed another benefit, the prestige that came with the new NCAA label: "There are definitely some (potential recruits) that are like, 'I don't want to play club. I want to play NCAA.' They don't understand the difference. And so as soon as we became NCAA, they were more interested."
This, in part, allowed the team to attract a robust 2013 freshman class, headlined by Mackin, who currently ranks second on the team in goals and points. Mackin and 12 other freshmen make up nearly 45 percent of the team's roster.
Eisenberg added, "We get a budget from the school now. It's not huge, but it's way bigger than no budget."
There's also more administrative support from the athletic department.
Specifically, Eisenberg explained, "As a club, if we wanted to write an article on our website, it was us writing the article. Now we have a sports information department that does all that." A university employee or student worker now compiles game statistics, as well.
Defensive coordinator and goalie specialist Dan Kirkpatrick cited NCAA regulations, such as recruiting and practice guidelines, as something he had not previously had to deal with at the club level.
NCAA rules aside, since joining Eisenberg's staff two years ago, Kirkpatrick has enjoyed a cooperative working relationship with his boss. "He gives you time to work with your players," Kirkpatrick said of Eisenberg. "He's not hovering over you, changing every little detail. He allows his assistant to coach."
Like Eisenberg, Kirkpatrick has had to adapt to coaching the women's game. The women's game is much less physical, uses slightly different-sized equipment and is played on a larger field than that of the men. He said, "It is a big adjustment. You can't just translate the game one for one, but there are a lot of similarities that will allow you to be able to adjust your systems."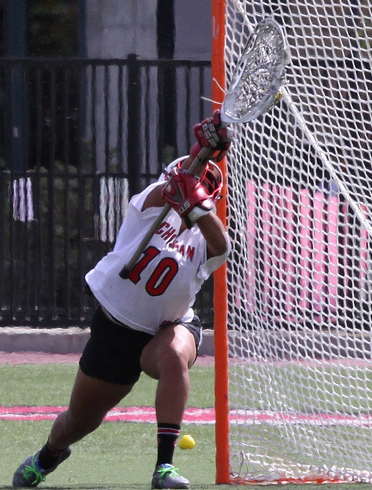 Kirkpatrick, Wilkinson, Mackin and Thota all started playing lacrosse in middle school. Kirkpatrick began playing because his friends were playing the sport. He has loved it ever since.
The summer after Mackin's sixth-grade year, she went to a boys' lacrosse summer camp, where she held her own as a competitor. Mackin recounted, "I grew up in a pretty athletic family, so having my big brother ahead of me, I just always wanted to try everything he did." Other than her ponytail, she said she blended in well with the boys.
Thota, who started playing in eighth grade similarly remembered her first day on the lacrosse field. Thota recalled, "I didn't want to run, so I decided to play goalie. Little did I know that it was a lot more athletic than what I thought it was."
As a goalie, she has had to learn to avoid a mentally challenging aspect of the position. According to Thota, "When you lose by two, it's hard for you not to think 'What if I blocked two more goals?' (or that) type of thing, so you need to hold yourself to a high standard, but also realize you are the 12th (line of) defense on the team."
Wilkinson, who leads the team with 28 goals, started her bright lacrosse career in seventh grade. At the time, she was a soccer goalie, who wasn't seeing much action because her team was so talented. A family friend advised Wilkinson to try lacrosse, and she was instantly hooked.
From that point forward, there was no stopping Wilkinson's competitive drive. Growing up in Palo Alto, she attended lacrosse clinics and eventually joined a club team at Stanford University, where she learned under longtime Cardinal head coach Michele Uhlfelder.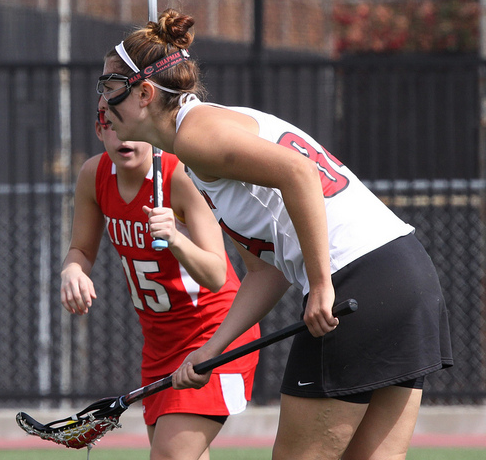 Wilkinson reflected, "It was really great to have phenomenal instruction from her to start, and it just picked up from there." Coincidentally, Uhlfelder now coaches for Occidental, one of Chapman's SCIAC rivals.
Wilkinson's high school coach and a Louisville assistant were friends, which enabled the promising teenager to play in Kentucky for a few summers. The fortuitous connection resulted in Louisville's recruitment (and eventual signing) of Wilkinson.
After one year at the school, Wilkinson opted to transfer away from Division I Louisville to the much-smaller Chapman. "It was a great program," maintained Wilkinson," but I wanted to be able to incorporate a little more academic rigor in my schedule, so that would explain the change from DI to DIII."
"(There), a lot of my life revolved around lacrosse. And here, I believe a DIII program gives you a lot more space to have a more well-rounded schedule." Since coming to Chapman, the business major added a political science major, a photography minor and a photography internship with a Boston-based company.
Eisenberg was thrilled with her addition: "She got great coaching her first year of college (and) she's physically a little bit bigger than a lot of our players."
The change from Louisville to Chapman hasn't been as drastic for Wilkinson thanks to the recent hiring of three assistant coaches who once played Division I lacrosse, including Catherine Rodriguez whose Syracuse squad made the NCAA Final Four in 2008.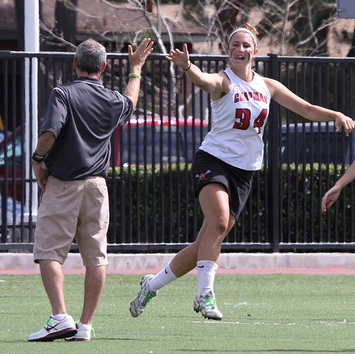 Wilkinson's year at Louisville, she argued, has helped her to better understand the new assistants. Wilkinson explained, "I know where they're coming from, and I support them when it seems that they may be coming off too aggressively."
Kirkpatrick has also welcomed the new assistants with open arms: "It's one of those things where I defer to them. Any chance I get, I'm picking their brain and implementing their suggestions."
Although 36 schools added women's lacrosse as a varsity sport in 2013, Chapman and the University of Southern California were the only schools on the west coast to do so.
"It's happening in pockets of the country," Eisenberg explained lacrosse's increasing popularity, "and as it's becoming more and more popular, it's happening in more pockets, but really there's a lack of great coaching in certain areas. There's a lack of officiating in certain areas. So even where there's this interest of wanting to play, sometimes it's stalled by the resources that are available."
For Kirkpatrick, USC's transition to NCAA Division I lacrosse is "kind of a tipping point, because as soon as USC (figures it out), and it won't take them long to be pretty darn good at the sport, that'll push a lot of universities in the area to add the program, and then the interest from younger players seeing it will push more kids into it."
On March 1, 16 days after Chapman's thrilling, home-opening overtime victory, the Panthers found themselves in trouble, trailing the Occidental Tigers, 17-13, with less than 12 minutes remaining. Chapman promptly scored four consecutive goals to tie the game at 17 apiece.
Unfortunately for Chapman, Occidental quickly responded with its 18th goal of the game. Even so, the Panthers did not appear ready to quit. Although the Panthers couldn't score the equalizing goal, they kept the pressure on Occidental, as Wilkinson attempted three close-range shots in the final minute and a half.
In defeat, they demonstrated the same heart that enabled them to reach such high levels of success in their first four years of existence. Now, in their first year at the NCAA Division III level, they've started the season 7-2.
This team is like its coach and its school: small, but resilient as ever.
Reach Senior Sports Editor Aaron Fischman by email, or follow him on Twitter.