MLB
2013 American League West Preview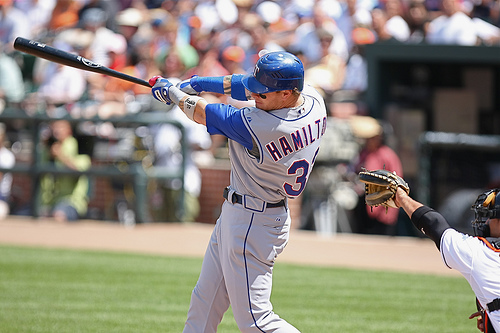 The AL West welcomes a new team this season: the Houston Astros. Yet surprisingly enough, nothing will change. Unless you count the amount of wins the other teams will get from the Astros.
The season starts in the AL West on March 31st at Minute Maid Park in Houston where the Rangers will surely give a warm welcome to the Astros. Here's a preview of what else is in store for this year:
Los Angeles Angels of Anaheim
The AL West definitely has a race for first place again this season, and this year the Angels are once again fighting against the Rangers. With Mike Trout continuing to be Mike Trout and Josh Hamilton joining the ranks, Anaheim is without a doubt a force to be reckoned with. The Angels do face a problem with pitching. Even though C.J. Wilson and Jered Weaver are two of the best pitchers in the league, after them the pitching staff needs serious work. After the departure of Zack Greinke and Dan Haren in the offseason, there seems to be more questions than answers for the state of the rotation. The bullpen also could use improvement, and hopefully the addition of Ryan Madson and Sean Burnett alongside Ernesto Frieri, Scott Downs and Kevin Jepsen will be enough to overcome what held them back from the playoffs last season.
The lineup in Anaheim is stacked and arguably the best in baseball. Erick Aybar looks to replace Torii Hunter at the top of the lineup, and hopefully will receive the same boost Hunter did from batting in between Trout and Albert Pujols. Pujols hasn't been performing like he used to, but then again with Trout and Hamilton performing like they have been, he doesn't have to. The Angels will need Mark Trumbo to step up into his position of primary designated hitter and put up better numbers than last season if they have hopes of beating out Texas. They're also going to need Chris Iannetta to stay healthy and put up good numbers this year after missing 70 games last season due to a wrist injury and forearm strain.
Texas Rangers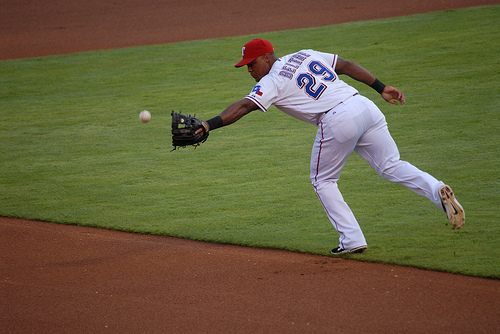 The Rangers lost three key players this offseason, when Josh Hamilton left for the Angels, Mike Napoli went to the Red Sox and Michael Young was traded to the Phillies. There's no doubt the talent exists on the team to fill the voids left by those players, but the big question is will that talent be enough to beat out the Angels for first place this year or will it take too long to develop?
The starting rotation should be just what the Rangers need this season. Yu Darvish finished off last season really well and is all set to come back this season just as strong. Once Colby Lewis is healthy he will definitely contribute quite a bit to the rotation. Matt Harrison and Alexi Ogando were All-Stars last season and are expected to perform just as well this season, with Ogando switching back to starter from the bullpen. The bullpen should see improvement in the second half of the season once injured pitchers Neftali Feliz, Joakim Soria and Martin Perez are back.
Now that Hamilton is gone, Adrian Beltre is the best player on the Rangers. After his stellar year in 2012, he is only looking to improve. Texas is hoping top prospect Jurickson Profar will join the lineup and help maintain the consistency last year's team lacked. David Murphy will be taking over left field and this lefty hitter has already proven his ability to bat against left-handed pitchers, so he is sure to help out the lineup. Nelson Cruz will have to overcome his leg injuries and step it up out in right field. A.J. Pierzynski takes over as catcher and looks to top his career high 2012 season.
The good thing about the Astros coming to the AL West is that they may boost everyone's wins just enough for a team in this division to take potentially both of the Wild Card spots instead of an AL East team this year. Especially seeing how much the Yankees have been hurting as of late. So even if they finish in second place, the Rangers might still make the playoffs anyway. If they can get over their postseason choke streak that is.
Oakland Athletics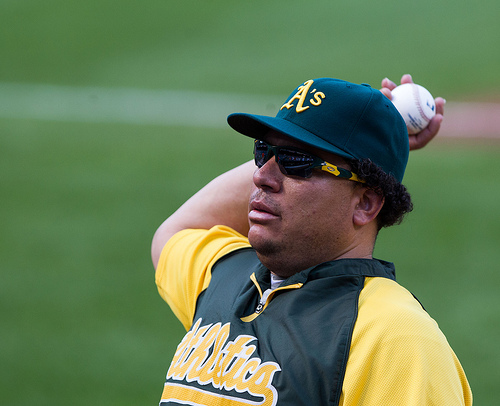 No one predicted the A's winning the division last year, and even so, I still say they finish a strong third this year. Though, if the Angels pitching continues to struggle and the Rangers lineup isn't all it cracks up to be, they may very well surprise everyone and take the wild card.
Oakland returns this year with almost their entire roster intact. The starting rotation pitched very well last season, and since not much has changed, chances are it will fare about the same. After having his season cut short by a line drive to the head, star pitcher Brandon McCarthy left for the Diamondbacks. Not having him as their ace in the rotation could prove tricky for the A's. Bartolo Colon poses his own problems and is aging, so he most likely won't be very dependable. But, there are quite a few young pitchers who will provide the talent necessary to keep Oakland in the hunt this year. The bullpen isn't too shabby either, after finishing last season with the second-best ERA in the AL.
Pitching was without a doubt the dominant force behind Oakland's success last year, and will continue to work in their favor. The lineup, however, could use some improvement when compared to divisional counterparts. The A's said goodbye to shortstops Stephen Drew and Cliff Pennington, third baseman Brandon Inge, and Outfielder/Designated Hitter Jonny Gomes. They brought in Hiroyuki Nakajima at shortstop and Jed Lowrie at third base. They also have Yoenis Cespedes, Coco Crisp and Josh Reddick in the outfield so they shouldn't have to worry about missing out on anyone that left this offseason. The Athletics don't seem to have the same potency as the Angels' lineup, and they may struggle against the Rangers' pitching. But as long as they can stay healthy, they shouldn't have too many problems.
Seattle Mariners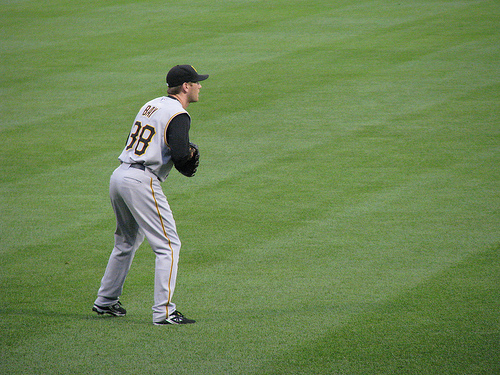 If the Mariners have anything to be happy about this season, it is that they won't finish last in the division. They can also be happy about possibly finishing with a winning record this season because of their games against the Astros. This offseason, Seattle traded away their one of their best hitters in John Jaso, and their second best pitcher in Jason Vargas. That could come back to haunt them. They signed ace Felix Hernandez to a large contract extension though. It could end up being risky in the future, but for now looks like a good sign and a step towards a long term solution for their lineup. The Mariners also added second baseman Robert Andino, outfielder Jason Bay, outfielder Raul Ibanez, pitcher Kameron Loe, first baseman Kendry Morales, outfielder Michael Morse, pitcher Joe Saunders and catcher Kelly Shoppach. Many of these additions are just short term fixes to the large problem Seattle still faces with their pitching rotation and offense. In the rotation, Hernandez is sure to deliver, but the big question is if anyone else can. There is some young talent, so it will be interesting to see how and if they can contribute this season. The bullpen looks strong enough to not need improvement, so that should provide some relief for Seattle. While defense doesn't seem to be a problem, the batting averages of pretty much every hitter need to improve. Health seems to be a problem for the Mariners, so if they can avoid getting injured, it seems like they will be able to improve enough to do a little better than last season's team.
Houston Astros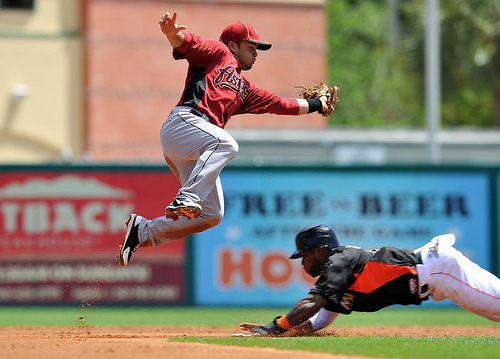 This year the NL Central said goodbye to the Astros and the AL West will welcome them. It is a fresh start in a new division with a new manager, and even new uniforms. The Astros do have a long way to go though, and it won't be easy. Not only are they coming into arguably the toughest division in baseball, they also have the smallest payroll in all of baseball, which means they don't have very much wiggle room. Chances are we won't see noticeable improvement from the Astros for a few seasons, but there are a couple players to be on the lookout for this season.
Bud Norris will be throwing out the first pitch of the season, and he's the pitcher with the most promise for Houston right now. Looking to improve on his 4.65 ERA, 165 strikeout season, Norris will surely deliver for the Astros this season as long as he doesn't get snatched up by another team before trade deadline.
Center fielder Justin Maxwell is perhaps the most highly touted Astro. After last season's team-leading 18 homers, Houston seems to have the most riding on him, and hopefully he can deliver and make the almost-certain 100+ loss season ahead less painful.
Jose Altuve played his first full season in the majors last year, hitting .290 with 31 doubles and 33 stolen bases. He was also the only All-Star from the Astros. He will most likely be carrying the lineup so be on the lookout for what he does in this tough division.
Reach Staff Writer Jordan Gary here.