MLB
2013 National League Central Preview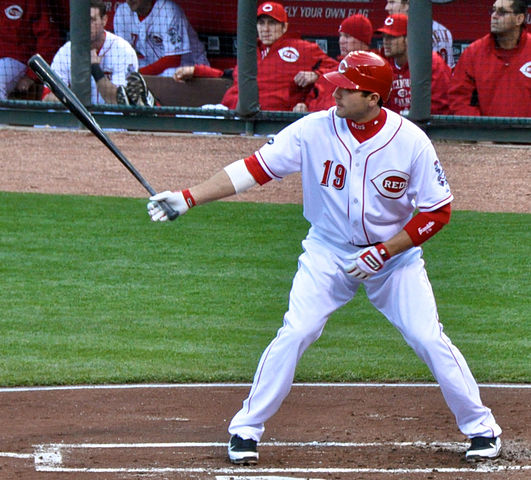 The Cincinnati Reds took the division and sprinted away last season by nine games, the largest margin of any division champion in 2012. There is a good chance they will win again, but the Central could be a lot closer.
With the departure of the Houston Astros, the NL Central becomes the division that any team could win. Even the Chicago Cubs, coming off a 101-loss season, have a 14.6 percent chance to take the Central, according to PECOTA projections. Here's what to look for in the now-five-team NL Central.
1. Cincinnati Reds (PECOTA Projected record: 89-73)
In 140 Characters -- It's a dynamite pitching staff and power-filled lineup with Votto, Bruce and Phillips. The Nats are hyped, but this could be the NL's best.
What's New -- Cincinnati brought in three new players from the other side of Ohio: outfielder Shin-Soo Choo and infielders Jason Donald and Jack Hannahan. Choo brings a strong knack for getting on base (.373 OBP last season in Cleveland) and is expected to slot in as the new leadoff hitter. But any advantage he gives the Reds as a leadoff hitter will be mitigated by his defense. Advanced metrics suggest Choo was below average as a right fielder, and his new team wants him in center.
Downturn Expected -- Though the Reds won 97 games last year, their pythagorean record of 91-71, based on total runs scored versus runs allowed, suggests the similarly built 2013 version will regress by a few wins.
On the Other Hand... -- If the Reds can get a full season out of Joey Votto, the National League's best pure hitter, they don't need to worry too much about regression. Votto missed 51 games with a knee injury last season, leaving the lineup without a slugger that reached base at a .474 clip when he *was* on the field.
Breakout Candidate -- Though the Reds have put Aroldis Chapman on the less-productive track by keeping him in the bullpen, at least the latest decision means Mike Leake will remain in the rotation. Leake will be 25 years old and is coming of a season that included the bad-luck combination of a high home-run-per-fly-ball rate and a low left-on-base percentage. Translation? Leake should have better luck, along with the improvements that come from entering one's prime, that will lower last season's 4.58 ERA.
2. St. Louis Cardinals (Projected record: 83-79)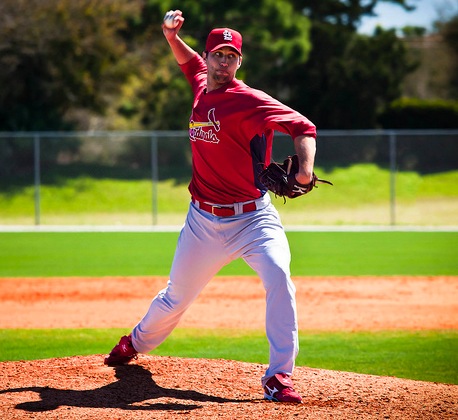 In 140 Characters
-- After blowing a 3-1 series lead in the NLCS, the Cards return with largely the same club. STL owns a strong offense but glaring weaknesses.
What's New -- Can I interest you in Randy Choate or Ty Wigginton? Well, no. No one is interested in Randy Choate or Ty Wigginton. And gone baby gone are Lance Berkman (Texas), who barely played last year, and Kyle Lohse (Milwaukee).
Better Recognize -- The Cardinals featured the National League's best offense last season, with a 107 wRC+. All the top hitters are back: Matt Holliday, Carlos Beltran, Allen Craig, David Freese, Yadier Molina and breakout contact hitter Matt Carpenter. Plus, whenever Oscar Taveras comes up, pitchers better be ready. He has already garnered ridiculous comparisons to Barry Bonds, which are obviously over the top, but give you an idea of how highly people think about Taveras' offensive potential.
Breakout Candidate -- Shelby Miller won a spot in the rotation after being named Baseball America's fourth-best pitching prospect in the game. Some of Miller's Triple-A numbers last season were disappointing (4.74 ERA, 1.38 WHIP, 24 homers allowed in 27 starts), but he improved as he went along. Get ready for his red-hot fastball, Cardinals fans, because Miller is in St. Louis to stay.
So Why Won't They Win the Central? -- The Cardinals have a decent chance to make the Wild Card Coin-Flip, which they won last year, but I like the Reds to take the division crown again. With weaknesses at the shortstop position and bullpen (especially compared to the Reds), St. Louis lacks the complete team that Cincinnati has. However, if the Cardinals have a healthy Adam Wainwright and Jaime Garcia all year at the top of the rotation, it will be a fun race.
3. Pittsburgh Pirates (Projected record: 80-82)
In
140 Characters
-- With a surprisingly good all-around offense filled with young Bucs, the Pirates look to finally pass .500. And Gerrit Cole arrives soon.
What's New -- Russell Martin improves the Bucs at catcher, not just as a hitter, but his game-calling and pitch-framing ability behind the plate. The hope is that Martin's veteran presence and catcher could help new pitchers Jonathan Sanchez and Francisco Liriano turn back the clock to 2010, when both tallied more than 200 strikeouts.
Collapse: The Remix -- You will recall the Pirates' 19-43 finish in 2011 after the 19-inning Jerry Meals game. Of course, I stupidly thought that they could never have such a terrible bottoming-out again. Well, they did, going 12-29 after yet another 19-inning game (which the Bucs actually won). As for what this all means for 2013… I don't know. I just wanted to point out the misery of Pirates fans to you all.
Breakout Candidate -- Left fielder Starling Marte is made out of tools, flashing good speed, an incredible arm and a .300 average in the minor leagues. He will be the leadoff man for the Pirates, in a classic example of putting speedsters at the top of the lineup. But even with all his athleticism, Marte needs to make significant strides in plate discipline, as the 50 strikeouts and 8 walks he had in his MLB debut last season won't cut it in a leadoff role.
Let's Gush About Cutch -- There was good reason Andrew McCutchen found himself right in the middle of the MVP discussion for much of last season, because he is becoming one of the game's best all-around players. Defense is still a weak point for him among center fielders (don't let the Gold Glove voters tell you otherwise), but he is an offensive monster for that position after posting a .400 on-base percentage and smacking 31 homers. Expect some BABIP-based regression, but otherwise Cutch's line-drive swing and baserunning prowess are tools that will let him continue to laser extra-base hits to all parts of PNC Park.
4. Milwaukee Brewers (Projected record: 79-83)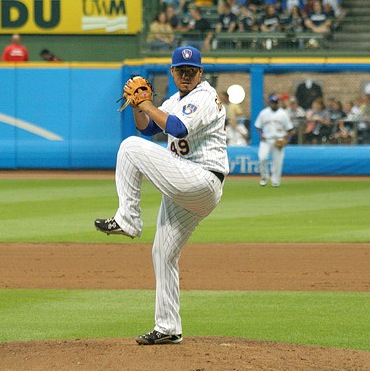 In 1
40 Characters
-- Life without Fielder is mediocre. Ramirez and Hart provide pop, and Gallardo's an ace. But what happens if Ryan Braun gets in trouble?
What's New -- Not much was new until the last few days of Spring Training. Then the Brewers put an end to Kyle Lohse's melodrama by signing him to a three-year, $33 million contract. It's a pretty good pickup. Lohse won't post a 2.86 ERA again, especially at Miller Park, but he has great command and slots in well as the number two starter. They also brought back Yuniesky Betancourt as a part-time shortstop. How... exciting...
Getting Defensive -- One of the most significant problems with this Brewers team last season was fielding. You don't need any advanced metrics like UZR or Plus-Minus to show that the Brewers had a tough time turning balls in play into outs. Just this one: last year Milwaukee finished second-to-last in MLB in by only converting 68.7 percent of balls in play into outs. The Brew Crew can bop homers, but might have to win a lot of 8-7 games.
Breakout Candidate -- How about Carlos Gomez? The Brewers' center fielder has oceans of talent, and has always been a good defensive center fielder. Last season, he took some strides at the plate, improving his on-base ability and knocking a career high 19 home runs. Maybe that's as far as Gomez will break out, but at 27 years old, there could still be more potential stashed away.
Fantasy Alert -- If someone in your league hasn't picked up Norichika Aoki for some reason, go do it. He has shown he will get you steals, he could easily hit .300 this season, and will score plenty of runs as the Brewers' leadoff man. Aoki is still flying under the radar entering his second season out of Japan, but he would be a great addition to any roto team.
5. Chicago Cubs (Projected record: 79-83)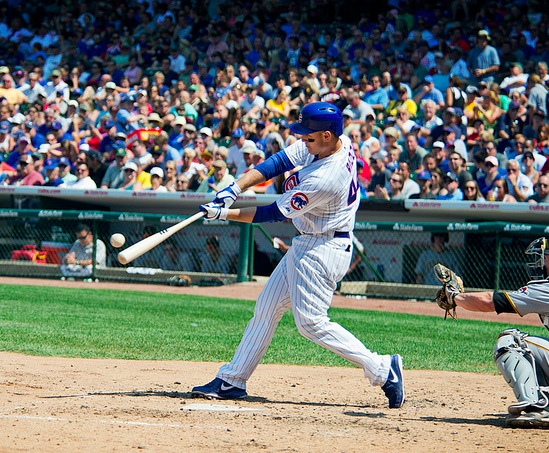 In
140 Characters
-- As much as I want to make fun of the Cubs, they won't lose 100 again. Pitching changes and youth development put them on the right track.
What's New -- Nate Schierholtz and Scott Hairston come in to form an interesting platoon together in right field. But mostly, it's the pitching staff that has a fresh shine. Edwin Jackson, Scott Feldman and Carlos Villanueva will revamp the Cubs' rotation (especially Jackson, on a four-year, $52 million contract).
Hitting Doldrums -- The Cubs were the worst offensive team in baseball a year ago. But naturally, they have nowhere to go but up. A full season of Anthony Rizzo could show good signs of what is to come for the young first baseman, Starlin Castro is still just 23(!!!) and Alfonso Soriano somehow remains an offensive threat. They still won't be much better, but I don't think the Cubs will be at the bottom again.
Starting Something -- Since few people were paying attention to the Cubs last season, they might have missed Jeff Samardzija turning himself into a bona fide top-of-the-rotation pitcher. In his first year as a starter, Samardzija averaged more than one strikeout per inning, a 3.2 strikeout-to-walk ratio and collected a 3.59 FIP. The former wide receiver is entering his prime years now, and Cubs fans are anxious to see if it will continue.
Relief on the North Side -- Even if PECOTA's projection of 79 wins is really optimistic, the Cubs will certainly show improvement in the pitching department. Last year, the bullpen was at the bottom of baseball with a thud (4.66 FIP, -1.7 WAR, 4.75 BB/9). There's no way they can be that horrendous this time around, because Manuel Corpas is gone and Rafael Dolis is in Iowa. If Carlos Marmol can even show a hint of control, Kyuji Fujikawa is in from Japan in an attempt to break the Cubs' curse.