NBA
What's The 'Point'? Examining The Value Of The Franchise Point Guard In The NBA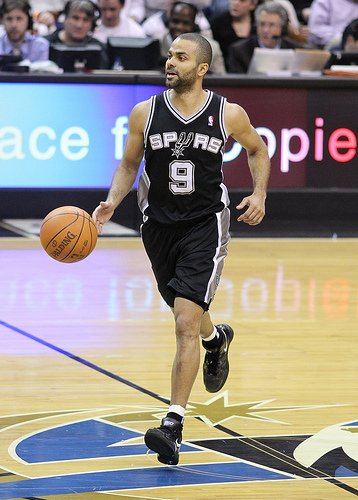 Los Angeles Clippers point guard/god Chris Paul ripped up the Eastern Conference for 20 points and 15 assists in the NBA All-Star Game Sunday. He is the undisputed best player on his team, and he is arguably the best point guard in the NBA.
But can he win a title?
The 2013 NBA All-Star Game in Houston was the league's showcase of premier talent and basketball artistry -- a game played not so much for who wins or loses, but as an exhibition of players that you build championship teams around.
Don't take the "championship" part too lightly. Since the first All-Star Game was played in 1951, every team that has won the NBA title has had at least one All-Star. By extension, every team that has won an NBA title before 2000 has had at least one Hall-of-Famer (and you know that Shaquille O'Neal, Tim Duncan, Dwyane Wade, Paul Pierce, Kobe Bryant, Dirk Nowitzki and LeBron James are future Hall-of-Famers). If you want a look at who can win a championship this season, it has to be a team with an All-Star (sorry, Denver Nuggets).
But there is one position where, if you have an All-Star, it might be a red flag on championship prospects. Here's a hint: the MVP of the 2013 All-Star Game plays this position.
When Chris Paul won the 2013 All-Star Game MVP award, it marked the first time in 20 years that a point guard was able to claim that hardware. Even when Utah Jazz point guard John Stockton won the award in 1993, he shared it with longtime teammate Karl Malone.
Stockton retired in 2003 as the all-time leader in assists and steals, premier numbers for a point guard. Unfortunately, he has no championships to show for it. In fact, three of the five players in NBA history with over 10,000 assists (Stockton, Mark Jackson, Steve Nash) have no championships to show for it, while Jason Kidd finally got his first in his 17th season.
The championship numbers for All-Star point guards aren't pretty. Since 1990, the only point guard to be named an All-Star the same season his team won the championship is San Antonio Spurs point guard Tony Parker in 2007. Of course, Parker wasn't the only All-Star on his team that season, as Tim Duncan was still putting up 20 and 10. Note that while Parker is an All-Star this season, the Spurs have not won a Western Conference title without Duncan averaging at least 20 points a game (Duncan is just under 17 a game this season).
What about the point guards that are truly the only stars on their team? Since 1951, there are only 11 players that won a championship while being the only All-Star on the team. The only point guards on that list are Detroit Pistons legend Isiah Thomas (1989) and Bob Davies of the Rochester Royals (1951).
Do you think big assist numbers lead to championships? Well, Boston Celtics point guard Bob Cousy won his first three championships in 1957, 1958 and 1960 while leading the league in assists per game. Never mind that Cousy led the league in assists four times between his rookie season in 1950 and 1956; Cousy and Celtics head coach Red Auerbach didn't even make it to the NBA Finals during that time period. The championships came when the Celtics added Bill Russell (and Tom Heinsohn) in 1956.
Oh, since 1960? Only two players in NBA history have won a championship while leading the league in assists: Lakers point guards Jerry West (1972) Magic Johnson (1987). West averaged 25.8 points to go with 9.7 assists per game that year, but his running mate was shooting guard Gail Goodrich (25.9 points per game), while Wilt Chamberlain was pulling down the 19.8 rebounds per game. Johnson's best season ever came in 1987 (first MVP, Finals MVP), leading the Lakers with a career-high 23.9 points a game. The Lakers also had three other players averaging at least 17 points per game that season (Hall-of-Famers Kareem Abdul-Jabbar and James Worthy and shooting guard Byron Scott). Hall-of-Fame point guard Oscar Robertson led the NBA in assists seven times as a member of the Cincinnati Royals, but he didn't come close to winning a title until 1971, when he teamed up with center Lew Alcindor (Kareem Abdul-Jabbar) in Milwaukee.
Even injured star point guards are taking their hits. The Chicago Bulls' Derrick Rose, the 2011 MVP and first pick of the 2008 Draft, has a cloudy outlook this season as he returns from a torn ACL. Washington Wizard John Wall, the first pick of the 2010 Draft, took criticism from former NBA head coach Stan Van Gundy. Van Gundy said that Wall, who missed the first two months of the season with a knee injury, was a good player but not "good enough to be the guy you build around."
So what does all of this mean? For one, it means that the six All-Star point guards have an obstacle to overcome to win a championship this season. For Boston Celtic Rajon Rondo, there's nothing he can do: he's already out for the season with a torn ACL. It's doubtful that the other All-Star point guards in the Eastern Conference, Jrue Holiday of the Philadelphia 76ers and Kyrie Irving of the Cleveland Cavaliers, will be playing by the end of April.
The Western Conference point guards fare a little better, as each of the division leaders are led by All-Star point guards (Paul, Parker and Russell Westbrook of the Oklahoma City Thunder) and their All-Star teammates (Griffin, Duncan and Kevin Durant, respectively). Those teams probably won't want to face the Miami Heat this season, as the Heat have a 6-2 record against those three teams since the start of the 2011-2012 season, not including the NBA Finals win over the Thunder.
Second, you don't always need a point guard to foster good fundamentals on the court if you have other dynamic ballhandlers and scorers. Since 1990, Hall-of-Fame head coach Phil Jackson won 11 championships using triangle offense concepts in lieu of a traditional point guard. The only time Jackson coached an All-Star point guard was in 1993-1994 (B.J. Armstrong). In 1995, Armstrong was left unprotected in the expansion draft, and the Chicago Bulls won an NBA-record 72 games with converted shooting guard Ron Harper averaging 2.6 assists per game as the nominal point guard.
Of course, it helps to have Michael Jordan and Scottie Pippen. But those players aren't point guards either. Jackson's Bulls defeated teams with great point guards in the 1990s (Magic Johnson, Terry Porter, Kevin Johnson, Gary Payton and John Stockton), while the Lakers of the 2000s outlasted teams led by Mark Jackson, Jason Kidd and Rajon Rondo.
Third, defense wins championships. No, really, it does. Considering my three main factors of defense (forcing missed shots, rebounding and forcing turnovers), it is important to have big men who can anchor an elite defense. According to Basketball-Reference.com, only two teams since 1973 have won the championship without having a top-ten ranking in defensive efficiency: the 1995 Houston Rockets and the 2001 Los Angeles Lakers.
Those 1995 Rockets were ranked 12th defensively (a year after ranking second) and had the best center in the league in Hakeem Olajuwon. The 2001 Lakers were ranked 21st defensively (a year after ranking first) and had the best center in the league in Shaquille O'Neal (the Lakers were allergic to forcing turnovers during the regular season, but that wasn't the case during a postseason in which they never lost a game in regulation).
It's hard to win a championship with a defenseless point guard, but even harder to win with soft big men who can't rebound, protect the rim or defend the paint without fouling.
Is there hope for championship aspiring All-Star point guards? It's the NBA, so there's always a smidgen of hope. But great players alone don't win championships; great teams win championships. For point guards, having a dynamic backcourt mate is a key.
Inspiration can come from former Detroit Pistons point guard Chauncey Billups, who wasn't an All-Star in 2004 but won the NBA Finals MVP award at the end of the year. Billups and the Pistons made it back to the Finals the next year, losing Game 7 to the Spurs. Billups, who started next to leading scorer Richard Hamilton, is the only non-All-Star point guard to be named the Finals MVP; now, he is the starting shooting guard alongside Paul with the Clippers. Of course, before 2004, Billups was the third pick in the 1997 Draft and was on his fifth team by time he got to Detroit. After 2005, Billups made five All-Star games but hasn't been back to the Finals.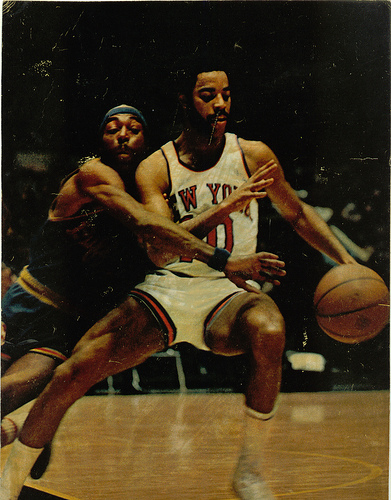 When Isiah Thomas won his first title in 1989, he was the only All-Star on the team. Thomas was the last point guard on a championship team to lead his team in scoring (18.2 points per game in 1989, 18.4 points per game in 1990). But the 1989 Finals MVP was his backcourt mate, Hall-of-Fame shooting guard Joe Dumars. Dumars averaged 17.2 points per game in 1989 and 17.8 points per game in 1990. Magic had Byron Scott; Jerry West had Gail Goodrich. Even back in the 1950s, Bob Cousy had Hall-of-Fame shooting guard Bill Sharman.
Finally, one of the most underrated examples of a point guard "carrying" his teams to titles is Hall-of-Fame New York Knicks point guard Walt "Clyde" Frazier. The 1970s NBA Finals is best known for center and Finals MVP Willis Reed's inspirational appearance in Game 7, but Frazier led all scorers with 36 points in a 113-99 championship win over the Lakers. Three years later, Frazier's Knicks were rematched with the Lakers again in the NBA Finals. While Frazier was paired up with former Bullets and future Hall-of-Fame shooting guard Earl "The Pearl" Monroe that season, Frazier led the Knicks in scoring with 21.1 points per game. No other Knick averaged more than 17 points per game that season despite the presence of five other future Hall-of-Famers (Reed, Monroe, Bill Bradley, Dave DeBusschere and Jerry Lucas). The Knicks won in five, but Reed won his second Finals MVP award despite Frazier being the first point guard ever to lead his team in scoring on the way to a title.
Point guards are the leaders on the floor, and they are often called upon to be the primary ballhandlers and playmakers. No team wants a liability on the floor at any position, and having a great point guard usually ensures a playoff berth. But against the best defenses, those point guards have not been able to will their teams to the top.
Perhaps Chris Paul and the Clippers will finally break through. Perhaps Russell Westbrook and the Thunder can continue their five-year plan of improvement and win the Finals. Perhaps Tony Parker and the Spurs can win their first title in six years. But like all championship point guards, the key to their team success will probably fall on their teammates.
Reach Staff Writer Law Murray here or follow him on Twitter.