USC Sports
USC Women's Basketball Continues Struggles In Five-Game Losing Streak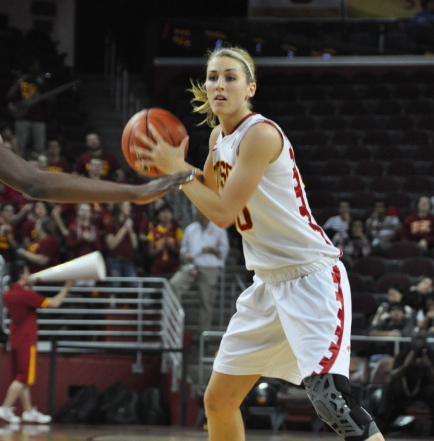 After winning the first four games of Pac-12 conference play, the USC women's basketball team has since struggled to find its groove, dropping eight out of the last nine contests, most recently in Friday's blowout loss at home to No. 4 Stanford, 79-55.
Before that loss, the Women of Troy (8-16, 5-8 Pac-12) had lost three of their last four games by only three points and had leads in all four of those games before letting them go. Therefore, the team's struggles have been a result of the players' inexperience and inability to play two solid halves of basketball every game.
"We are on a quest to put together 40 minutes of good basketball on both offense and defense," said head coach Michael Cooper. "It's going to take more than one half of good basketball to win the game."
In the month of February, USC held halftime leads against Utah (26-24), Colorado (31-26) and Washington State (28-23). They proceeded to lose all three of those games. Evidently, the Women of Troy have simply not been able to finish off games, struggling to find their shots and control the ball in the second half, which attests to their lack of experience in a very tough Pac-12 conference.
This very well may be the result of having no senior leadership on the floor, after senior forward Christina Marinacci went down with a knee injury earlier in the year. She made her return last weekend against Washington State, and made an impact by scoring a team-high 17 points, but the team was still unable to prevail.
The team is led by two scorers: junior forward Cassie Harberts (17.7 points per game) and sophomore Ariya Crook (13.5 points per game), who has embraced her role coming off the bench behind freshman guard Brianna Barrett. However, besides those two, there is no other USC player averaging more than seven points a game, putting a lot of pressure on the two of them to score for the team, which may attest to the team's low shooting percentage in the second half. As a team, USC is shooting 36 percent in Pac-12 play, fourth-worst in the conference.
However, the problem very well may be the team's lack of ball control, particularly in the second half, "turning over" the games to its opponents. Against Colorado, the Women of Troy committed 13 turnovers in the second half before losing to the Buffs 65-49 at home. The team is averaging 16.6 turnovers a game, the third most in the Pac-12.
"We need to value the basketball a lot more than we usually do," said Cooper. "When we beat ourselves, it's very easy for other teams to beat us, because they don't have to put forward the giant effort that it takes to beat us."
If the team is to make a turnaround prior to the Pac-12 Tournament, the players are going to need to address these problems and fix them ASAP, especially as they welcome No. 6 California and cross-town rival UCLA to the Galen Center for the next two games, before going on the road to UCLA and the Arizona schools to finish off Pac-12 regular season play.
The Women of Troy have seen themselves make this turnaround earlier in the season, as they turned a six-game losing skid into a season-best four-game winning streak. These next five games will also be important for USC's seeding in the Pac-12 tournament, as they currently sit eighth in the conference standings.
Reach Staff Writer Darian Nourian here.