USC Sports
USC Tight End Junior Pomee Suspended From Team After Felony Theft Charges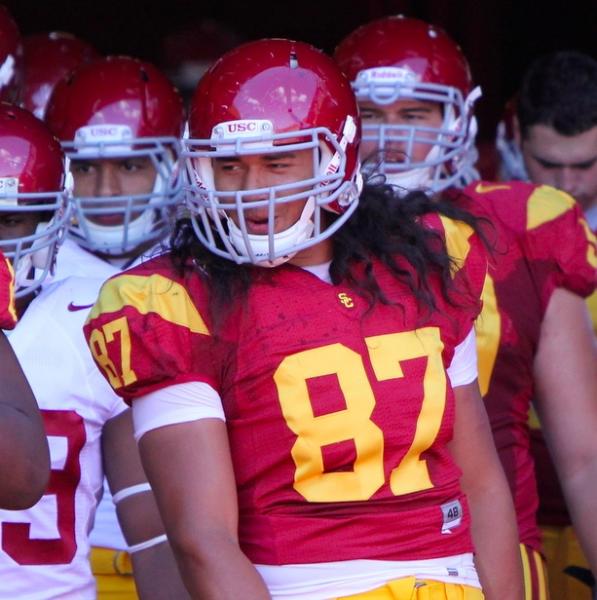 On a day in which USC head coach Lane Kiffin welcomed 13 new players to the football program, he also announced that one player has been suspended from the team after facing felony charges. Redshirt freshman Junior Pomee has been charged with grand theft, burglary and receiving stolen goods.
Pomee was arrested just after 2:00 a.m. on Jan. 29 by officers with the USC Department of Public Safety outside the Phi Kappa Psi fraternity on West 28th Street. Officers found Pomee in possession of property that was not his and "subsequently determined that the items had been stolen," according to the DPS report.
The Perris, Calif. native pleaded not guilty to five felony counts of burglary and grand theft, as well as three counts of receiving stolen goods like an iPad and iPhone, per court records cited by the Los Angeles Times. Pomee is free on $110,000 bail.
"We were made aware of the situation last week. Immediately finding out, I suspended Junior from all team activities," USC head coach Lane Kiffin said Wednesday. "He's not been part of our team until we got all that information in and let the process play out."
The process includes a Feb. 15 court date for Pomee, according to the Times. Pomee played every game for USC last season, regularly appearing on special teams, though he did not record any catches at tight end.