USC Sports
USC Plagued By Shooting Woes Against UCLA In 75-59 Loss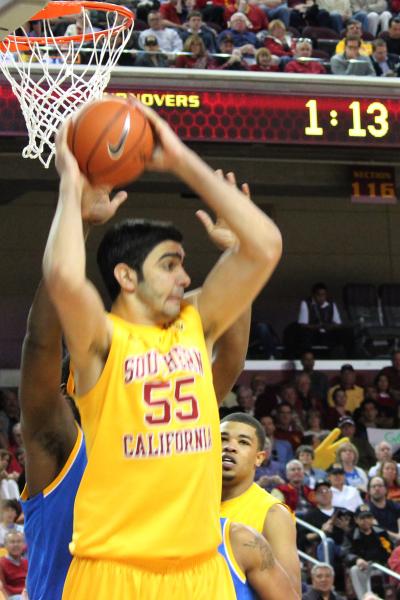 There was no
victory celebration at midcourt
for the USC Trojans this time around.
A little more than three weeks after soaking in an overtime win over the rival UCLA Bruins at refurbished Pauley Pavilion, the Trojans (12-15, 7-7 Pac-12) struggled to find their shot in a 75-59 setback at Galen Center on Sunday. The Bruins (20-7, 10-4) moved within half a game of first place in the Pac-12 standings after splitting the season series, while USC's second straight defeat kept the Trojans in the seventh position.
UCLA led from the start, seizing an early 7-0 lead that quickly swelled to 18-6 five minutes into the contest. The Bruins built their largest advantage at 25 points and limited USC to 35.3 percent shooting for the game, holding their second consecutive opponent under 40 percent. UCLA took a 47-26 lead into the intermission behind a 17-for-28 shooting performance in the first half.
"I thought UCLA played really well today," Trojans head coach Bob Cantu said. "They were efficient offensively. We struggled early offensively and it was too much of a big hole to get out of."
J.T. Terrell scored 14 of his team-leading 17 points in the second half and keyed a late rally that helped the Trojans pull within single digits. Omar Oraby had 11 points on six shot attempts to go with five rebounds. DeWayne Dedmon pulled down 12 boards, but shot just 2-of-8 from the field to finish with four points.
The Trojans sliced the deficit to 68-59 on a Byron Wesley layup that capped off a 15-4 spurt with four minutes left, but that was the final USC basket of the game.
"We could have executed better down the stretch," Terrell said. "We didn't do as well as we usually do on the defensive end, but UCLA came and played a great game today."
There were some heated moments during the contest as Oraby and the Bruins' Norman Powell had to be separated before both players were slapped with technical fouls. Wesley was whistled for a flagrant foul after shoving Shabazz Muhammad to the ground during a fastbreak layup attempt.
"Every time a team comes in and beats you at your house, you should be extra motivated," Terrell said, referring to the teams' previous meeting earlier this season.
Jordan Adams paced UCLA with 20 points and six rebounds. Muhammad, Kyle Anderson and Larry Drew II all chipped in 11 points as the Bruins had five players finish in double figures. Muhammad, UCLA's leading scorer and a projected NBA lottery pick, shot just 2-of-7 from the floor as he posted his lowest scoring output since a Jan. 19 loss at Oregon.
USC returns to Galen Center to host Pac-12 co-leading Arizona on Wednesday at 6:30 p.m. The Trojans' final regular season home game will come against Arizona State in a noontime encounter on March 2.
Read more Neon Tommy coverage of USC basketball here.