USC Sports
USC Hangs On Late To Stun No. 11 Arizona, 89-78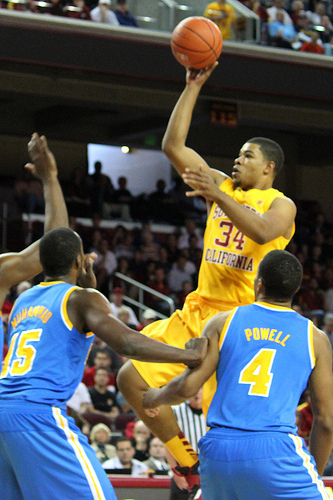 During a week in college basketball that has seen No. 1 Indiana, No. 4 Michigan and No. 8 Florida succumb to underdogs, Wednesday night was the USC Trojans' turn to give their home fans reason to storm the Galen Center court.
The Trojans (13-15, 8-7 Pac-12) withstood every late-game rally the No. 11 Arizona Wildcats could muster as they pulled out an 89-78 win, notching Bob Cantu possibly his biggest triumph during his 11 games as interim head coach. The loss dropped Arizona (23-5, 11-5) to half a game behind Oregon in the conference standings.
The game saw a reversal in fortune for the Trojans from their 74-50 loss to the same Wildcats back on Jan. 26, when they shot 28.1 percent from the field and 9-of-16 from the free throw line. The Trojans scorched Arizona with 61.1 percent shooting this time and scored 42 of their points in the paint, while posting a 17-for-21 effort from the foul line as a team.
"We were obviously disappointed with the previous game," Cantu said. "For us to be able to come back and rebound this way is tremendous. Tonight was our night."
The Trojans opened the second half with a 9-2 run to build their largest lead of the game at 13 points. Arizona drew within four points, 60-56, on a Jordin Mayes 3-pointer at the 12:20 mark.
But the Wildcats' comeback was countered by another USC 9-2 flurry that got punctuated by a J.T. Terrell 3-pointer to give the Trojans a 69-58 advantage they successfully protected the rest of the way.
So how does a victory over an Arizona squad Cantu said "can be in the Final Four" compare to beating the rival Bruins on the road back in January?
"Obviously, winning at Pauley was great," Cantu said. "But Arizona is a first-place team and this one is a huge win for our team and the program. Just happy we were able to pull it out."
The previous USC victory over a ranked opponent also came against the Wildcats back on Feb. 24, 2011. For senior forward Eric Wise, it was a game of redemption after shooting just 31.6 percent (19-of-60) in his previous five outings.
"I felt like I haven't been helping my team and let them down when they needed me," said Wise, who led all USC scorers with 22 points on 9-of-12 shooting. "I had a lot of fun today. Finally got my shots to start falling."
But Wise had ample support in stringing together the upset. Byron Wesley turned in 18 points with six rebounds and four assists, while shooting 8-for-8 from the foul line. Terrell added 14 points as Jio Fontan and Aaron Fuller collected 12 apiece.
"Everybody was just ready to play today, just ready to catch and shoot," Wise said.
Solomon Hill's 21 points paved the way for Arizona on offense and Kevin Parrom contributed 16. Mark Lyons, the Wildcats' leading scorer for the season, had 14 points, but shot just 1-of-9 and did most of his damage from the foul line where he converted 12 attempts.
The Trojans led 42-36 at halftime after a first half where they shot 58.1 percent from the field. Arizona had an 18-16 advantage at the 11:41 mark of the first half before USC built a double-digit lead thanks to a 24-12 run.
USC's regular season home slate concludes Saturday with a noontime showdown against Arizona State.
Read more Neon Tommy coverage of USC basketball here.