USC Sports
USC Fires Baseball Coach Frank Cruz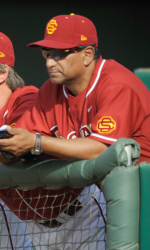 USC has fired baseball head coach Frank Cruz in the midst of an NCAA violation, the school announced today. Associate head coach Dan Hubbs will serve as the replacement head coach for the 2013 season.
Cruz's termination comes six days after the coach was suspended for a report concerning a violation of the program's NCAA Countable Athletically-Related Activities restrictions and just two days before the Trojans' season debut at Cal State Fullerton.
Cruz is the second head coach fired from USC in 2013, following basketball coach Kevin O'Neill, who was axed on Jan. 14.
"Adhering to all NCAA rules is paramount for each one of our coaches, student-athletes and staff members," said athletic director Pat Haden in a statement. "Those who knowingly break NCAA rules are subject to termination."
The CARA rules prohibit players to spend more than 20 hours per week on mandatory, organized team activity. Players can lift weights and practice for an unlimited amount of time on their own.
In light of the violation, USC reduced the amount of practice session hours for the team for the next two seasons.
Cruz was set to start his third season, trying to improve his 48-63 record.
The 42-year-old Hubbs joined Cruz's staff upon the latter's hiring two years and was a former All-American pitcher for the Trojans. Hubbs was California's pitching coach for 12 years after a minor league baseball career that lasted seven.
Reach Senior Sports Editor Will Robinson here. Follow him here.