Theater and Dance
Theater Review: 'The Agony And The Ecstasy Of Steve Jobs' At Theatre Asylum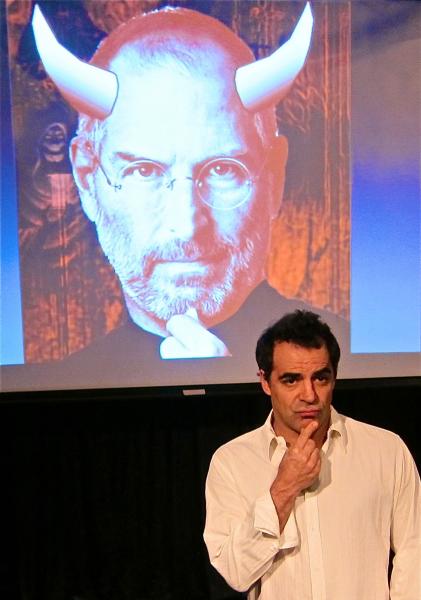 Provocative, scandalous, and controversial are all words that have been used to describe Mike Daisey's one-man show "The Agony and the Ecstasy of Steve Jobs." This hour-long monologue surveys the rise, fall, and rebirth of Apple under the leadership of the brilliant yet malevolent Steve Jobs. The show jumps back and forth in time between the birth of the Apple company and the issues of globalization and exploitation in China that face Apple today.
Mike Daisey debuted "The Agony and the Ecstasy of Steve Jobs" in 2010, and was met with an incredible amount of negative backlash due to the claims that some of the stories told by Daisey were factually inaccurate. Leading opposition was NPR's Ira Glass, who had featured an excerpt from Daisey's monologue on his show "This American Life" before learning that Daisey had "fabricated" some of his facts for "dramatic effect." While Daisey contends that about 10 percent of the content in his play was exaggerated, he still asserts that the other 90 percent is true. After extensive pressure, Daisey revised his original script to be more factually accurate. It is this new, amended version that is being performed by Alex Lyras at Theatre Asylum in Hollywood.
Lyras plays a very witty and insightful individual with a nerdy side, even openly referring to himself as a technology 'geek' throughout the show. Very dramatic stories about Foxconn factory life in Shengzhen, China are juxtaposed with comedic anecdotes about Steve Jobs as a "nano-manager" and Lyras "geeking out" over his new Apple products. This mix of heavy drama with light-hearted humor helps to keep the audience engaged in the performance, and also prevents the feeling of utter depression upon exiting the theater.
The design choices made by the production team, while incredibly simplistic, help to move the narrative along. The stage is set up much like a traditional black box theater—empty—with only a black table and a black executive-style desk chair. But the most noteworthy set piece is the projector that hangs behind the desk and displays images of the people and places Lyras refers to in his stories. This simple element gives more depth to story and allows the audience to look at something more than just an empty stage and a solo performer.
In short, "The Agony and the Ecstasy of Steve Jobs" is a wonderfully-orchestrated piece of theater that successfully walks the fine line between entertainment and preachy journalism. Apple-lovers and Mac-haters alike will enjoy this intellectually stimulating performance that forces us to examine the truth behind the high price of our low-cost technology toys.
Reach staff reporter Savannah here.
"The Agony and the Ecstasy of Steve Jobs" is playing at Theatre Asylum (6320 Santa Monica Blvd., Los Angeles, CA 90038) on Wednesdays through April 10. Tickets are $20. More information can be found at TheatreAsylum-LA.com.