NFL
Super Bowl XLVII Predictions
We've waited to let you know our opinions on this insanely tough-to-read Super Bowl XLVII matchup. Two weeks of anticipation have now come to a head, and besides accusations that we've been writing all year with the writing-enhancing deer antler spray that Ray Lewis allegedly stole from us, we assert that this is a clean and natural piece picking the Super Bowl. Whether it's right or wrong, only sixty minutes - and as many Doritos commercials - will tell.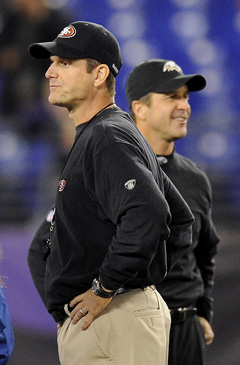 Super Bowl XLVII Picks
Jeremy Bergman
:
Ravens 24, 49ers 20
As Peter King touched on this week, this Super Bowl is almost impossible to predict. There are just too many variables to weigh. The inexperience of Colin Kaepernick. The year-long ineptitude and then sudden resurgence of Joe Flacco. The evenly-matched defenses both led by a pair of fiery linebackers. The Brothers Harbaugh possibly gaining inside information on the other's club from Mom at the dinner table. Nothing is certain or established, like last year, when it was a rematch of two elite quarterbacks, coaches, and teams. Everything about Super Bowl XLVII is new, unsure, and ultimately exciting.
I hate to pick games using intangibles, but it worked last time when I picked the Ravens over the Pats solely on the basis of Ray Lewis's relationship with the Man Upstairs. So I'm gonna do it again. Dare I say the Ravens are a team of destiny, but there is not doubt that they are the hotter ball club coming into the Bayou. Shutting down three dominant offenses in a row - Indianapolis, Denver, and New England - is no small feat for an aging defense that is, by this point, running on pure adrenaline, and maybe a backup generator. Lewis and Ed Reed are carrying this team on their sagging shoulders and Ray's bionic deer arm, knowing this is their last ride. Concerning Kaepernick's versatility, I don't believe the hype emanating from Bristol. Yes, he ripped apart Green Bay and Atlanta, but those teams boasted two of the most lax defenses in the playoffs. Trying to fool Lewis, Terrell Suggs, and John Harbaugh's scheme will prove more difficult than outrunning the turnstile defenses of the NFC. Plus, let's not forget that Kaepernick is in essence a rookie, and is bound to make at least one disastrous rookie mistake, most likely in the direction of Ballhawk Reed.
I see the Niners starting hot with Kaepernick breaking a run or two against a rusty Baltimore D on San Fran's first two drives, resulting in two scores. But after that, it will be all Flacco and Rice, running Jim Caldwell's offense to perfection, controlling the ball, and taking massive sums of time off the clock. No dramatics in this one. The Niners will cut it to four with about six minutes left in the game, but then Rice will run the ball through the heart of the San Fran D, leaving no time for a miraculous Kaerpernick comeback.
Evan Budrovich
:
49ers 31, Ravens 24
The big game is finally upon us, Super Bowl Sunday gives fans the chance to throw out all the storylines and just focus on the X's and O's of football that we all love. San Francisco and Baltimore are two hard-nosed teams looking to prove early-season skeptics wrong by raising the Lombardi Trophy.
The San Francisco 49ers will look to pound the football with their fourth-ranked rushing attack. Colin Kaepernick has run the pistol to perfection, befuddling opposing defenses creating huge holes in the defense for their attack. The Baltimore Ravens are dominating with their passing attack thanks to Joe Flacco and his big arm. This postseason, Flacco has thrown eight touchdowns to zero interceptions giving the Ravens an added weapon that has worked to perfection.
In a game that seemingly comes down to the final possession every year, both defenses will be called upon to win the game late. The 49ers have one of the best line-backing corps in the league, led by Patrick Willis and NaVorro Bowman. The Ravens meanwhile have been playing inspirational football this postseason in what will be Ray Lewis' last ride.
If special teams comes into play, the Ravens should have the advantage. David Akers has lost his groove, missing the most field goals in the league this season. Baltimore rookie Justin Tucker has looked solid all postseason long, including a game-winning kick against the Denver Broncos.
The key in this game will be which running-back tandem can provide enough balance to their teams' offense. Frank Gore and LaMichael James have been solid this postseason behind the 49ers top-ranked offensive line. Ray Rice is an absolute monster in the backfield and as a receiver for Baltimore while Bernard Pierce could be the X-factor in this game.
Expect the game to be tied in the fourth quarter until Colin Kaepernick makes a clutch play with his arm, giving San Francisco a lead it will not relinquish.
Aaron Fischman
:
49ers 27, Ravens 21
For the second time in NFL history and the first time in 17 years, both conference championship losers have made the Super Bowl the following year. Each team came so, so close to making the Big Game a season ago. For Baltimore, Lee Evans couldn't hold onto a go-ahead touchdown pass and then of course, kicker Billy Cundiff missed the game-tying field goal to seal the Ravens' fate. This season's Ravens have a stellar rookie kicker, Justin Tucker, who made 30-of-33 kicks during the regular season and both attempts these playoffs. Speaking of kickers, in David Akers' second season with the 49ers, he's struggled mightily, converting on a career-low 69 percent of his field goal attempts. Much like the Ravens, last season's 49ers blew their chance at a Super Bowl berth as a result of a Kyle Williams punt return fumble that resulted in a game-winning field goal for Lawrence Tynes and the eventual Super Bowl champs.
Offensively, these 49ers look significantly different than last season's squad. First-year starting quarterback Colin Kaepernick brings an added dimension to San Francisco's offense. Throughout last season and the first half of this season, the 49ers were content to run the ball and play great defense. While they still can and will do both of those things, the ability to throw the ball downfield has made their offense much tougher to stop.
The Ravens will remain in the game throughout, but the 49ers' linebackers will wreak serious havoc. For the most part, Flacco won't be afforded the amount of time needed to go deep, and Rice will be challenged all over the field. I think Rice will gain at least 80 hard-fought rushing yards, but it won't be enough to take down the mighty 49ers.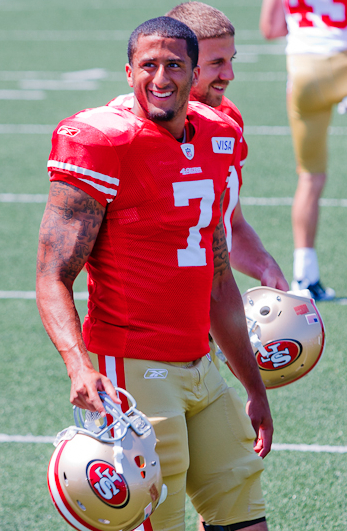 Jacob Freedman
:
49ers 31, Ravens 24
These two sides both bring the dogs on defense, but we live in a different NFL atmosphere today. It's all about offense, which is why the tag-teams of Joe Flacco-Ray Rice against Colin Kaepernick-Frank Gore will determine the winner of the Harbowl (Sorry, had to). Flacco's defeated Tom Brady and Peyton Manning en route to making it this far, but now goes against a 49ers defense that will give Flacco more effective blitzes and less open holes in the secondary to find Anquan Boldin or Torrey Smith for long routes down the field.
The two squads played in 2011 when the Ravens defeated the 49ers 16-6 in Baltimore. Besides the addition of Bernard Pierce for the Ravens, the offenses are nearly identical. Except for one Mr. Colin Kaepernick. Alex Smith turned games into defensive struggles, and couldn't find his groove when it mattered most last year, in the NFC Championship against the Giants. An ugly loss in Seattle aside, Kaepernick has been unflappable since Alex Smith was "Wally Pipped" in Week 10.
It's Ray Lewis's final game, as the lighthouse for attention has been receiving a mix of good press (inspirational comeback from injury this season) and bad (deer-antler spray?). As great as his career has been, the 49ers' middle linebackers in Patrick Willis and NaVorro Bowman are arguably the top two in the game. And they're on the same team! The Ravens have made it far since their mid-season slump, but the 49ers have been a more dynamic squad with Kaepernick at the reigns and will usher in another championship for the city of San Francisco on Sunday.
Max Meyer
:
49ers 31, Ravens 24
The Har-bowl is here. In what should be one of the most even Super Bowls in years, both quarterbacks still have a lot of questions surrounding them. Will the nerves for second-year QB Colin Kaepernick kick in? Will he be able to use his arm and legs against the Ravens? Will Joe Flacco continue his amazing postseason play? However, the X Factor in this game for me is the 49ers pass rush.
Aldon Smith, Justin Smith and company have been slowed down in the playoffs. They need to be able to pressure Flacco and force him into bad decisions. I think with two weeks of preparation, they will make Flacco look like an "Average Joe". Which is why I like Kaepernick to also be the Super Bowl MVP. Also, watch out for Vernon Davis, because the Ravens have had a lot of trouble covering tight ends in the playoffs.
If Alicia Keys goes over the two minute, 15 second line for her National Anthem, I'd be stunned. Pound the under on that one. For 10 more winning prop bets, including five of mine,
read more here
.
Law Murray
:
Ravens 26, 49ers 24
I may have a Ravens article floating around on this site somewhere, so I'll defer to that for deep sea analysis. But here's what I'm looking at. When the Ravens have the ball, they are going deep son. When the 49ers are in the conversation, we're talking about one of the best tackling defenses in the NFL. ILBs Patrick Willis and NaVorro Bowman aren't going to be interested in that checkdown crap, and they clamped down on RB Darren Sproles last time they were in the Superdome. Ravens RB Ray Rice, the AFC leader in receptions by running backs, probably won't be much of a factor unless he can sneak in that middle screen. WR Torrey Smith needs to come up big against 49ers CB Tarell Brown and FS Dashon Goldson. Remember, Smith's NFL debut came in a dome, and he put up three deep TDs in one quarter in Saint Louis.
When the 49ers have the ball, it will be interesting to see how the Ravens defend the Pistol. 49ers QB Colin Kaepernick destroyed the Packers' 3-4 defense on the ground, and the 49ers haven't lost to a 3-4 defense this season. In fact, Kaepernick's first career rushing TD came in the Meadowlands week four against the Jets. RB Frank Gore, who was held to less than 3.0 yards per carry in Baltimore last year, scored two TDs at Atlanta as the Falcons contained Kaepernick. There's not a defensive matchup I like for the Ravens, although I expect them to handle TE Vernon Davis (Ravens have allowed two TDs all season to TEs). But when I think of 49ers K David Akers (14 missed field goals this season, including a miss in NFC Championship), I think of Ray Finkle.
The Ravens are 13-2 when Flacco throws for over 300 yards, with the two losses coming down to missed field goals by Steven Hauschka in 2009 and Billy Cundiff in last year's AFC Championship. This year, Flacco's got Justin Tucker, and he has missed only three kicks all season. Final score: Ravens 26, 49ers 24.
Matthew Tufts
:
49ers 28, Ravens 24
All week I've been seeing comparisons of every so-called "key player" in this year's Super Bowl. Is Frank Gore better than Ray Rice? Which quarterback would you rather have lead your team, Kaepernick or Flacco? Who is the more dominant linebacker, Ray Lewis or Patrick Willis? Truth is, every player can be lined up side-by-side to compare which team has the best TALENT at each position. But how many times have we seen a team with far less talent on paper come out with a win over a star-studded squad? Talent alone doesn't win games; but exploiting the right matchups can. So here are two matchups the Forty-niners will take advantage of en route to a Super Bowl championship:
Colin Kaepernick vs. Baltimore's Pass Rush:
Baltimore has been able to get substantial pressure on quarterbacks this postseason, but mostly due in part to great downfield coverage by their secondary. This forces quarterbacks like Brady and Manning – both very proficient pocket passers – to have to hold on to the ball till receivers get open. Kaepernick on the other hand, has significantly more mobility. Baltimore may be able to contain his receivers, but don't expect the Ravens' defensive line to contain Kaepernick. If his receivers are covered, look for Kaepernick to tuck the ball and run as he did against Green Bay. San Francisco is excellent at blocking downfield and can turn a mad dash for a first down by its quarterback into a run for a touchdown.
Ray Rice vs. San Francisco's Linebackers:
Ahmad Brooks, NaVorro Bowman, Patrick Willis, and Aldon Smith – the four reasons why Ray Rice won't be going anywhere on Sunday. Rice didn't find any room to run against the Patriots in the AFC Championship, and was going against a far weaker linebacker core. Sure, having Vince Wilfork certainly helps the Patriots take up room, but the 49ers' linebackers will be able to plug up those holes with just as much ease. San Francisco also has deceptive speed. Expect Ahmad Brooks and Aldon Smith to really help their linemen set the edge and keep Rice from darting to the sideline.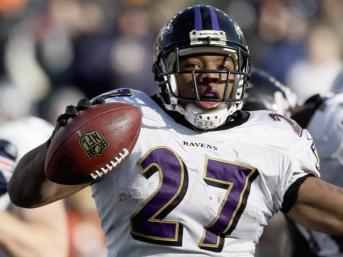 X-Factor
Bergman
:
The Ravens' O-Line
Patrick Willis is one scary dude and the de facto leader of the Niners' defense. If he is Batman, then his MLB mate, NaVorro Bowman, is Batman, Part II; he's way too good to be anyone's Robin. These two freaks of nature will be tasked with disrupting Flacco's timing and blowing up any Ray Rice scampers up the middle. The only line of defense against these two leaders of the league's fourth-ranked rush D is Baltimore's Big Uglies: Michael Oher, Marshal Yanda, Matt Birk, Bobbie Williams, and Kelechi Osemele. It is vital that Baltimore's offense gets churning early; that means the offensive line needs to push the line forward on the run block as effectively as it's been protecting Flacco during the playoffs.
Although Kaepernick is a young, inexperienced quarterback, his team's diverse offense will surely find a way to put points on the board. For that reason, Ray Rice is my X-factor of the game. Baltimore has to be balanced, but Rice hasn't put together a sensational game yet these playoffs. I'm expecting Rice to exceed expectations in the biggest game of the year, but he'll have to do more than that for the Ravens to win. The 49ers ranked fourth-best in passing yards allowed this season. For that reason, Flacco will need significant help from Rice.
Freedman
:
Pernell McPhee and Haloti Ngata
Colin Kaepernick looks to be a good quarterback while throwing the ball. When it comes to running though, he's elite. McPhee and Ngata play defensive end in the Ravens' 3-4 scheme, and their role will be to close off running gaps for the dynamic second-year starter, and to force him to beat the Ravens down the field. He's more than able to do just that, but if he starts romping over the Ravens' front line and establishes a running game for himself, then it will be mayday for Baltimore defensive coordinator Dean Pees and his unit.
Meyer
:
The 49ers' Pass Rush
Pitta, the only player to score a TD in the original HarBowl, is my X-Factor. He scored in the AFC Championship, and the 49ers allowed nine TDs to TEs this season, including one to Tony Gonzalez in the NFC Championship.
Jones has big play potential as both a receiver and kick returner. He led the league in kick return average and has the speed to take it to the house. We've also seen Joe Flacco air it out this postseason, and Jones has the speed to get behind the opponent's secondary. A big special teams or pass play could swing the momentum and make things very difficult on San Francisco.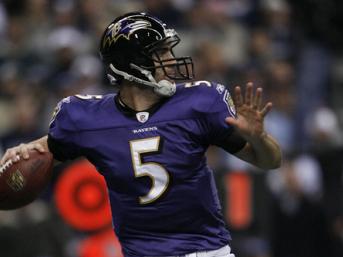 Super Bowl XLVII MVP
Bergman
:
Joe Flacco, Baltimore Ravens
Just how Ray Lewis won the MVP when he had a mediocre game in Super Bowl XXXV, Flacco will take the prize because he will be the best player on the more dominant side of the ball on the Super Bowl winning team. Joe will have a solid game, throwing for two TDs and over 200 yards, but will do nothing extraordinary to write home about.
Budrovich
:
Colin Kaepernick, San Francisco 49ers
Fischman
:
Colin Kaepernick, San Francisco 49ers
The 49ers have so many studs on both sides of the ball, but the winning quarterback typically wins the MVP. In addition, Kaepernick's ability to make big plays with the run only helps my case.
Freedman
:
Colin Kaepernick, San Francisco 49ers
After superstars like Dexter Jackson and Deion Branch won the award in the early 2000s, five of the last six winners have been quarterbacks. Kaepernick has nearly 500 passing yards and over 200 rushing yards in the 49ers' two playoff games, and these Ravens allowed big games from running threat quarterbacks in Michael Vick and Robert Griffin III. If the Ravens win then this choice is moot, but if the 49ers take home the Lombardi trophy, then chances are it was Kaepernick carrying them to it.
Meyer
:
Colin Kaepernick, San Francsico 49ers
Murray
:
Joe Flacco, Baltimore Ravens
Ultimately, I think if Flacco can pass for two TDs and get over 300 in the Superdome while avoiding multiple turnovers, he'll get Super Bowl MVP honors.
Tufts
:
Colin Kaepernick, San Francisco 49ers
Six of the past ten Super Bowl MVPs have been quarterbacks. Only one defensive player (Dexter Jackson – Tampa Bay safety) has been named MVP in the past decade. I expect Vernon Davis to have an outstanding game, but the honors will go to the man throwing the pigskin.
Length of the National Anthem
Bergman
:
One minute, 58 seconds.
Alicia Keys loves to riff, but she ain't no diva.
Budrovich
:
One minute, 55 seconds.
Fischman
:
Two minutes, eight seconds.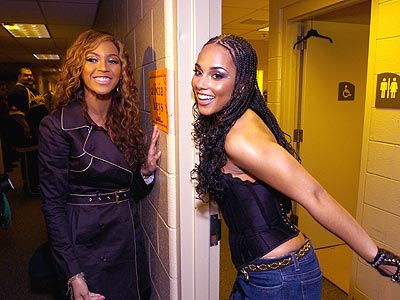 Freedman
:
Two minutes, 11 seconds.
Meyer
:
Over two minutes and 15 seconds.
Murray
: I'll say Alicia Keys keeps it
under two minutes
for the national anthem, but Ray Lewis will get at least 30 seconds of crying time within those two minutes (25% of the performance).
Tufts
: Alicia Keys will break the vaunted two-minute mark, but will ultimately fail to eclipse 2:10. Maybe
2:03
? Take the under.
Bergman
:
Will Beyoncé be joined onstage by Jay-Z during the halftime show at any point? (Yes: +110, No: -150)
I'll sadly have to bet "No" on this one. Reports are that Destiny's Child will take the stage with B for a little old school action, but Twitter may explode if Hova comes on stage to duet with his wife on "Bonnie and Clyde '03." Wishful thinking…
Budrovich
:
How many times will Jack Harbaugh be shown on TV during the game? (Over/Under: 2 1/2)
Over - three times.
Fischman
:
Will Bernard Pierce get more or less than 8.5 carries?
I'll go with the under on this. He's averaging nine carries per game during the postseason, but unless Baltimore builds a comfortable lead, I don't see him getting more than seven. If Pierce does get nine or more carries, Baltimore will have won the game.
Freedman
:
Will Alex Smith take a snap from center? (Yes: +500)
Colin Kaepernick is going to be hit by Bernard Karmell Pollard or another fiery defender in the Ravens' front seven. It's going to happen, and the NFL's top backup will get in for a play or two. I doubt he'll throw a pass, but hike the ball once? I can dig it.
Tufts
:
Will Bernard Pollard injure someone in this game?
Yes, Pollard will injure himself attempting to tackle Frank Gore – karma's a bitch, right?
Matthew Tufts 62-27
Max Meyer 64-32
Evan Budrovich 59-32
Jacob Freedman 58-38
Jeremy Bergman 58-38
Aaron Fischman 54-42
Law Murray 44-41