NFL
Super Bowl Preview: Baltimore Ravens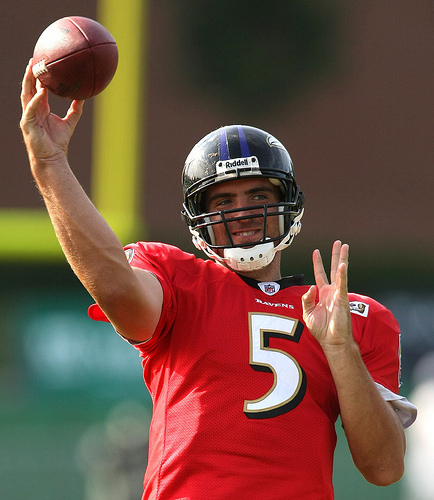 This article is a deep look at the 2012 AFC Champion Baltimore Ravens. The Ravens finished the 2012 regular season with a 10-6 record, which was good enough to win the AFC North. However, the Ravens dropped four of their last five games, including their first three game losing streak since 2009.
Baltimore defeated the Indianapolis Colts 24-9 during Wild Card weekend; the game served as inside linebacker Ray Lewis' last home game, as the 1996 first-round draft pick is retiring after the season. The Ravens then went to Denver and knocked off the top-seeded Broncos 38-35 in double overtime, getting huge plays from the offense (quarterback Joe Flacco's Rocky Mountain Rainbow to wide receiver Jacoby Jones at the end of regulation), defense (cornerback Corey Graham's INT of Broncos QB Peyton Manning in overtime), and special teams (kicker Justin Tucker's 48-yard field goal to win the game). The Ravens then avenged last year's AFC Championship loss to the New England Patriots, defeating them 28-13.
Super Bowl XLVII will pit the Ravens and their head coach, John Harbaugh, against the NFC Champion San Francisco 49ers and their head coach, John's brother, Jim. The original "HarBowl" was last season, a 16-6 Ravens win over the 49ers on Thanksgiving night in Baltimore. This time around, the Ravens and 49ers are going to New Orleans, a place the Ravens have only been to once in franchise history (winning 35-22 in 2006).
PASS OFFENSE: Flacco was John Harbaugh's first draft choice in 2008, and he has started every game since. He is one of the tallest QBs in the NFL at 6-foot-6 and possesses one of the strongest arms. His accuracy is inconsistent (a sub-60 percent passer throughout the last two seasons), and he isn't much of a threat to run (430 career rushing yards; his counterpart, 49ers QB Colin Kaepernick, had 415 rushing yards this regular season). Flacco is much more likely to take the sack, fumbling occasionally, then he is to throw a pick. This postseason, Flacco has thrown eight touchdowns and no interceptions. The Ravens pass offense is designed to take aggressive, vertical shots. Flacco's most dangerous target down the field is WR Torrey Smith. His big play ability was on display at Denver, torching Pro Bowl CB Champ Bailey for two TDs. WR Jacoby Jones, a free agent acquisition from Houston, matches his speed on the outside. WR Anquan Boldin starts, and while he doesn't have much speed or separation ability, he makes up for it with his physicality and strong hands. Running back Ray Rice still has a major role as a receiver out of the backfield, leading AFC backs in receptions this season (61). Tight end Ed Dickson starts, but TE Dennis Pitta is the pass-catching option. Pitta scored a TD in the AFC Championship and scored the only TD in last year's "HarBowl." The Ravens are 13-2 when Flacco passes for at least 300 yards, with the two losses coming down to a field goal.
RUN OFFENSE: Rice was a second-round pick by the Ravens in 2008, the same year Flacco was drafted. Unlike Flacco, Rice is a three-time Pro Bowler. Rice has no weaknesses in his game as an every-down back, who is a threat to score from anywhere. Aiding the Ravens power attack is another Pro Bowl performer, fullback Vonta Leach. Third-round rookie RB Bernard Pierce is a bigger back than Rice and has been called on more often to spell him. Pierce has responded with two 100-yard rushing games in the last five games, and Pierce actually led the Ravens in rushing in the AFC Championship. The 49ers haven't won a game this season when giving up over 140 rushing yards (0-3-1).
OFFENSIVE LINE: The Ravens unleashed a new group for the postseason, featuring former Vikings Pro Bowlers left tackle Bryant McKinnie and center Matt Birk, 2009 first-round pick right tackle Michael Oher, 2012 second-round pick left guard Kelechi Osemele, and Pro Bowl right guad Marshal Yanda, a third-round pick in 2007 and the only offensive player still on the roster from when Brian Billick was the head coach. McKinnie was benched during the regular season while Oher started at LT, Osemele started at RT, and Jah Reid, Ramon Harewood, and veteran Bobbie Williams started at LG. The unit was better at run blocking, while Flacco was sacked 35 times. In the postseason, Flacco has gone down only four times while turning the ball over only once. McKinnie and Osemele will be challenged by 49ers Pro Bowl outside linebacker Aldon Smith and defensive end Justin Smith. The Ravens did not allow a sack in last year's matchup against San Francisco.
PASS RUSH: Baltimore had 37 sacks this season, which is about average. The Ravens sacked the 49ers nine times last season, with OLB Terrell Suggs getting to Alex Smith three times. Suggs had only two sacks this season as he dealt with an Achilles injury and torn biceps. He appears to be ready to go, as is OLB Paul Kruger, who led the team with nine sacks on the season. Kruger was a terror against the Colts, while Suggs got to Peyton Manning twice the week after. While the Ravens didn't sack Patriots QB Tom Brady, they pressured him into an inefficient performance, culminating with two fourth-quarter INTs. Second-round rookie OLB Courtney Upshaw is also in the rotation. Pro Bowl DE Haloti Ngata is the best pass rusher on the defensive line, and DEs Arthur Jones and Pernell McPhee complement him there. ILB Dannell Ellerbe had 4.5 sacks this season, which ranked third in the NFL among inside linebackers. The Ravens will send DBs, especially strong safety Bernard Pollard. The Ravens have five sacks this season by DBs. The 49ers have only allowed five sacks in their last five games.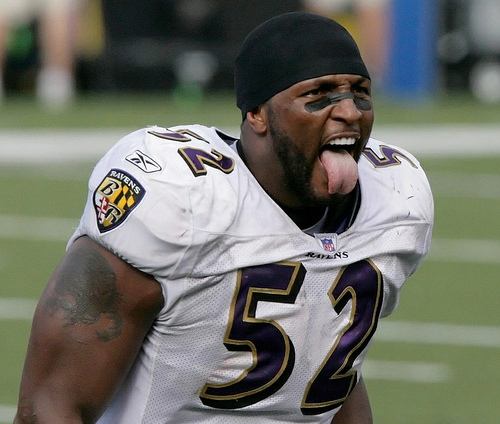 RUN DEFENSE:
The Ravens allowed many yards and scores on the ground this season, but with the return of Ray Lewis and the emergence of Ellerbe, things have tightened up. The Ravens feature a three-man front, with Ngata, Jones, and NT Ma'ake Kemoeatu starting. The Ravens have not allowed a runner to go over 100 yards in five games, have allowed zero scores on 99 rushing attempts, and Pollard's forced fumble on Patriots RB Stevan Ridley was a defining moment in the AFC Championship game. San Francisco lost all three games in which they were held under 100 yards, most notably Sunday Night Football in Seattle. Lewis missed the 49ers game last year, but the Ravens stopped Frank Gore, holding him to 39 yards rushing. The 49ers have won six games in a row against 3-4 defenses.
PASS DEFENSE: The Ravens' personnel hasn't been ideal. Pro Bowl free safety Ed Reed has looked old at times, 2011 first-round CB Jimmy Smith hasn't been able to replace injured CB Lardarius Webb, and the 13 INTs were the fewest by this defense since the 2005 season (Lewis missed 10 games that season as well). But the Ravens also allowed only 15 TD passes, the second-best mark in the league. Andrew Luck, Manning and Brady combined to throw four TDs and five INTs against the Ravens in the postseason. CB Cary Williams is burnable, but he had four INTs during the regular season and two more in the postseason. He will see plenty of 49ers WR Randy Moss, which might be a good thing for Williams, as Moss doesn't see the ball much. CB Corey Graham starts on the other side and covers the slot in nickel; he had two big INTs of Peyton Manning and was arguably the most valuable player in the AFC Divisional win in Denver. CB Chykie Brown is the nickel back, and he might be at a disadvantage against 49ers WR Michael Crabtree. While the 49ers don't use their third receiver often, they roll out TEs Vernon Davis and Delanie Walker, and those players are mismatches for most defenses. Davis was held to only 38 yards receiving last year against the Ravens. A TE hasn't scored a TD against Baltimore in seven games, allowing only two all season, and haven't allowed a TE to gain over 100 yards since Week 2. The Ravens are vulnerable when Lewis is in coverage, but the 49ers rarely feature Gore in the passing game.
SPECIAL TEAMS: The Ravens have a much better kicking situation with Tucker, who went 30-for-33 on field goals this season, making four from more than 50 yards and not missing a kick inside of 40 yards. The coverage units were terrible against the Broncos (two scores allowed), but have been decent otherwise, led by ILB Brendon Ayanbadejo. Punter Sam Koch (47.1 yards per punt) is one of only six Ravens to have been with the team longer than John Harbaugh, a former special teams coach with the Philadelphia Eagles. Jones scored three return TDs, earning a Pro Bowl selection – he is much more dangerous returning kickoffs.
COACHING: John Harbaugh actually had current 49ers defensive coordinator Vic Fangio on his Ravens staff from 2008-2009. His decision to fire offensive coordinator Cam Cameron and promote quarterbacks coach Jim Caldwell has paid off. The Ravens still go through long stretches of games without moving the ball, as the Ravens have punted 35 times in Caldwell's six games as offensive coordinator. But Flacco has 12 TDs and only one INT in those six games. Dean Pees is the defensive coordinator, the fourth under John Harbaugh in five seasons (Baltimore defensive coordinators always get hired off). Harbaugh has won a playoff game in each of his first five seasons, and the last time he coached in New Orleans was when he was on the Eagles staff as a defensive backs coach. The Eagles beat the Saints 38-23, with the Eagles defense allowing no TD passes by QB Drew Brees in 42 attempts.
INTANGIBLES: Just to list a few: Ray Lewis. The HarBowl. Ray Lewis. Flacco's contract situation. Ray Lewis. Jacoby Jones and Ed Reed returning home to New Orleans. Potential final games in a Ravens uniform for Reed, Matt Birk, and Anquan Boldin... and Ray Lewis. The Ravens have only played two indoor games the last two seasons and have never won a postseason game in a dome. The last fourth-seeded AFC team to win the Super Bowl was the Ravens in 2000, when Ray Lewis was the Super Bowl MVP. The only time the 49ers have ever defeated the Ravens was in 1996, when Ray Lewis was a rookie. Third-string TE Billy Bajema was a 49ers draft pick. Also, in case you haven't heard, this is Ray Lewis' last game.
BOTTOM LINE: This is a game where Flacco is going to have to be at his best. The Ravens have scored 12 TDs and have only kicked two field goals so far in the postseason, so that's a good foundation to start with. Defensively, the Ravens haven't seen Colin Kaepernick, but they did see Michael Vick and Robert Griffin III. How they defend the option will go a long way in determining their success defensively. The Ravens have played in a lot of close games this season, coming in with a 7-4 record in games decided by seven points or less (the 49ers have a 3-1-1 record in those games). I fully expect this one to come down to the wire as well.
Reach Staff Writer Law Murray via email or follow him on Twitter.