Los Angeles and Region
Southern California Economy Outlook Seems Slow And Steady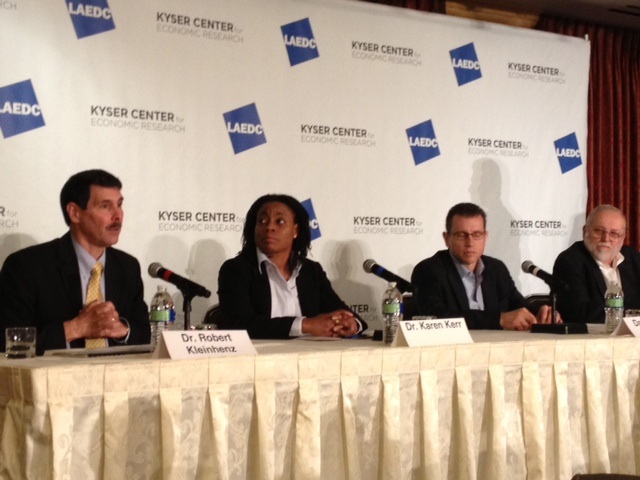 This article is part of an ongoing content partnership between Neon Tommy and L.A. Currents.

The Southern California economy is poised for modest but steady growth across nearly all sectors in 2013 and will build on last year's gains, according to a report released Wednesday by the Los Angeles County Economic Development Corporation, which tracks the regional economy.
"We've got steady improvement as we look ahead to 2013 and 2014, despite the policy uncertainty," said Robert Kleinhenz, LAEDC chief economist during a forum in downtown Los Angeles on Wednesday. "The private sector is indeed going to feel like it is improving in 2013 in a way that it probably hasn't felt in quite sometime."
Los Angeles County's current 10.2% unemployment is expected dip in the coming months, with employment expected to climb by as much as 2% during 2013, according to Kleinhenz.
"We are seeing jobs gains in leisure and hospitality, we are seeing job gains in retail," he said. "That is not just important for those sectors, but also means the consumers and businesses are finally willing to spend more. Those are good signs."
County numbers mirror statewide employment projections.
"During the second half of last year the growth in the labor market in California outpaced the national rate of growth," Kleinhenz said. "We were in the neighborhood of 2% year-over-year job gains through the better part of last year as compared to national job gains of 1.7%."
Not all sectors will experience gains. Southern California's manufacturing industry is expected to shed jobs, part of a decades-long decline. Public employers will continue to cut costs as departments at every level of government wrangle with budgets still ravaged by the 2008 economic recession.
Furthermore, the local southern California has the added risk of significant exposure to global economic forces. The Los Angeles-Long Beach port complex is a major gateway for international trade and in 2012 handled 14.1 million containers. That figure is a marked improvement from the worst throes of the recession, but further growth will depend in part on economic activity in Asia and Europe.
With a gross annual product of $575 billion Los Angeles County boasts more workers in entertainment, manufacturing and the international trade capital than any other county in the United States, according to Bill Allen, president and chief executive officer of the LAEDC.
"That ranks L.A. County as the 21st largest economy in the world among nations, larger than Sweden or Poland or Belgium or Norway or Taiwan," Allen said. "This is truly a nation-sized economy."
Economic recovery in Southern California – which really only gained momentum in 2012 – was slow out of the gate in part because the recession cut especially deep here, Kleinhenz said.
"Many of the key industries in Southern California were very hard hit, construction being one, trade being another. Even entertainment saw some fairly steep drops in jobs as a result of the recession," he said.
Still, numerous economic indicators including construction, housing prices and sales, show Los Angeles County moving in the right direction.
Reach contributor Megan O'Neil here.