Film and TV
Reviving A Legend, 'Sound City' Resonates And Fades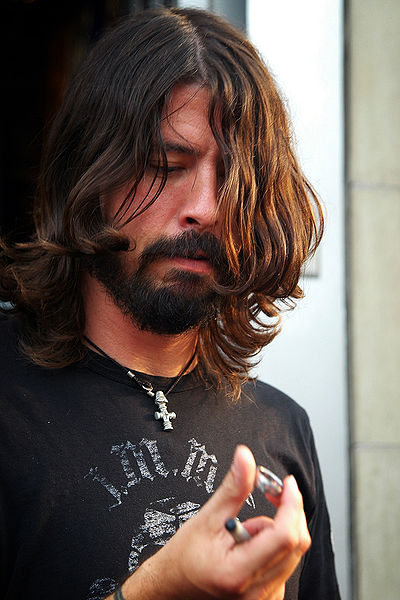 First-time director and longtime rocker Dave Grohl has garnered much praise from peers for his film "Sound City," a tribute to the now defunct Van Nuys recording studio.
"From day one," co-producer John Ramsay told the Salt Lake Tribune earlier this year, "Dave was very clear about what he wanted to say about Sound City."
But as with any documentary, the question is whether audiences care enough to listen.
At its best, "Sound City" is an inspiring exercise in nostalgia and the search for human connection, leading up to an all-star jam session — the stuff of fanboy dreams. But the film falters when it digresses into jargon-heavy drooling over audio technology or embittered tirades on the current state of the music industry.
The opening sequence suggests audiences will get a look behind the glass inside a famed recording studio, the street cred of which we don't fully grasp. In a series of artfully done, quiet shots, we watch an engineer or producer flip on the lights, adjust the controls on a master recording "desk," and for us at least, settle in for the retelling of Sound City's origin.
Grohl's narration over burnt footage of the drive from Seattle to Los Angeles sets a nice tone for the first half of the film. It's easy to be won over by his remembering Nirvana's early days. "We were just kids," he says, noting with the rose tint of decades passed that this was "when what's next isn't scary — it's exciting."
It was a bit of letdown then, when the young rockers arrived at Sound City in 1991 to find the storied studio, where albums like Neil Young's "After The Gold Rush" and Tom Petty and the Heartbreakers' "Damn The Torpedoes" were recorded, was kind of a dump.
But inside the hole-punched walls, sitting atop urine- and whiskey-soaked carpeting, was Sound City's saving grace: the Neve 8028 Console, which will mean little to you even after seeing the film. This monolithic recording desk, we learn, is responsible for the raw, untouched sound that quickly became the studio's signature effect. So lauded is this master control, that when the studio was finally shuttered in 2011, Grohl enlisted the help of some friends to relocate the massive console to his own Studio 606.
The bulk of the documentary comprises interviews reminiscent of VH1's "Behind The Music," in which we hear extensively from the big names who made their careers on that desk. Here and there, these icons lose us as they get wrapped up in rambling lectures on the nuances of the studio. Though Grohl suggests, while perched behind a drum set, that it's uncommon for recording to take place in large rooms like Sound City's, he never explains what he means by "nice decay."
It's hard to say for whom Grohl made the film. But we might excuse its exclusivity if his only intention was to honor the non-celebrities behind Sound City. Some of the most powerful moments of the film come during interviews with the dedicated staff who subsisted on negligible salaries to keep their misfit studio afloat for more than 40 years.
As impressive as Sound City's impact on rock history may be, the human connections established and tested inside its walls are what draw in audiences unfamiliar with the intricacies of audio balance and acoustics.
It takes some time, though, for anyone to name "the human effect." The audience first endures a lengthy treatise on the digitalization of music, which according to the rockstars, engineers and producers of yesteryear, has meant masses of people who shouldn't be making music are now empowered to do so. It's unclear how we're supposed to feel about Nine Inch Nails frontman Trent Reznor, who straddles that divide. According to multiple sources interviewed, he embodies the vilified transition to digital, and Grohl seems to dismiss some of his practices even after inviting Reznor to join his Dream Team and record a tribute album — "Real to Reel," to be released in March.
This last segment is where we finally start to grasp what drove Grohl to revisit and revive the Neve Console's considerable impact. Paul McCartney, Rick Springfield, Reznor, Grohl and his Foos are among the marquee-worthy names who gather to play together — to connect.
As we watch Grohl slip into his past, again just a kid who loves music and the chance to create with his heroes and friends, Mick Fleetwood's words from earlier in the film land, giving even "Sound City"'s tangential rants on digitalization some sense of coming full circle: "You can do it on your own. But you'll be a much happier human being if you do it with other human beings."
Reach Editor-in-Chief Catherine Green here. Follow her here.