USC Sports
National Signing Day: USC Ends With Loaded, Albeit Small, Class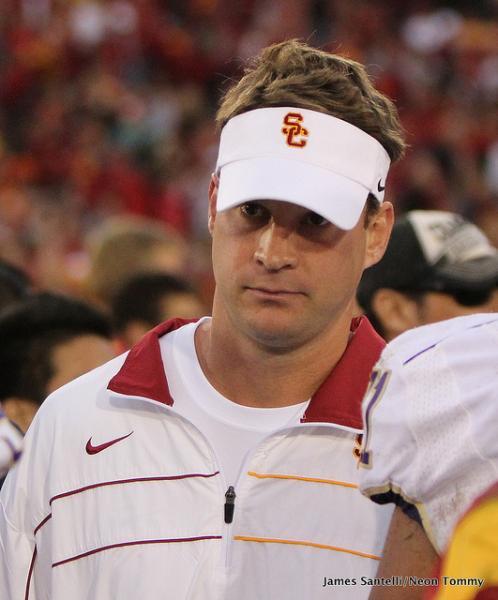 Lane Kiffin's fourth signing day was not as fortuitous as his previous ones. After three top-10 recruiting classes, the Trojans rolled in at no. 13 with just 13 recruits to the class, falling behind cross-town Rival UCLA and coming up short of the 18 possible they could have added.
Yesterday, three former commits – Jason Hatcher (DE), Jalen Ramsey (DB) and Torrodney Prevot (DE) – rescinded their allegiance to USC, signing with Kentucky, Florida State and Oregon, respectively.
So, how does the fourth-year head coach feel?
RELATED: All our signing day coverage.
"I can't imagine there is a better class of 13 guys in the country," Kiffin asserted. "The best way to describe this class is when you go big-game fishing – you don't get a lot of them, but you get really big prizes."
He has a point. The concern is not the talent USC recruited. In fact, the Trojans' class-star average, per Rivals, sits .55 higher than second-place Notre Dame. They just need bodies, especially working with the scholarship restriction. And while the 13 freshmen all have a great chance to pan out, recruiting is a numbers game – the more you get, the better chance a team will find a gem.
The crown jewel of the USC class was supposed to be its defensive line corps, led by Prevot, Hatcher, Kylie Fitts, and defensive tackles Kenny Bigelow and Eddie Vanderdoes. But after yesterday, only Bigelow remains. The Maryland product is Rivals' top DT. But in USC's unique case with 10 fewer scholarships, the quantity lost certainly supersedes the five-star player's quality. The last two years, the Trojans only picked up three freshmen on the defensive line.
"Obviously, that can impact your depth later on," Kiffin said. "But also, we like to focus on the guys we get, and not the ones that didn't come here."
In addition, wide receivers Eldridge Massington and Sebastian LaRue decommitted a while back.
Traditionally, National Signing Day was a triumphant day for USC's freshmen class. As Kiffin points out, in the past, the process was different: nailing prospective freshmen and flipping guys late opposed to the approach mostly employed now, reaching and receiving a "yes" six months before it can be official.
"It doesn't matter when you get them," Kiffin said of early commits vs. signing day ones. "Even though it may feel like today is a loss because there weren't a lot of USC wins today, let's go back to those USC wins that have already happened and seven of them that are already on our campus.
"I'd much rather have guys on our campus, enrolled, 15 spring practices than somebody today that signed their paper and will have to wait 'til summer."
RELATED: Lane Kiffin Runs Out Of Steam As USC Closes Signing Day With A Whimper
Of those recruits that stayed with the Trojans, the star of the 2013 class is undoubtedly quarterback Max Browne of Sammamish, Wash. 2013's top quarterback broke state high school records in the Pacific Northwest, giving USC a strong possible heir to the giant hole Matt Barkley leaves. Kiffin explicitly mentioned that Browne will compete for the starting job, against the presumed favorite, redshirt sophomore Max Wittek, and Cody Kessler.
Kiffin did land notable out-of-state stars in Browne, Bigelow, running back Ty Isaac (Ill.), defensive back Leon McQuay III (Fla.), linebacker Quinton Powell (Fla.) and offensive lineman Khaliel Rodgers (Md.) but lost Hatcher (Ky.), Massington (Texas), Jalen Ramsey (Fla.), and Prevot (Texas). The coach tied that to the poor season and negative recruiting over a six-to-eight month span.
"Obviously, when you have a season like we had, job security is going to come up," Kiffin said. "That make it harder on national, out-of-state kids because they're choosing to come for a coaching staff – as well as the university, obviously.
"But when there's questions about that, it's a lot harder for a kid from a long ways away or a family to say, 'OK, we're going to let our kid go there,' with the uncertainties."
Overall, despite its scant nature, USC's class is a strong one. Kiffin signed top-flight recruits, including five of the top-27 players and six of the top-34. He'll need the talent to develop and produce quickly to assure his make-or-break season makes him and not the opposite.
Reach Senior Sports Editor Will Robinson here. Follow him here.