California
Gathering In Los Angeles To Write Letters To Congress About Gun Control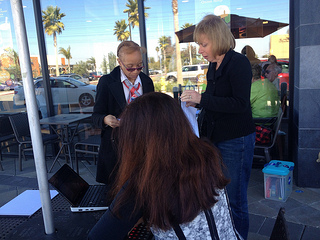 Pro-Obama advocacy group Organizing For Action (OFA) hosted a "Letter Writing to Congress'' event Friday to urge the Congress to pass legislation that would limit access to guns.
Friday marked the national Day of Action for the group launched a month ago by top advisors to President Obama in support of his legislative agenda to curb gun violence.
According to member of California branch of OFA, Joane Washington, letter writing activities were scheduled to take place all over the country this weekend in a massive-scale effort to request that Congress put in place a more robust background check system in gun sales and resume the ban on assault weapons and high-capacity magazines.
Larry Wore, a participant of the letter writing activity in Los Angeles, is an ardent supporter of Obama's violence reduction policy because he said he feels so sad about the mass shooting tragedy that happened in Newtown.
"It is just way easier to kill when you are armed," he said. "And President Obama is now making a serious effort to push his violence control plan and the goal can not be achieved if the Republican House and the Democratic Senate are still in disagreement."
Jackie Ealy, another participant of this activity said although she understands carrying a weapon is a constitutional right for American people, there should be limits on things that can easily put the public into jeopardy.
She also expressed concern about the side effect of background checks.
"What if this vital information gets into evil hands?" she said. "Does this policy provide a convenient way for government intrusion."
Washington also believes gun control plans should also include efforts to make sure people with mental illness can get access to mental care facilities.
She said more people were showing up than she previously expected on the Day of Action, and she is confident that "Letter Writing to Congress" will make a difference, even if only in a tiny way.
Reach Staff Reporter Zhao Chen here.