Los Angeles and Region
L.A.'s Master Bike Plan Speeds Ahead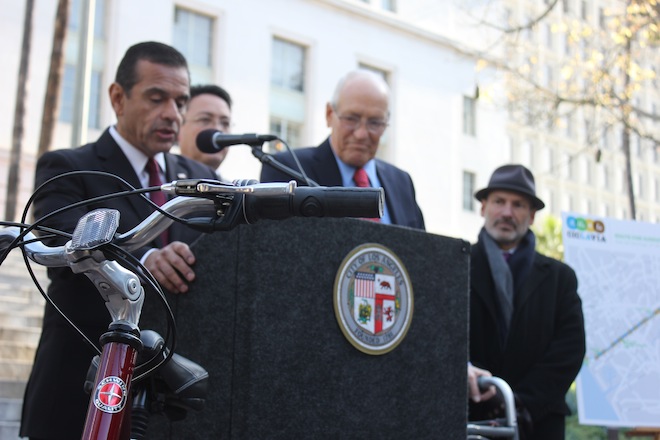 Bikeway development across Los Angeles is expanding at a faster pace than initially laid out in its ambitious 2011 master plan, Mayor Antonio Villaraigosa
announced at a press conference Thursday
.
Flanked on the steps of City Hall by Councilman Bill Rosendahl and Jen Klausner, executive director of the Los Angeles County Bicycle Coalition, Villaraigosa pointed to a total 431 miles of bikeways in L.A., 123 of which were installed in the last two years under the Master Bicycle Plan that called for an average of 40 new miles each year.
"We plan to install 200 miles of bikeways in the next five years, and at the rate we're going, it'll probably be a little faster than that," Villaraigosa said to a crowd of about 50 reporters and cycling advocates. "What is it? Understate and overdeliver."
Villaraigosa cheered the progress and promised to do more, starting with an extended route for the next CicLAvia April 21.
SEE ALSO: Mayor Announces New CicLAvia Route To Venice
But the city's transition toward alternative transportation hasn't been without its naysayers, who made their presence known at a public hearing at the Department of Transportation's (LADOT) Western Parking Enforcement Office Tuesday night. Under review were proposed bike lanes for Westwood and Sepulveda boulevards, which some constituents say will significantly worsen traffic congestion in the area.
To these critics, the mayor said he and the members of the City Council would side with the majority, who he said voiced their preference for bike transit by turning out en masse for the five CicLAvias held since 2010. Organizers estimate some 100,000 people participated in the Oct. 7 event last year. "Angelenos are yearning to get out of their car and enjoy their streets," he said. The upcoming sixth CicLAvia will venture past the boundaries of Downtown L.A. to Venice, covering a little more than 15 miles.
Villaraigosa credited bike advocates and city agencies like LADOT for their work in leading the two-wheeled revolution. "I call them visionaries because they see the world that doesn't exist today, but a world that can exist if we're partnering together to make it a reality," he said.
For some, though, the logistics of introducing that reality are too much of an inconvenience. In responses to a Feb. 19 LA Observed post on the proposed bike lanes along "two of the most traffic-clogged arteries in the city," readers called the plan a "big waste" of city resources. "Don't get me started on the political absurdity of granting more access to bicyclists on major thoroughfares," one commenter wrote. "Just what we need: more arrogant entitled riders."
PHOTOS: CicLAvia 2012: A Glimpse Of A Car-Free L.A.
According to Michelle Mowery, a senior project coordinator at LADOT, the contrast between feedback from CicLAvia participants and critics of the bike lane expansion could be chalked up to generational differences. "The folks that are very opposed to the bicycling and real change tend to look like they're over 50," Mowery said shortly after Thursday's press conference. "A lot of the folks that are really pushing the agenda and a new vision for L.A. are under 40, and then we see a mix in the middle."
Mowery debunked one of the primary complaints about bikeway installation: worsening congestion on city streets. "One of the things that I think our department has done really well is keeping cars moving quickly," she said. "As the number of vehicles on the roadways has increased exponentially, the volume of traffic doesn't seem vastly different over the last five or six years." Still, she emphasized the need for continued change in L.A.'s transportation culture, starting with fewer cars on the roads. "I think we're saturated. We're at the maximum now."
With the next CicLAvia still two months off, Mowery said L.A., known for its smog and dependence on four-wheel, single-passenger transit, is at a crossroads. "The city needs to determine who it's going to be. Are we going to be a new and different city?" she said. "Are we going to change and embrace this vision of the future? Or are we going to stay trapped in our cars?"
Reach Editor-in-Chief Catherine Green here. Follow her here.