Los Angeles
Jose Antonio Vargas At USC Talks Of Inclusion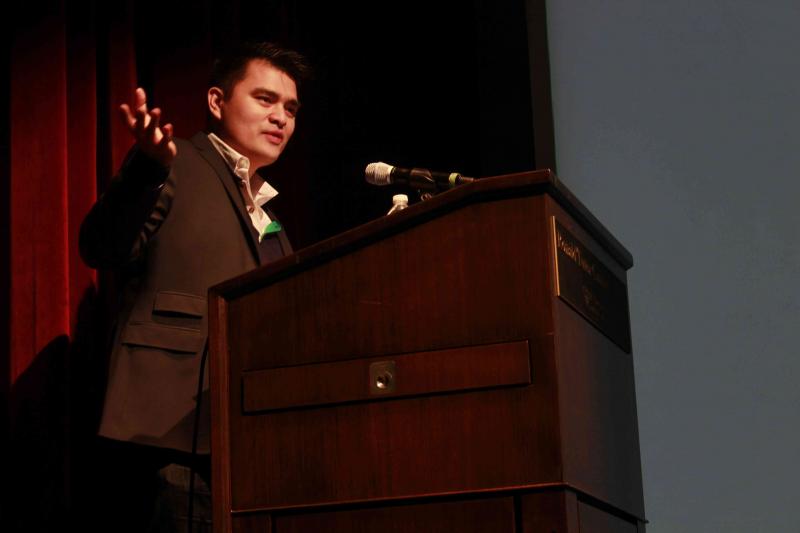 Jose Antonio Vargas, a Pulitzer prize-winning journalist and an undocumented immigrant, shared his personal stories on being undocumented and his journeys of trying to change the America's perception of the community Thursday night at University of Southern California.
Vargas showed a piece of hate mail he got during his advocacy for the undocumented community, and videos of his journey to Alabama talking to anti-immigrants locals. He became emotional when playing a video about an artist using art to raise awareness of the immigration issues. Vargas called for students to abandon the notion of "illegal aliens," "minority and majority."
As a journalist, Vargas said his advocacy work shouldn't be considered as him being an activist. What he does, he said, was to advocate for being treated as a human being.
"I am not coming out," Vargas said. "I am letting you in."
Neon Tommy sat with Vargas before his presentation and got a few thoughts of him about himself and the immigration issue.
NT: What is it like to be the only undocumented person in your extended Filipino family?
Vargas: Most of them didn't know until two years ago when I told them. The only people that knew were my grandmother, my uncle, a couple of aunts and two cousins. I come from a big Filipino family, so most people didn't know. I told them of course at the time that I was about to do this. They are my family, and they are very supportive. My aunt said "you are the most Americanize one of us, and you don't have papers." So that's kind of interesting. My grandmother really bares a lot of the stress of it. She is 75.
I remember a few months ago, she actually said to me when I was getting some bad threats from some people, just emails. There is a gentleman right now who started a White House petition of whitehouse.gov to deport me. I posted it on Facebook. My grandmother saw it, because she looked at Facebook. That's how she keep track of me. She called me, and she goes "Oh my God, people are getting mad at you." I was like "No, it's OK. It's just one person. It's freedom of speech. He has the right do that."
She said, "Don't talk too much more about it." I was like "No, grandmother, it's only one person." She doesn't know. All she cares about is I am her grandson, and there is some dude. So that's probably the hardest part for me, because I know that I caused my grandmother a lot of stress and I hate that. I really hate that.
NT: We don't hear as many undocumented voices in the Asian community as in the Latino community. It seems that the Asian culture of shame and silence magnifies in the undocumented community. What is your observation?
Vargas: Just think about Asian culture in general. Let's leave the undocumented thing out, and just talk about Asian people. Culturally we are supposed to work, get a house, drive a car, and don't cause too much trouble. You should just be thankful and grateful.
When I decided to do this, that was really one of the things that I wanted to say. This is not only a Latino issue. A full million undocumented people are Asian and Pacific Islanders, Chinese, Koreans, Vietnamese, Filipinos, Cambodians.
The Asian undocumented community is like the rest of the Asian American community. Undocumented Asian people want to be heard, and want to be seen. It's been really amazing to me meeting so many undocumented Asian people who are so completely involved and helping to lead the undocumented youth movement. A lot of them go to UCLA, UC Berkeley, Cal State Northridge, universities and community colleges. I think that's wonderful. Some of the undocumented in New York, where I live now, there is this guy named Tony Choi, Jong Min, very active, very vocal, very respected. It's a matter of recognizing the work and recognizing that immigration is not only a Latino issue.
NT: You recently testified in Senate for immigration reform. What do you think are the proper terms for a pathway to citizenship?
I think there should be a process in which people like me can step forward, and get in some sort of process to become a permanent resident and citizen of the country. That's what we are working on now. So figuring out what the ins and outs that law is going to look like, who is going to be included. Inclusion is a key factor here. We have to make sure that we include as many people as possible.
NT: You are a gay Asian undocumented journalist, what are the challenges you have in your career?
I hope that we get to a point in this country where we stop referring to each other as minority. I think I am a majority of one. I am not a minority. Minority, in this country, is almost pejorative. You are minority, therefore, that's your thing. I think we've come to a point now to expire that title.
Like any journalist of color or a journalist who happens to be gay, of course there are challenges. For me, it's very important at the beginning that the work speaks for itself. They can deny me for whatever reason, because I look like this, or I talk like that. But you can not deny the work. So the work has to speak for itself and stands on its own. I had to work really hard to be good, to be better than good.
NT: What is your biggest challenge in your campaign of Define Americans?
The biggest challenge is how do we preach it on the choir, how do we reach people when they think of immigration, they think U.S.-Mexico border, or they think illegals, or they think Mexicans, how do we raise the consciousness and the level of conversation. The media has a tremendous role to play in that. I am saying this as someone who has been in the media for more than a decade. I think what you really have failed the American public when it comes to the issue, and we need to do a better job. Define Americans is really to help tell a broader and fuller story of immigration in the country.
NT: How has your life changed since you came out?
Going around the country and talking. I wish I was just talking about stories that I've written. I wish I wasn't talking about myself. So that's the weirdest part. Talking about yourself as a journalist? You are not supposed to talk about yourself. You are supposed to write the story and let the story speak for itself. So that's been really hard, all of a sudden, I am part of the story, not just writing it. I am still getting used to it.
What am I advocating for? I am only advocating to be seen as a full human being.
NT: Before you said that unpaid internships limits the diversity of newsrooms, because only white affluent people can afford them. But for many journalism school students, the situation is either unpaid internships or no internships. What is your suggestion to the journalism students and aspiring young journalist?
The whole economic model leads to less diverse newsrooms. This is why the newsrooms look the way that they do in America right now. We need to do a better job, especially in 2013, really diversifying out newsrooms. Nearly 50 percent of kids under the age of 18 are not white in America. The media is supposed to reflect the very people that they cover, and we are not there, we have a long way from there. I would hope Google, Facebook and Twitter and Youtube, they are media companies. I think they should be supporting this effort.
For journalism students, you have to work really hard. I am tolerant about a lot of things, but I don't tolerate laziness, especially in journalism. If this is not a passion, then get out. If you don't feel passionate doing it, if you don't feel like you can get up at 2 a.m. so that you can edit that last frame, or think about that lead. Then it's not the right job for you. If you think it's a job, then it's not a job for you, because it's not a job, it's more than that.