Los Angeles
Jerry Buss, Lakers Owner, Dies At 80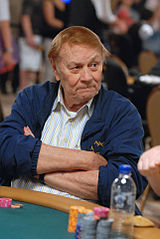 Longtime Los Angeles Lakers owner Jerry Buss died of cancer Monday. He was 80 years old.
Buss owned the Lakers since 1979, ushering in an era of championship wins and a flashy Lakers lifestyle that fans so closely identify with the the L.A. team.
"I really tried to create a Laker image, a distinct identity," he once said, according to the L.A. Times. "I think we've been successful. I mean, the Lakers are pretty damn Hollywood."
Buss died at Cedars-Sinai Medical Center.
Read the L.A. Times' extensive obituary here.
Reach Executive Producer Michael Juliani here.