International
India: Three Sisters Raped And Murdered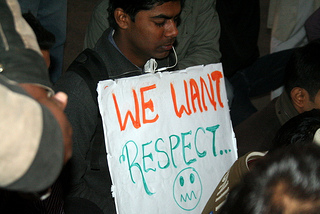 The sexual violence cases in India keep piling up.
Three sisters aged five, nine and 11 were raped and murdered in Lakhni village outside of Maharashtra. The girls disappeared on February 14 as they were returning home from school. When their grandfather went to the police station to report them missing, the authorities made no attempt to find them.
Upon hearing this, the entire village blocked a national highway in protest and as a result, the police begun their search and on Wednesday, found the bodies of the three girls discarded inside an old well.
Their deaths were labeled "accidental". However, upon examining the bodies it was determined that the three sisters had been raped before being killed.
"The first day when we filed the complaint [about the girls' disappearance], the police didn't act on it. Had they looked for the girls, my girls would have been found. This is nothing but negligence,"the mother of the girls told a reporter from CNN-IBN.
The government offered her 1 million rupees in compensation for the lapses in police action, but the mother, a poor day laborer, refused saying that no amount of money would bring her daughters back. Instead, she urged the police to catch the culprits so they could be punished swiftly.