Entertainment News
Top 10 Hollywood Babies Of 2013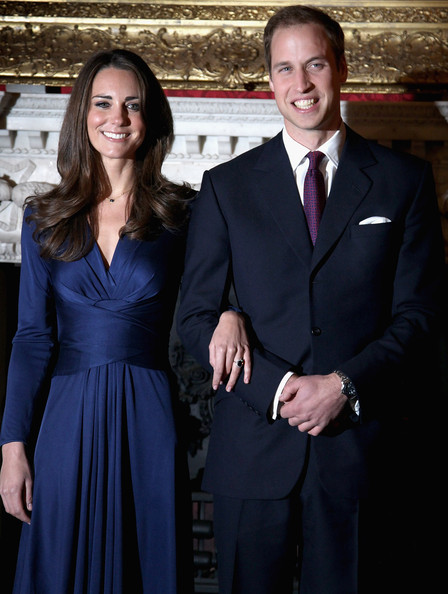 Love is in the air and baby bumps are everywhere - that's right, despite all of the buzz and hype, Kimye isn't the only celebrity couple due soon. From rappers to royalty, check out the list of Hollywood lovebirds expecting a new addition to their family this year.
1. Kate Middleton & Prince William
2013 will be a regal year - Duchess Kate Middleton and Prince William are expecting their first child! Though the news is still relatively new, Middleton's widely publicized pregnancy has everyone looking forward to the grand birth of royalty. After all, the duchess's mysterious baby bump will eventually be taking over the British throne.
2. Kim Kardashian & Kanye West
They've been making headlines since their relationship first began, but add a shocking pregnancy and you have the recipe for the most anticipated celebrity lovechild of the year. Since Kim and Kanye both confirmed the news, it seems as if everyone is awaiting the arrival of the couple's first child due in just a few months. Even if you're not keeping up with the Kardashians, you can bet that you'll be hearing about the new family addition sometime soon.
3. Wiz Khalifa & Amber Rose
At the 55th annual Grammy Awards, rapper Wiz Khalifa and his fiancee, model Amber Rose, told MTV that their due date is near - February 24th, to be exact. Seems like the couple is excited and ready to be parents as they've reportedly already picked out a name for their expected child!
4. Channing Tatum & Jenna Dewan-Tatum
They met as co-stars on the set of "Step Up" back in 2006, had a fairytale Malibu wedding in 2009, and now they're living happily ever after. The married couple announced that they were expecting a child back in December - looks like Channing and Jenna will be welcoming another Tatum to their home later this year! We hope some of their dance skills will be passed down.
5. Jessica Simpson & Eric Johnson
Singer Jessica Simpson and her fiancee, former NFL player Eric Johnson, are anticipating the birth of a baby boy. He'll be the family's second child, and the little brother of 8-month-old Maxwell Johnson, the couple's first daughter.
6. Kristen Bell & Dax Shepard
"Parenthood" actor Dax Shepard is about to play the off-screen role of a real parent. The "When in Rome" co-stars got engaged in 2009 and are now expecting a child together. Though they aren't rushing to get married just yet, they'll be settling down with a newborn sometime this year.
7. Penelope Cruz & Javier Bardem
With a body like hers, it's hard to believe that Penelope Cruz is about to be the mother of two. The actress has a two-year-old son with husband Javier Bardem and is excited to be welcoming a second child in a few months.
8. Busy Philipps & Marc Silverstein
Actress Busy Philipps and husband, screenwriter Marc Silverstein, revealed that they were expecting a second newborn last December. The "Cougar Town" star flaunted her baby bump in a tight black gown at the SAG Awards earlier this year.
9. Hilaria Thomas & Alec Baldwin
Remarried "30 Rock" actor Alec Baldwin is ready to start a family of his own once again. According to US Weekly, Baldwin's wife, yoga instructor Hilaria Thomas, excitedly confirmed the pregnancy rumors on February 12, describing the news as "a wonderful surprise."
10. Shakira & Gerard Pique
With all the buzz surrounding celebrities who are due soon, let's not overlook the Hollywood couples who have already welcomed their newborn! Singer Shakira and soccer player Gerard Pique recently celebrated the birth of their son, Milan, in January.
Reach Staff Reporter Meena Jang here.