Los Angeles
Harvard-Westlake Alums Provide Powerful Backing To Eric Garcetti
This story is part of a partnership with L.A. Currents.
Some of L.A.'s best and brightest packed into the speakeasy-themed Next Door Lounge on Hollywood Boulevard last November to hear Eric Garcetti, the front-runner in the mayoral race, speak. But these talent agents, Internet entrepreneurs, lawyers, doctors, real estate developers, movie producers, writers, and brokers had more in common than deep pockets and powerful positions.
They were all graduates of Harvard-Westlake, a former all-boys military academy on Coldwater Canyon. In the last 20 years, the school has become one of the most prestigious prep schools in the country. And many members of the school's tight-knit alumni network had a new priority: getting "Eric, class of '88" elected as the next mayor of L.A.
Graduates of the coed Harvard-Westlake (formerly the Harvard School for Boys) comprise one of the most unparalleled and overlooked groups supporting Garcetti's mayoral bid. A core group of about a dozen alumni have helped raise close to $100,000 for Garcetti's campaign, according to a source involved in the fund-raising process. That sum represents a small, yet not insignificant, portion of the $3.6 million Garcetti has raised so far. The November fund-raiser attracted 150 alumni, spanning 40 years of graduating classes. Alumni have hosted more than a dozen fund-raising and speaking events over the past year to support Garcetti's mayoral bid. At least two Harvard-Westlake alums have worked as paid members of Garcetti's campaign, including spokesman Jeffrey Millman (class of '99).
When asked about the outpouring of alumni support, Garcetti said he was excited by it, but that it was related to his being part of a particular generation rather than to his having attended a particular school.
"My closest friends are my oldest friends," Garcetti said. "I have people backing me from my elementary school to my grad school. I think people are ready to not just watch a race, but to really turn this city around."
Graduating from one of America's best prep schools, Harvard-Westlake alums tend to find success in life. The school hosts annual alumni events across the country to keep connections strong. Alums in L.A. have stepped up to support the school financially or to volunteer their time. But the Garcetti campaign has triggered something different — the school's alumni network has coalesced around the 43-year-old candidate. If Garcetti captures the mayor's seat on March 5, the city may be witnessing a private high school and its alumni network emerge as a new political machine to be reckoned with in future political battles.
"It speaks to the uniqueness of Harvard-Westlake that a secondary school can have this many graduates galvanizing behind a candidate," said Marc Mitchell (class of '95), a principal founder of several websites, including Urban Daddy. Mitchell, along with Chris Hopkins (class of '92), an attorney and former private-equity executive who is now an publishing executive, and Robert Ahn (class of '94), a real estate attorney, run the alumni-outreach effort for the Garcetti campaign.
"The reach and access we have collectively is pretty expansive and impressive," Ahn said.
For the past year, Mitchell and Ahn have used Facebook, LinkedIn, email chains, and telephone outreach to get alums involved in Garcetti's campaign. The results have been unprecedented, they said.
"Personal friends from Harvard-Westlake who have never attended fund-raisers or anything like this are coming and contributing," Ahn said. "It's really encouraging and refreshing to see."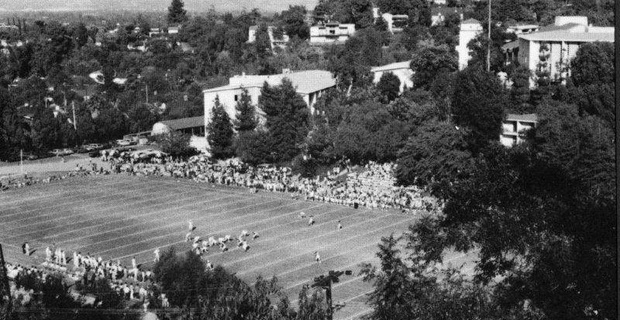 Aerial view of the upper school campus (1988). Photo courtesy of Harvard-Westlake.
During the past five years (on par with other top U.S. prep schools), a quarter of Harvard-Westlake's 1,400 graduates matriculated to an Ivy League university, Stanford, or MIT. This year's graduating class will have an average SAT score of close to 2,100 (out of 2,400) — far beyond the national average of 1,500. This year, attending the 7th-to-12th-grade school cost nearly $35,000 for the school's 1,600 students. Being accepted into the school is a mission in itself: A whole industry of consultants exists to help parents navigate the admissions process. (Sometimes parents begin their efforts when the children are only a few months old.) About one in every five students receives financial aid, which averages $28,000.
While Harvard-Westlake does not officially endorse candidates seeking public office, some of L.A.'s most seasoned political observers can't recall seeing a private high school and its alumni get involved in a local political campaign in this way. "Wow, I've never heard of a high school alumni association doing something like this before," said Dan Schnur, director of the Jesse M. Unruh Institute of Politics at the University of Southern California, in an email.
Ahn met Garcetti through the Pacific American Volunteer Association, a nonprofit environmental group, which formed the same year Garcetti was first elected to the City Council. President Barack Obama introduced Mitchell to Garcetti when both were supporting Obama's first run for president.
Hopkins still remembers the composure Eric Garcetti showed at Harvard School for Boys when he was running to become the school's senior-class prefect. Garcetti won that election; he said the election helped him start to learn how to build consensus and deal with people's anger. The go-getter Garcetti developed a calm, congenial attitude that carried him to prestigious universities, a teaching gig at USC, a Los Angeles City Council seat, and finally a candidacy for mayor of the nation's second-largest city. (Disclosure: The founder of L.A. Currents graduated from Harvard-Westlake in 1994.)
After witnessing Garcetti's successful run for prefect in high school, Hopkins noticed Garcetti's later political successes but didn't pay close attention. But when Mitchell and Ahn came calling, Hopkins came on board with the Garcetti campaign. "We always really back any classmate, whether it's a film or a company," Hopkins said. "The next generation of leaders came out in full support for Eric and that really got me excited."
Garcetti's senior page depicts a young man with a deep devotion to his alma mater and provides some early evidence of his political ambition. He is effusive in his thanks to teachers and friends and has three quotes prominently featured: One from Winston Churchill while the other two quotes are from actor Dennis Hopper and Bob Marley.
If elected, Garcetti would become the first Harvard-Westlake alum to serve as mayor of the city, putting him into an elite category among alumni. Former Gov. Gray Davis also attended Harvard-Westlake when it was a military academy. Another Harvard-Westlake alum, Brian Rosenstein, is currently running for a seat on the Beverly Hills City Council.
"People [who attended Harvard Westlake] got to know each other very well," Hopkins said. "It was a small environment. As people move back to L.A., they start to see a lot of [fellow] alums in whatever industry they are in. People would almost prefer to do business with others from [their school] because there's a sense of trust and accountability."
Ahn predicts that this newly organized network can be called upon in any number of future political or local civic campaigns, regardless of the outcome of this mayoral election.
"I'm hoping even after the mayor's election, this alumni network will continue to grow and we can use this as a platform to support other would-be politicians and get involved with other social issues or political issues or otherwise," he said. "It's a very special and powerful network. If we're able to harness our collective resources, we could achieve a lot."
Like reporter Paresh Dave on Facebook, follow him on Twitter, circle him on Google+ or send him an e-mail.