USC Sports
Colorado Uses Strong Second Half To Crush USC, 65-49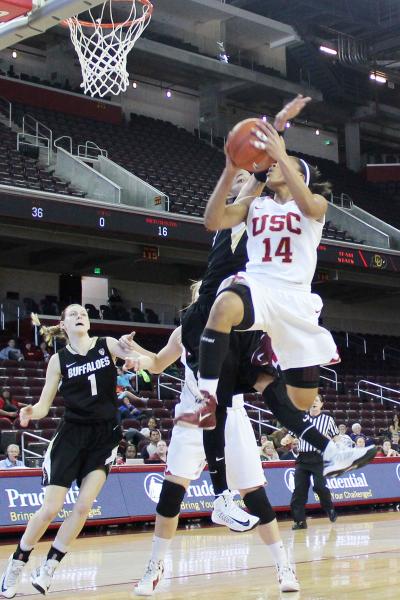 The No. 22 Colorado Buffaloes snapped their three-game losing streak by defeating the Southern California Women of Troy, 65-49, Sunday morning.
Colorado controlled the boards throughout the game, outrebounding the Women of Troy 44-29. Senior guard Chucky Jeffery led the Buffaloes in rebounding with 10, as five of her teammates also contributed at least five rebounds apiece.
"We're at our best when we're rebounding like that," said Colorado head coach Linda Lappe.
"On the defensive boards, we created space and did a better job of boxing out and being aggressive.
"I felt like today we got a lot of the 50-50 basketballs that were getting tipped or on the ground."
The first half featured eight lead changes and five ties with neither team leading by more than five points.
USC led 31-26 at the half, but Colorado came out of the locker room on a 15-2 run to extend its lead to 41-33. The Women of Troy scored just two points in the first 8:23 of the second half, as Colorado's tenacious defense created problems for them.
The Buffaloes forced the Women of Troy into committing 13 second-half turnovers that resulted in 14 Colorado points.
"They decided they wanted to ramp up their defensive pressure, and we decided that we weren't going to fight back," said USC forward Cassie Harberts.
Colorado freshman Arielle Roberson said, "Our defense was a lot more aggressive than it had been against UCLA. It kind of sparked our offense."
In fact, much of Colorado's 32 points in the paint included easy transition buckets following USC turnovers.
After converting 5-of-11 three-pointers in the opening half, the Women of Troy went cold, going 0-for-7 in the second half. For the game, the Buffaloes made just 3-19 three-point attempts, but shot 52.6 percent (20-38) inside the arc.
USC's top-two leading scorers combined for nearly half of the team's points, but the Women of Troy failed to reach 50 points and shot a miserable 27.5 percent from the field. It was the second time the Women of Troy finished with fewer than 50 points this season.
Sophomore guard Ariya Crook especially struggled, as she made just four of her 15 field-goal attempts.
The Buffaloes shot 40.4 percent from the field, including a second half where they converted 46.2 percent of their attempts. Colorado had four starters in double-figures, as Jeffery and Roberson combined for 31 points.
"Very good basketball game for us in the first half, but you don't become a top-25 team if you're not playing for 40 minutes," said USC head coach Michael Cooper. The Buffaloes outscored the Women of Troy 39-18 in the second half.
With the loss, the Women of Troy have now dropped five of their last six games and three of their last four at Galen Center. USC will face Washington State and Washington on Friday and Sunday, respectively, in the Evergreen State, before returning home for three games.
Reach Senior Sports Editor Aaron Fischman by email, or follow him on Twitter.