Nation and World
Carnival Passengers Finally Head Home, Lawsuits Follow.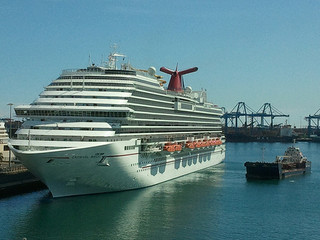 After being out at sea for five days, Carnival's Triumph finally docked in port at Mobile, Alabama. 3,000 passengers who were forced to spend almost a week eating bread and cucumbers and fighting over a cup of coffee, made their way out onto land after five days of sitting in the middle of the Gulf of Mexico on a ship without flushing toilets or electricity. Buses provided by Carnival awaited the worn-down passengers to take them to motels in Mobile, New Orleans or Galveston, Texas from where the passengers would head home individually.
MORE: Stranded Cruise Ship Docks Alabama
On Feb. 14, Carnival Cruise Lines CEO, Gerry Cahill, issued an apology to its passengers and said they would be reimbursed in full, their transportation expenses would be paid and receive a future cruise credit equal to the amount paid for this voyage along with an additional payment of $500 per person to help compensate them for the ordeal.
WATCH: CARNIVAL CRUISE LINE CEO APOLOGY VIDEO
However, most passengers were not satisfied:
"If I go on another cruise, it will not be with Carnival," Nancy Petrone told Reuters on Friday. "I plan to return their voucher for a free cruise."
As of Feb. 15, Cassie Terry of Brazoria County, Texas, filed a lawsuit against Carnival alleging that Carnival failed to provide a seaworthy vessel and sanitary conditions, according to court documents, for which she is seeking compensation for physical and emotional harm, anxiety, nervousness, and the "loss of enjoyment of life,"

Reach Executive Producer Francesca Martens here. Follow her here.