USC Sports
Bruins Blow Out Women Of Troy, USC's Struggles Continue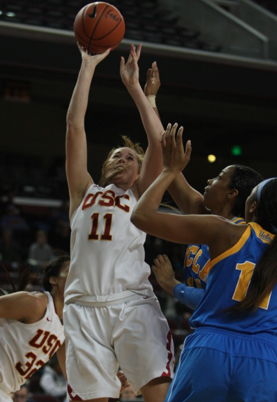 LOS ANGELES--The No. 17 UCLA Bruins soundly defeated the Southern California Women of Troy Tuesday night, 68-54, in a game that ceased to be competitive midway through the first half.
Although the Women of Troy never led, USC only trailed 10-9 with 12:25 remaining in the opening period. Over the next eight minutes, however, the Bruins rattled off an 18-6 run with 12 of those points coming from Atonye Nyingifa. The junior forward finished with 22 points on 11-14 shooting despite averaging only 11.6 points per game this season.
"UCLA came in very, very prepared after a tough weekend they had against Cal and Stanford, losing both of those games," said USC head coach Michael Cooper. "They played us extremely well (and) I didn't think we came out as hard as we should have."
On Senior Night, forward Christina Marinacci was honored before the game, but the good vibes didn't last long, as a tenacious Bruin defense limited her to three points (1-6 FGs) and three rebounds in 27 minutes of play. Marinacci's boyfriend, UCLA forward David Wear, was in attendance to watch the final home game of her collegiate career.
On a positive note, the senior recorded four steals and four assists. Even so, after the game, she was visibly frustrated to be ending her home career on such a low note. This season, Marinacci was forced to miss 11 games due to a strained knee.
Her team has also badly struggled. With the loss, USC has lost 10 of its 11 games and seven in a row, after beginning Pac-12 play a perfect 4-0. For the season, the Women of Troy have fallen to 8-18, including 5-10 in conference. In contrast, through Marinacci's first three years with the program, USC posted a combined record of 61-37.
"It's going to be a really different year without her next year, because she just brings so much to this team," Cassie Harberts said of Marinacci.
"She rebounds the ball extremely well, she's a hustle player (and) she does all the little things.
"She means the world to us, and she's been a fantastic player here."
On Tuesday night, the Bruins led 34-19 by halftime. UCLA dominated the glass throughout the first half, grabbing 13 offensive rebounds, alone, which resulted in 14 second-chance points. At the same time, the Women of Troy struggled with their shot, converting just 6-25 (24 percent) from the field.
The Bruins' offensive rebounding dominance (they finished with 21) resulted in many easy put-back opportunities. In fact, 44 of UCLA's 68 points were scored in the paint.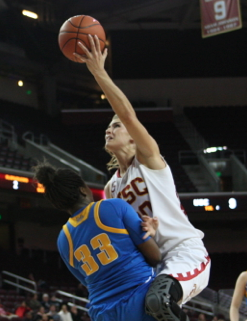 "I'm really proud of our post players delivering, but I'm even more proud for the growth of our guards, because they (the front-line players) can't be that effective and get those paint touches without better play from our guards," said UCLA head coach Cori Close.
UCLA was well represented in the crowd with about 25 boisterous students from Westwood. The Bruin contingent witnessed a strong defensive effort from its school.
Outside of Harberts, who scored 11 of her team's 19 first-half points, USC did not showcase very much offensive firepower. In her second straight start, Ariya Crook scored 10 points, but shot a miserable 4-19 from the field, including 2-9 from beyond the arc. The sophomore guard nailed her second shot attempt of the game, but failed to find her stroke for the remainder of the night.
Until USC freshman Brianna Barrett scored with 15:00 left in the second half, Harberts and Crook had combined for 23 of their team's 28 points. The heavy offensive reliance on those two players is nothing new for a team that has no other players averaging more than 6.4 points per contest.
For the Bruins, senior Markel Walker was effective all over the court. Despite only scoring three points, the senior guard recorded 12 rebounds, eight assists and two steals.
"Markel was awesome on the boards and her passing was great, so it just makes our team flow a lot better," said Nyingifa.
Freshman Kari Korver's only three-pointer of the game extended UCLA's lead to a game-high 27 points with 7:47 left in the game. Although the Women of Troy would hold the Bruins to four points for the remainder of the game, the monumental deficit was too much to overcome. In fact, 13 points (67-54) was as close as USC would get in the second half.
Because the Women of Troy were playing from behind all night, they attempted 11 second-half three-pointers, but only converted one. For the game, USC shot 2-18 from three-point range at a clip of 11.1 percent.
Last season, USC swept UCLA. The Bruins will hope to return the favor next Sunday afternoon at Pauley Pavilion.
"It's not my favorite thing to play them (the Women of Troy) again," said UCLA guard Thea Lemberger, who made 5-6 field goals against USC Tuesday night. "It is hard to beat a team twice in a row, but it's Senior Night so we want to play hard for our seniors and protect our home court."
Following USC's rematch with the Bruins, the Women of Troy will head to Arizona for their final two games of conference play.
Reach Senior Sports Editor Aaron Fischman by email, or follow him on Twitter.