Film and TV
Beyonce Doesn't Disappoint At The Super Bowl Half Time Show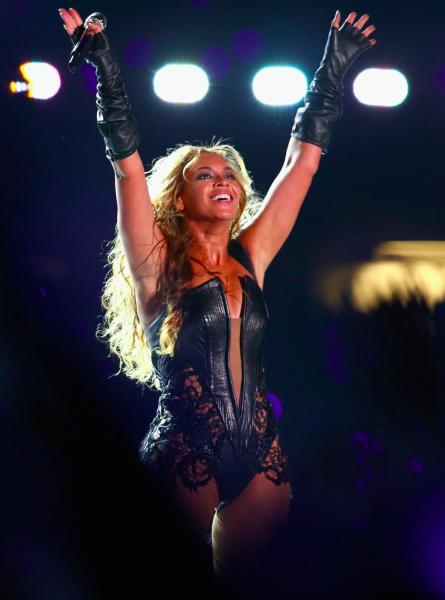 There was so much hype leading up to the Halftime Super Bowl show with Beyonce. What would her set list be? Is she going to lip sync like she did at President Obama's inauguration? Is there going to be a Destiny's Child reunion? What will the stage look like? Would she live up to all of the hype? The singer lived up to the expectations and even gave a few more surprises. There's only one word that can sum up her show: Bootylicious.
She started the show standing in front of a lighted stand up silhouette of herself, singing an a capella version of her hit "Love On Top" and made her way into her first number one single, "Crazy in Love". Her set list included multiple of her number one hits from various albums; "End of Time", "Baby Boy", "Bootylicious", "Independent Woman", "Single Ladies", and "Halo". She made sure nothing went unnoticed in her performance.
The stage was illuminated with two profiles of her facing each other, but it didn't stop there. During her songs, "End of Time" and "Baby Boy", she had holograms and kaleidoscopes that made her show even more fierce. The singer wowed the audience with multiple elements, like her electric guitarist sparking fireworks out the ends of her guitar and the long-awaited reunion of former Destiny's Child mates Kelly Rowland and Michelle Williams.
Williams and Rowland popped out of the floor of the stage to join Beyonce for "Bootylicious", "Independent Woman", and Beyonce's solo hit, "Single Ladies", while fire surrounded the stage. The three singers danced the traditional "Single Ladies" dance when Rowland and Williams left the stage for Beyonce to do a dance solo. She transitioned into her last song, "Halo", where the stage turned into a halo with angel wings on the side and she was on her knees singing to the audience.
Her high energy performance definitely did not disappoint. She kept it simple with no costume changes and wore a black lace corset with black knee high stockings with her back up dancers in solid black corsets.
Super Bowl XLVII could very well be Beyonce's Super Bowl, and there is no doubt her performance will not go unnoticed. The singer proved with her electrifying, high-energy show, that the talk about her pre-recorded version of the national anthem for President Obama's inauguration can finally be put to rest.
Reach Staff Reporter Vanessa Gomez Here or Follow Her On Twitter.