National
Air Travel Delays Expected Due To Federal Budget Cuts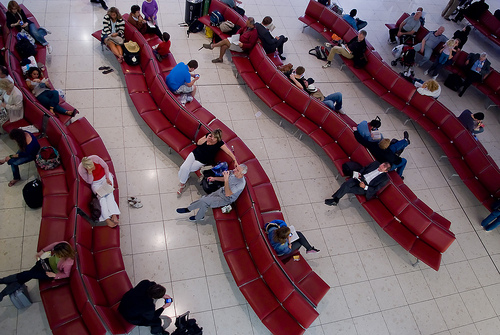 Airline customers may see travel delays and disruptions beginning March 1 if scheduled automatic federal spending cuts reduce air-traffic controllers and security officers,
USA Today
reported.
U.S. Travel Association's chief operating officer, Geoff Freeman, anticipated flight delays, longer security lines before flights and customs lines after arriving from abroad.
From USA Today:
[Freeman] says the threatened cuts appear likely because Congress is out of session this week and the deadline fast approaching for $85 billion in across-the-board spending cuts. A compromise remains elusive as congressional Republicans criticize President Obama for proposing to avert the automatic cuts by mixing spending cuts with closing tax loopholes.

"This is an enormous concern to those of us in the travel industry and should be a concern across the country," Freeman says.
Transportation Secretary Ray LaHood said the majority of the Federal Aviation Administration's 47,000 workers will experience furloughs through September, up to two days for every two-week pay period.
Read the full USA Today story here.
Reach Executive Producer Agnus Dei Farrant here.