Opinion
Afghan Woman's Art An Instrument Of Social Change
If you visit maloaa3.com, you will find images that signify resilience, advocating the ascent above one's means by putting the mind to a task one really wants to achieve. You will also find artwork that creates a dialogue on the act of war, along with other haunting, contemplative and profound pieces on the suppressed lifestyle of Afghan women.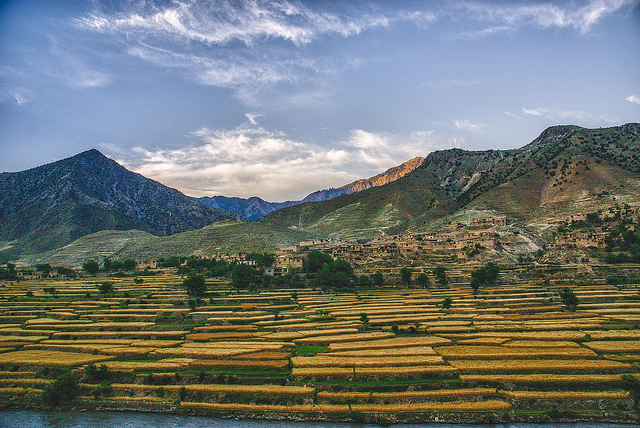 This art is the work of 23-year-old artist Malina Suliman, who risks her life, sometimes using a dim flashlight to work late at night, to create art in Afghanistan's Kandahar region, not only the birthplace of Taliban but also one of most dangerous places in the country for women.
After growing up in a country ransacked by war, Suliman received her Bachelor of Fine Arts from the Art Council Karachi in Pakistan in 2010. Upon her return to Afghanistan, she founded Kandahar Fine Arts Association (KFAA), in the hopes of creating a thriving art scene. Her website states that "her goal is to be able to travel to other provinces in Afghanistan and hold workshops to introduce Afghan artists about graffiti, sculpting and other forms of contemporary art, as she believes exposing other artists to what she had learnt will create a platform of expression for a generation whose voices often go unheard."
Suliman's powerful artwork earned her an invitation to visit President Hamid Karzai's palace in Kabul, where she was able to show her work to the leader.
There is justified skepticism that political art can bring about change beyond eliciting a little sympathy, especially in a society as conservative as Afghanistan. The decades of war and rampant conflict, starting with the Soviet invasion in 1979 and continuing through the rule of the Taliban, had previously stifled the country's art scene. And yet, despite the high stakes and prevalence of fear, the KFAA recently received funding for an exhibit from the Afghanistan Ministry of Information and Culture.
So what kind of change can Suliman's art really bring? Her work is the sort that keeps reiterating the idea of a fight for justice. Poignant memories are kept alive as the people move forward with their struggles. Suliman's work stands up to the restraining forces of a society needing change, making the art exist not in a vacuum but instead as a part of the culture. She is not only seeking her own creative freedom, but also inspiring likeminded men and women to open up to a socially conscious dialogue and inviting a local and international audience for support and encouragement.
Art has never stopped a war but it has certainly provided an ineffably strong energy to bring positive change, be it significant or trivial.
Reach Contributor Naina Sethi here.