USC Sports
Women Of Troy Remain Unbeaten In Conference, Defeat Huskies 81-72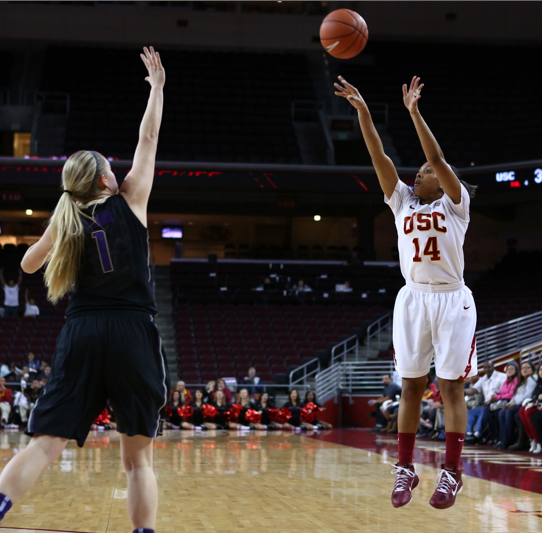 LOS ANGELES—The Southern California Women of Troy defeated the Washington Huskies, 81-72, Friday night to improve their Pac-12 record to a perfect 3-0.
"We've had some low, low valleys the last month prior to the New Year, but I really believe those games with Texas A&M and Duke and all of that really prepared us for conference play," said USC coach Michael Cooper.
Despite falling behind 12-4 early, the Women of Troy clamped down defensively, limiting the Huskies to three points over the next 11+ minutes. Over that stretch, the Huskies missed all but one of their 19 field-goal attempts after starting 5-of-8. The stifling defense combined with four Ariya Crook three-pointers resulted in a 25-3 run and USC's biggest lead of the game, 29-15.
At halftime, the Women of Troy led 38-31 and had already recorded assists on 11-of-13 made field goals thanks to crisp and clean ball movement.
"We did a lot of inside-out," said USC forward Cassie Harberts. "I knew they were going to double (me), so I tried to kick either to the high person at the top of the key or to Ariya (Crook) on the other side."
Crook scored 16 first-half points, converting five shots from beyond the arc. "Coach says that when a team plays us in zone," Crook said, "the ball will find the open person (and) I was that open person."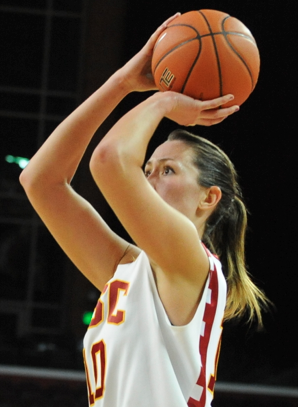 For the losing Huskies, sophomore guard Jazmine Davis turned in a stellar performance, scoring a career-high 37 points on an array of drives to the basket, three-pointers and free throws. The Women of Troy, however, held Davis' teammates to a total of 35 points on 12-of-42 shooting (28.6 percent).
Offensively, the Women of Troy were led by Harberts and Crook, who combined for 47 points.
In the absence of injured starters Jordan Adams and Christina Marinacci, Cooper gave three Women of Troy significant minutes. Crook finished with 23 points in 35 minutes off the bench, while forward Kate Oliver recorded 39 minutes and Harberts played a full 40. Harberts scored 24 points to go along with 11 rebounds.
The Women of Troy outrebounded their opponents 53-38, as Oliver pulled down 13 boards to go with her 12 points. USC forward Alexyz Vaioletama nearly joined her teammates in the double-double column after posting 10 points and nine rebounds.
For the game, USC assisted on 22 of its 27 field goals. Point guard Brianna Barrett finished with 10 assists, including an impressive seven second-half dimes. By contrast, as a team, Washington finished with a mere eight assists for the entire game.
Although USC led much of the game, the Huskies temporarily caught the Women of Troy at 61 points, apiece, after a Kristi Kingma three-pointer. USC, however, would lead the rest of the game, as they finished on a 20-11 run.
"What we've been preaching as a coaching staff and working on as a team is…consistency and trying to finish off 40 minutes," said Cooper. "That's the biggest thing for us. We're now playing two halves of basketball."
USC hopes to continue its unbeaten conference streak when it hosts the Washington State Cougars at Galen Center Sunday afternoon. The Huskies, whose conference record fell to 2-1, will take on the No. 14 UCLA Bruins on Sunday across town.
Reach Senior Sports Editor Aaron Fischman by email, or follow him on Twitter.