Arts+Culture
The L.A. Art Show: Historic & Traditional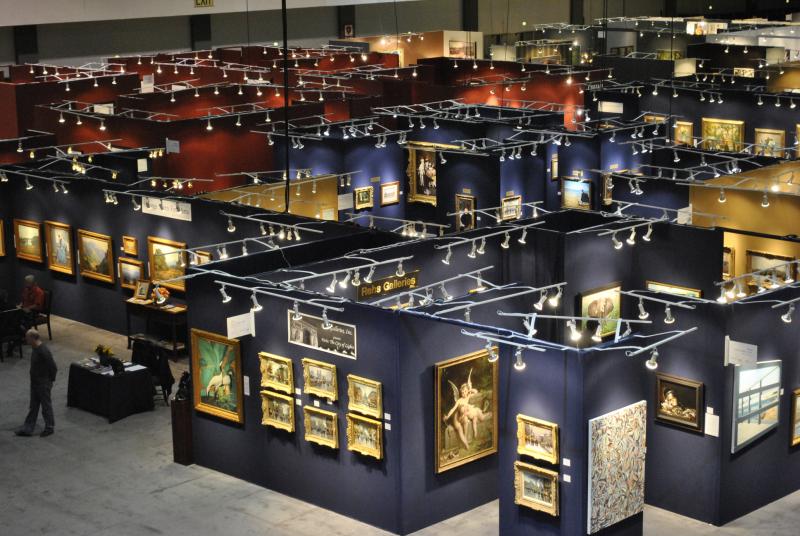 The L.A. Art Show bills itself as the most comprehensive art experience on the West Coast. The four-day exhibition lives up to its promise, delivering galleries from around the world, which range in focus from historic paintings to modern sculpture. Set in the Los Angeles Convention Center, the multitude of galleries fold in on one another, their cubist walls constructing a veritable maze. But it's a trap that any aficionado would love to get lost in. Wall to wall blooms with paint, patina, and bronze. The soft buzz of voices signals a crowd that spends long minutes exploring the various angles of this or that work, taking special care to focus their iphones when something special catches their eye.

The Historic and Traditional section, though smaller than its Modern and Contemporary counterpart, is just as rich in texture and variety. There are the expected historic artworks: miniature Gauguin sketches, a family portrait by Picasso, and a dreamy Renoir circa 1904. These are the names we've seen in museums and textbooks, albeit attached to their more impressive works. Still, these culminate in an echo of the past, less significant pieces of artistic history that work to form a familiar backdrop. However, for those who love to linger in these corners, the Stern Pissarro Gallery of London presents the prolific work of Camille Pissarro and four generations of his descendants. Over 150 years of paintings, drawings, watercolors, and print techniques round off a legacy of family artistry, epitomizing the reaches of the historical art scene.

Yet what really stands out are the contemporary "traditional" works, those produced in our time that appear either individually or as part of a transcendent series. The Chinese galleries do this remarkably well, making a lasting impression on the show's spectators. As the "China Projects" are a central feature this year, emphasized by their prominence in the exhibition pamphlet, the collections from Beijing and Shanghai live up to the hype. Along the avenue of booths, the first of the China Projects is the Minjia Gallery. Here, a mixed bag of artistic styles mesh into a cohesive whole. Aige Xie's sculpture series grabs the most attention, instantly drawing in an audience that muses over the round, dynamic figures. There's something inherently soft and poetic about these women, their rotund limbs outstretched in yogic stances. There's a rhythmic wisdom, a feeling of wonder that wells up within the viewer, in response to the straight, quiet faces. To their right, the serene ink drawings of Jiu Chen wax geometric, shades of gray overlapping in prisms of light; on the opposite wall, Guanghong Fang's energetic oils burst in a variety of texture and bold lines, complete with a bit of Latin flair inspired by Fang's twenty four years in Brazil. Beijing Opera figures stand, arms unfurled, faces composed of sweeping purples and stark whites: a vivid blend of color that moves in waves, distinct yet complete. Thus, the Minjia collection moves in moods from Chen's tranquil lulls to Fang's highs, all tempered by the focused solidity of Xie's sculpture series.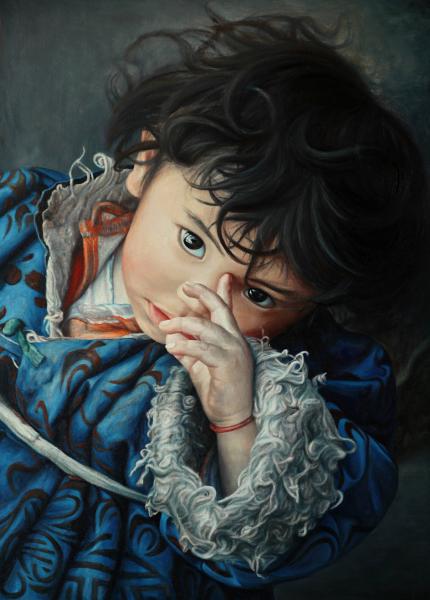 The Guanglin Gallery, owned by Trustwin Inc. of Sonzhuang, Beijin, sits ten paces opposite of Mingjia and operates with the same strength of continuity. However, rather than representing a variety of artists, the gallery features a single painter: Li Guanglin. Several series comprise the representation, all of them a part of Guanglin's multi-faceted depiction of Tibet. They comprise a single world: a solemn holy land. Each painting claims an entire wall, the details working their way seamlessly into the whole. For example, the Pilgrimage series depicts men and woman in prayer at the break of day, a brief light illuminating their stoic backs; there is a sense of warmth and continuity in the echoes that each work borrows from the others—a pair of folded hands or a smattering of clouds across the horizon. In another section of the gallery, two series intersect; the Holy Girl series, which is made up of innocent, transfixing portraits of young Tibetan girls, their eyes flickering as they look up at the viewer, is paired with the Transmigration series, paintings of an older set of women, their expressions all-knowing. The contrast between the two suggests an interaction between generations. And in the center of the space hangs a single landscape, a silver lined horizon that rises like white gold.
However, these collections are met with equal weight by the work of L.A. native Emil Kazaz. The Airian Dome of Fine Art features his work, an encyclopedia of emotion and sensation. Patina pagans and satyrs spill out of the gallery and into open space; a reinterpretation of mythology in ruddy chartreuse and charcoal manipulations. Paintings and drawings border on the absurd, an aesthetic freedom of expression and movement that incites dialogue with the viewer. Kazaz encompasses everything from religious innocence to vulgar eroticism, and his work is a resonant, dramatic history that makes beauty a question of interpretation.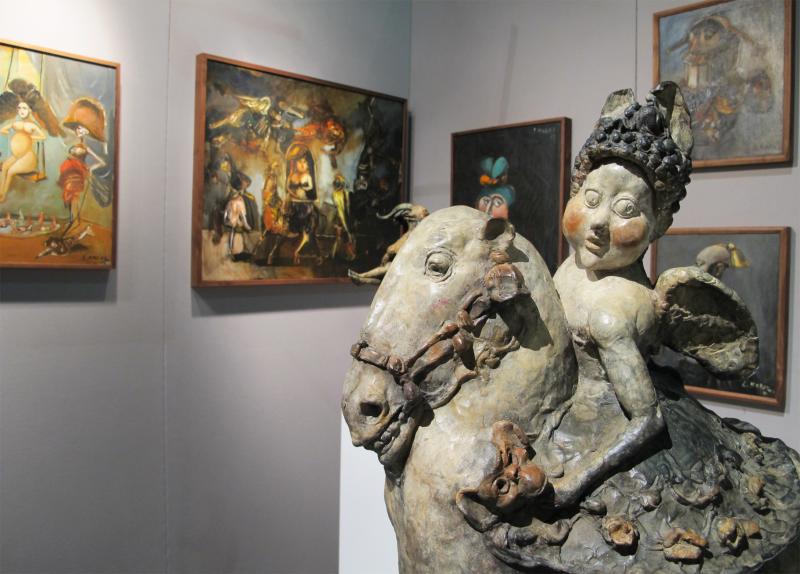 The world of traditional-contemporary art is a paradox, but a captivating one at that. While traditional in mode, the subject matter does not necessarily follow suit. Whether exploring spirituality, beauty, or pattern, there is something innovative to be found at the heart of even the most classic forms. In exploring a multitude of artists, both new and old to our eyes, the L.A. Art Show allows one to discover what's been unearthed.
Reach Staff Reporter Kelly Belter here.
Click below to read about the L.A. Art Show's other sections: