NBA
Three Strikes? If Lakers Are To Make A Move, It Must Be Now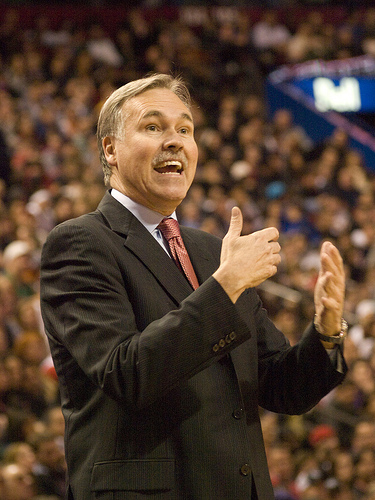 This has not been a good first week of 2013 for the Los Angeles Lakers.
The Lakers (15-18) are coming off of a 112-105 loss Sunday night at home to the Denver Nuggets. They woke up having to address a New York Daily News article about a feud between SG Kobe Bryant and C Dwight Howard that isn't a big deal (or, if you don't believe it, not even a story). We already know the Lakers aren't really into that chemistry thing.
The new challenge for the Lakers was presented to them in the form new injuries. Howard, who grabbed a career-high 26 rebounds Sunday night, will miss his first games of the season with a torn labrum. He'll be out indefinitely. PF Pau Gasol (concussion) and C Jordan Hill (hip) will miss at least the next two games, staying behind while the Lakers travel to Texas this week.
Now, I use 16-game splits when I look at how teams are playing. People understand how NFL teams look at the NFL season, and it helps to get a feel for how an NBA team is progressing over the course of a season. For example, the 16-game splits for the 2010-2011 Miami Heat, the team this Lakers team has been compared to, look like this: 9-7, 14-2, 11-5, 9-7, 13-3, +2. That Heat team started relatively slow, then blew up.
The Lakers are in the stretch of the season where moves are going to have to be made, and with the All-Star Weekend approaching next month and the team in 11th place out West, excuses are running out.
Strike one was waiting until November to decide that former head coach Mike Brown wouldn't be able to lead this year's team; the team started 1-4 under Brown and was 5-5 when head coach Mike D'Antoni was hired. After 16 games, the Lakers were 8-8.
Strike two was thinking Mike D'Antoni was going to make a difference without PG Steve Nash. D'Antoni clashed with Gasol and the Lakers went 7-9 before Nash returned from a leg injury on Saturday, December 22 in Golden State. After 32 games, the Lakers were 15-17 (8-8, then 7-9).
Now with the Lakers reduced to deposed PF Antawn Jamison, former 2009 lottery pick PF Earl Clark, and rookie C Robert Sacre, the Lakers need to win games on the perimeter. That means Nash, Bryant, and some serious running. The Lakers got Nash back and won their fifth game in a row on Christmas against the New York Knicks. But since then, the Lakers are 1-4.
Using my 16-game splits, the Lakers haven't failed to post at least one 10-win split after 16, 32, or 48 games since the 2005-2006 NBA season when they started 7-9, 9-7, and 8-8.
When the Lakers last missed the playoffs in 2004-2005, the Lakers started 9-7, 9-7, and 7-9. The Malone/Payton Lakers of 2003-2004 had initial 16-game splits of 13-3, 8-8, and 9-7. That team came out and established dominance early before swooning, but at least those players showed something.
The 2002-2003 Lakers, the last team to start worse than this Lakers team at this point of the season, started 5-11, 8-8, then went 12-4. You may remember the start of that season, when C Shaquille O'Neal waited to have toe surgery until just before training camp, explaining, "I got hurt on company time, so I'll heal on company time."
With the loss to the Nuggets, the Lakers are already 0-1 in this third 16-game split. Their schedule features this week's back-to-back at Houston and San Antonio, two home games against the Oklahoma City Thunder, a home game against the defending champion Miami Heat, at Chicago on the second night of a back-to-back, at Memphis, home to the Utah Jazz, who the Lakers have lost to twice already, and on the road against the Minnesota Timberwolves, the first of three meetings with a team they can't lose to at this point of the season.
It's a challenging slate, to be sure. But the Lakers weren't supposed to be underdogs. They were supposed to impose their will on teams. With Nash, Bryant, and a combination of SF Metta World Peace and PF Antawn Jamison the only solid bets for offense to go with a bottom-ten defense, we'll remember this stretch as the one when the Lakers finally started to play consistent basketball, or the one where they start thinking hard about who will be on the roster going forward.
Reach Staff Writer Law Murray via email or follow him on Twitter.