Arts+Culture
Photography Gone Wild With Ernie Holzman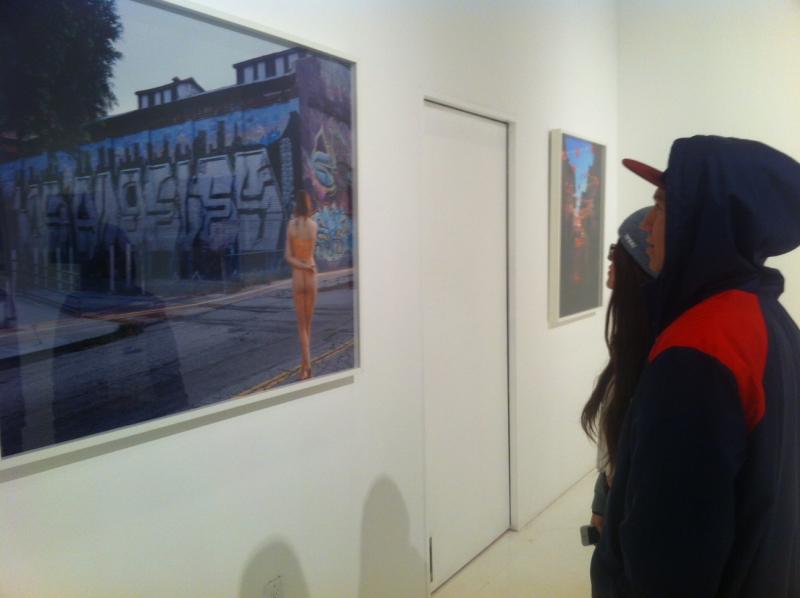 Ernie Holzman is the photographer of your dreams.
You know, the dreams where you're standing naked in Union Station.
Holzman's exhibition, appropriately titled "L.A. Backstory" features some of his favorite L.A. landmarks, all serving as a backdrop for a nude female as she pauses for a cup of coffee, wanders into Chinatown, and angelically poses amid the glossy architecture of Union Station.
All photos were shot by 60-year-old Holzman with his "60-year-old camera."
What appears to be a rebellious display of the human form, and quite frankly, a middle finger to permit laws, is actually bred out of something much deeper, much darker than simply a bare-naked lady.
Holzman is approaching the one-year anniversary of the inception of this project. But more importantly, it's the anniversary of Holzman approaching an impasse in his life. He was scheduling an appointment for a PET scan to determine if his chemotherapy had been working on his tumor. He has non-Hodgkins Lymphoma.
"This was my way of working through my darkness, my depression," Holzman said. "Group therapy is just not for me."
Holzman's wife of 15 years, Terry, went along on this journey with Holzman – holding lights, and even retrieving the model's robe after the beauty bared it all.
But adjusting to her husband's illness, and the idea of this project, was not as easy.
"I quickly had to become an expert in a language no one should ever have to know," Terry said. "And I didn't understand at first why he needed to do this project – especially with a 60-year-old camera."
Holzman has a background in advertising and cinematography. He started out New York University studying music and photography. He pounded drums in a band and sold photographs on the side.
As he gained more experience, he began working on commercials and eventually on "My So-Called Life," starring Claire Danes.
As the industry changed, he did too, working more with digital cameras. But the "L.A. Backstory" project wasn't about what was faster or easier.
"It was symbolic," Holzman said. "It was an old, busted camera and I was an old busted man."
Holzman mostly shot Carly, the model, from behind.
"She was looking ahead, almost into the future, "Holzman said. "I didn't want to show her face because then you could see her reaction. That would be like knowing the future, and for me the future was uncertain."
Holzman said he could only work a few hours per day due to his illness. He was being treated with chemotherapy, and any action sapped all energy out of him.
"It got me a little freaked out," Terry said. "I was thinking, 'Is this his final wish?'"
The piece came together quickly -- like rapid-fire quick. He only took a few frames per setting.
In some cases he only took one single shot.
At Union Station, Holzman was not exactly allowed to shoot in one particular room. So one shot was all they got. The result is an ethereal feel emanating from the screen, with light streaming in on the glossy textures of the tiles.
So how were people reacting on the streets, or at the Pink's Famous Hot Dogs on La Brea Avenue?
"No one cared," Holzman said. "But I can't tell you the name of the cafe, because we sort of got kicked out."
Valley residents, Aracely, Kristyn and Chris Salas were drawn into the gallery for the love of photography.
"It made more sense after I read the sign," 15-year-old aspiring actress Kristyn said. "It makes sense to want to feel free and young like a teenager again."
Kristyn's mother Aracely, 43, recognized every single landmark.
"I like the Union Station photo," said. "At first you almost think it could be a church because it's so beautiful, but she probably couldn't be naked in a church."
As of last week, Holzman received good news -- his scan came back on his tumor and it had shrunk by five millimeters.
Holzman's "L.A. Backstory" is being featured at the Known Gallery at 441 N. Fairfax Ave. in Los Angeles until this Saturday at 7 p.m.
Reach Reporter Heather Navarro here.