NFL
NFL Conference Championship Predictions
How can the NFL top last week's unbelievable finishes in Denver and Atlanta and dominant performances by Colin Kaepernick and Tom Brady?
This Championship Sunday boasts two fascinating matchups. In the NFC, it's the revised and unpredictable San Francisco 49ers, fueled by newbie Kaepernick, versus the relieved and unstoppable Atlanta Falcon offense, led by Matty Ice, on a fast turf in the Georgia Dome. The later matchup features a rematch of last year's dramatic AFC Championship game between the Baltimore Ravens and the New England Patriots, in what may be Ray Lewis's final game in the NFL.
The stakes are high, and the scores may be even higher. Our NFL experts tell you what to expect on Championship Sunday.
(2) San Francisco 49ers @ (1) Atlanta Falcons
Jeremy Bergman: Falcons 30, 49ers 28
Before the season started, this writer picked the Atlanta Falcons and the Baltimore Ravens to meet in Super Bowl XLVII. Well, heck if I'm gonna go back on my own amazing prediction. The Falcons are going to get it done because the monkey is finally off their back. So much of what had been holding Atlanta back in the minds of the media and the fans was its inability to win the big one. Now that Matt Ryan and Mike Smith have done so, I expect the two to rally the Dirty Birds over the speedy Niners. Colin Kaepernick will dominate in spurts, I have no doubt. But his playoff inexperience will show up big late in the game, leading to another clutch, game-winning field goal by Matt Bryant.
Evan Budrovich: 49ers 28, Falcons 24
In what has the makings for a great affair, the San Francisco 49ers will go into Atlanta and defeat Matt Ryan and the Atlanta Falcons. The Falcons will play strong in the first half, behind a raucous home crowd that is looking to send their team to its first Super Bowl since 1998. Colin Kaepernick has been a weapon for the 49ers this postseason, continuing that success especially with his rocket arm this week. In the end, Matt Ryan will have the football with a chance for a game winning drive. Justin Smith and Aldon Smith will combine for a huge sack late in the game to thwart the Falcons' comeback attempt.
Aaron Fischman: 49ers 33, Falcons 24
I'm a fan of the immense strides Matt Ryan has taken this season, but his team's journey will come to a sudden end Sunday. Last week, the Falcons were outscored 21-3 in the fourth quarter and were lucky to come away with the 30-28 win. After taking a commanding 27-7 lead, Atlanta fell apart. They looked nervous…like they were playing not to lose rather than to win. Plainly put, Matt Ryan and Matt Bryant bailed them out. San Francisco's NFC Championship experience from last season appears to have given them a ton of confidence. Kaepernick also exudes confidence even though it's his first year as a starter. Atlanta hasn't yet acquired the playoff steadiness to win a big game such as this one.
Jacob Freedman: Falcons 27, 49ers 20
Tell you what: I don't think San Francisco is much, if at all, better than the Seahawks. Losing Chris Clemons after Washington erased the Seahawks' pass rush, but I'd take Russell Wilson and Marshawn Lynch over Colin Kaepernick and Frank Gore seven days a week, including Sundays. This is why I'm out on a limb here and taking a 13-3 team at home in the playoffs. That's sarcasm, by the way. The defense failed the Falcons down the stretch last week, but Matt Ryan ultimately did not. Colin Kaepernick has played like an All-Pro, but it stops here. The Falcons better-than-advertised secondary will catch his passing eye off guard, the Falcons offense will step up once again to send Atlanta to hallowed ground.
Max Meyer: 49ers 35, Falcons 28
Colin Kaepernick had an all-time great playoff performance last week against the Packers. The Falcons' defense should have similar trouble, especially since they have trouble generating a pass-rush. Also, there is no way I trust Matt Ryan to win two playoff games in a row.
Law Murray: Falcons 23, 49ers 17
Between WRs Roddy White, Julio Jones, and Harry Douglas, along with TE Tony Gonzalez and RB Jacquizz Rodgers, Falcons QB Matt Ryan has all kinds of wily speed and athleticism to challenge the San Francisco 49ers on the Georgia Dome turf. That's the key ... Georgia Dome. If Ryan was aggressive against the Legion of Boom, he will be again against the 49ers. I'm still not sure how healthy 49ers DE Justin Smith is, although the Falcons aren't going to run on the 49ers like they ran against the Seahawks. I'm going with Atlanta because this is their turf, and I know that 49ers QB Colin Kaepernick showed well at the Superdome, but I believe Falcons OLB Sean Weatherspoon will play a major role in containing Kaepernick and RB Frank Gore. The noise is going to affect Kaepernick, and I'm not sure if he's going to handle it well consistently. I shouldn't be picking against Jim Harbaugh, especially after the poor management showed by the Falcons' coaching staff last week. But I just have a feeling that the Falcons will survive at home.
Matthew Tufts: 49ers 28, Falcons 24
If Colin Kaepernick continues to play at the high level he has maintained, San Francisco will find itself headed to New Orleans. Matt Ryan proved last week that he could succeed under pressure leading a last minute drive. However, the 49ers' defense is much more reliable than the Falcons', and is more likely to come up with a big stop in a key situation. Patrick Willis looks rejuvenated after an injury plagued regular season, and has the potential to disrupt things behind the line. On the other side of the ball, no one has had an answer on defense for Colin Kaepernick's multi-faceted skill set; don't expect the Falcons to come up with an answer by Sunday either.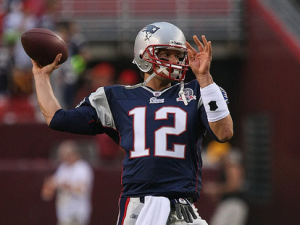 (4) Baltimore Ravens @ (2) New England Patriots
Bergman: Ravens 26, Patriots 24
It's deja vu all over again. Another championship game in New England against the Ravens and another Pats win, am I right? Wrong! Sans Cundiff, Baltimore is back and badder than ever, ready to reverse the script on the monarchs of the AFC. I'm not a firm believer in the man upstairs when I go to temple, but it's hard not to ignore some sort of divine intervention supporting the retiring Ray Lewis and his ball club. God knows how Rakeem Moore so blatantly missed swatting down Joe Flacco's desperation heave to Jacoby Jones! (Get it?) Touchdown Jehovah aside, I truly believe that Baltimore is playing its best football of the season with Flacco on fire and Ray Lewis back in the saddle. New England's offense is, most of the time, a well-oiled machine; when it works, it's unstoppable, but when it struggles to get off the ground, it may never get hot - ask the 2010 Jets. Expect this game to be as close and gut-wrenching as the last one, but with the other kicker - sorry, Gostowski - missing the field goal that counts.
Budrovich: Patriots 23, Ravens 14
The rematch of last season's AFC Championship Game will once again favor the Patriots. Ray Lewis has gotten the Ravens to play inspired football this postseason, and will once again come up clutch for his team. The only issue remains that Tom Brady has looked impeccable this postseason and can utilize another New England weapon in Shane Vereen. Last season, Flacco outplayed Brady at Gillette, but this season I expect that to change. Once New England takes away the deep bomb, the Ravens will be forced to rely upon their two-headed rushing attack. In the end, too much Tom Brady.
Fischman: Patriots 34, Ravens 27
Both the Patriots' secondary and running game have significantly improved since the Ravens defeated them 31-30 in Week 3. That aside, the Ravens will surely make a game of it. They'll be playing with a great deal of energy and passion, plus they have some supremely talented players on both sides of the ball. In the end, however, the Patriots' offense, even minus the Gronk, will be too much for the Ravens to overcome.
Freedman: Patriots 35, Ravens 31
The Patriots are surely grateful to the Ravens for saving them a trip to Denver, but it's crazy to think that the Patriots last won the Super Bowl nine years ago. However, they defeated the Ravens in Foxboro in the AFC title game just one year ago, and will enter Sunday coming off a thrashing of the Texans that looked effortless at times. Joe Flacco earned himself tens of millions after orchestrating a stunning comeback over the Broncos, but the Ravens ranged from bad to disastrous except on the final interception. In a battle of offensive firepower, Tom Brady's sparks will burn brighter and give him his sixth shot at a title.
Meyer: Patriots 24, Ravens 20
While football fans may be upset there won't be a Brady-Manning duel in the AFC Championship, these two teams have several great games played between them. I think this game will be much closer than expected, especially since Rob Gronkowski is out. But the difference will be Brady over Joe Flacco, even though Flacco continues to prove me wrong in the playoffs.
Murray: Patriots 24, Ravens 23
I believe Patriots QB Tom Brady is going to have extra hiccups in this game. The Patriots are better prepared to deal with TE Rob Gronkowski's injury this time around (hello, TEs Michael Hoomanawanui and Daniel Fells), and WR Brandon Lloyd essentially replaces Chad Ochocinco. Not to mention, the Patriots have their best rushing attack since Corey Dillon put up 1600+ in 2004. But Brady struggles against the Ravens more than any other team in the league. His saving grace might be the fact that the Ravens defense had to play in the cold, thin air of Denver for an extra 20 minutes of game-time, while the Patriots are home, where Brady and Patriots head coach Bill Belichick are undefeated in the AFC Championship (5-0). Ravens QB Joe Flacco will challenge the Patriots like he always does. But this is an improved defense as well. This game will come down to the last quarter, but if Patriots RB Stevan Ridley runs well and protects the football, that'll be the last dance for Ravens ILB Ray Lewis.
Tufts: Patriots 34, Ravens 23
The Ravens' defense can be very good when its experienced players step up, but it's only a matter of time before the Patriots' offense breaks through. The pressure will be on Joe Flacco and his ability to take advantage of a spotty New England secondary. Aqib Talib has helped significantly however, and his performance could prove to be a deciding factor. While Ray Rice is good, the Ravens will not be able to keep pace with New England's offense without a strong passing game. If the Patriots can make Flacco uncomfortable and force him into early mistakes, it will be very difficult for Baltimore to match the Patriots drive for drive. New England will be headed back to yet another Super Bowl.
Season Standings
Matthew Tufts 61-26
Max Meyer 63-31
Evan Budrovich 58-31
Jacob Freedman 58-36
Jeremy Bergman 57-37
Aaron Fischman 53-41
Law Murray 44-39