NBA
NBA Weekly Roundtable, Week 2: Wizards and All-Stars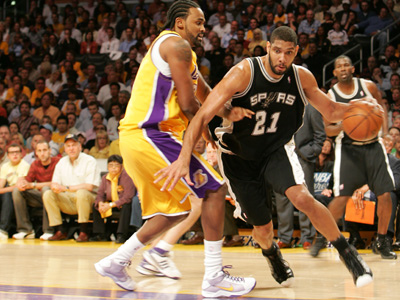 It's official: We are more than halfway through the 2012-13 NBA regular season.
1) The NBA All-Star Game starters were announced last Thursday. Who was snubbed, and why?
Michael Huettner: I think the biggest snub has to be Kyrie Irving. Even though he's playing for an 11-32 team, he's having an outstanding season. He's leading all point guards in scoring with 23.7 points per game, and just dropped 40 on the current starter: Rajon Rondo. There's also an argument to be made for Tim Duncan, who's having a renaissance season at age 36 for one of the best teams in the NBA. It's hard to justify giving the start to Dwight Howard over Duncan considering the Lakers' struggles.
Annette Irwin: Kyrie Irving was snubbed from the East. Irving is just as efficient and exciting on offense as his main rival, Rajon Rondo. Just watch him play. He may be carrying the struggling Cavaliers by averaging 23.7 points, 5.7 assists and 3.6 rebounds a game, 1.8 steals a game and shooting 46.7 percent, but is it admittedly difficult for players on losing teams to make the All-Star roster.
In the West, Tim Duncan was snubbed. Duncan is averaging 17.2 points, 9.6 rebounds and 2.8 blocks a game while shooting 50.1%. Duncan may be a "boring" choice compared to Lakers' Dwight Howard, but his numbers are more than solid for being 36 years old. Unlike Howard, he's even efficient at the free throw line, shooting 82.6 percent. Howard and Duncan have comparable numbers, but Duncan's 17 more wins this season speaks for his value
Andrew Seah: He may not even want to be in Houston come All-Star weekend, but Tim Duncan absolutely deserves a spot - not merely as a reserve, but as a starter. A sub-.500 Lakers team is unworthy of two starters, especially not Dwight Howard, who has been a pale shadow of his dominating self. Duncan, on the other hand, has been having a throwback season that has been as remarkable as any player's outside of LeBron James and Kevin Durant. He averages a double-double every other game, is amongst the league's top shot blockers and continues to anchor an elite Spurs squad which has been top-five in offensive and defensive efficiency all season long. Duncan has always been a model of consistency, but this year, he's doing it at a staggeringly efficient level compared to his younger peers.
2) Last Friday, former Phoenix Suns Alvin Gentry became the fourth NBA coach to lose his job this season. Phoenix went 158-144 under Gentry, but were 13-28 this season after replacing Steve Nash with Goran Dragic among other changes. Besides Dragic, Marcin Gortat and Jared Dudley, the cupboard is pretty bare in Phoenix. If you are Suns GM Lance Blanks, what kind of moves do you make to bring the Suns back to respectability?
Huettner: I have to start off by saying I think firing Alvin Gentry was a mistake. Gentry is a good coach now, and he was a good coach a couple years ago when the Suns won 54 games and made it all the way to the Western Conference Finals. Just because he's now coaching a team with lousy players doesn't make him no longer a good coach. As for roster moves, if I'm the GM I allow the team to do exactly what it has been doing all year: lose. There's not much you can get for the pieces you have. I think the plan has to be to stand pat and wait for a lottery pick this summer.
Irwin: The post-Steve Nash era is not working out as expected, as the situation is pretty bleak in Phoenix. For the Suns to regain respectability, they need a complete rebuild. If I were Suns GM Lance Blanks, I would get under the cap to sign some promising free agents, then use the cap flexibility to gather future draft picks from teams trying to shed salary. I would follow Oklahoma City Thunder's path: Get younger and accumulate high draft picks to build for the future.
Seah: In short: none. Unfortunately, they lack any young, intriguing pieces that most teams are looking for. Their best trade asset, Marcin Gortat, is also the one player they shouldn't give up. And after the disaster that is the Michael Beasley Experiment, they probably will not get equal value for the former number two draft pick. The Suns are uncertain on both offense and defense, and it seems their protracted mediocrity looks to be the only certainty. But it would not be surprising if Blanks shipped veteran center Jermaine O'Neal out of town after their recent "profanity-laced" shouting match. Couple that with the recent departure of long-time assistant coach and Suns legend Dan Majerle (after being snubbed for the head coaching position in favor of Lindsey Hunter) and the possible exit of fellow assistant Elston Turner, and suffice to say Phoenix has its fair share of problems both on and off the court.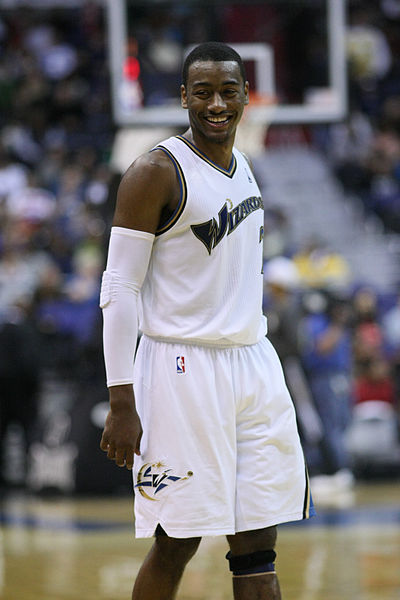 3) Point guard John Wall now has a week under his belt after returning from a knee injury, and the woebegone Wizards are 4-3 with him in the lineup. Does Wall have the ability to be the leader of a championship-contending team, and what kind of changes do the Wizards need to do in order to compete in the East?
Huettner: After a 5-28 start, the Wizards are now 4-3 with Wall back in the lineup. He's showing signs of being able to turn this team around, but I'm not completely convinced he can be the leader of a championship team. There's no arguing that Wall has the talent to be the best player on a contending team, but the problems arise when you look at his decision making. As a point guard on a championship team, he needs to be a great decision maker and get the most out of his teammates. I'm just not sure Wall is a guy that can do that. If he's not, the Wizards need to find someone they can build a championship team around.
Irwin: Wall has not proven to be a leader so far. Yes, the Wizards are 4-3 after Wall's return from a knee injury, but the chemistry in Washington could be the worst in the NBA. Wizards' center Nenê said it best in an interview with NBA.com's David Aldridge regarding the Wizards struggles:
"When you play with confidence, and you're together, it's different," Nenê said. "You feel, you know your teammates know you, and you give your best. But right here, right now, it's the opposite. Total opposite."
Seah: Let's get the record straight: John Wall is not a franchise player. He is an elite athlete and a lethal scorer, but barring a Derrick Rose-esque quantum leap into superstardom, Wall will need help if the Wizards are to regain credibility in the league. Washington have the worst record in the league, which is no surprise given their roster. Outside of Nene, Wall, and Bradley Beal, the Wizards are blessed with a box of decidedly average parts. Trevor Ariza and Emeka Okafor are regressing, and Kevin Seraphin and Trevor Brooker are raw deals that promise nothing but potential. The Wizards need to upend their roster, bring in productive veterans that can actually play, and look towards the upcoming draft.